Mindfulness is defined in the Oxford dictionary as 'a mental state achieved by focusing one's awareness on the present moment, while calmly acknowledging and accepting one's feelings, thoughts, and bodily sensations, used as a therapeutic technique.'
Games can be a lovely mindful activity. A well chosen game allows you to be fully absorbed in the activity of play – it demands enough of your attention to hold your attention without being too demanding. When we see children playing they are completely mindful, totally in the moment and it would be lovely to be able to capture that feeling as adults and the right game can help us do just that. Of course, the right choice of game depends on individual preference as well as other factors. If engaging with others is causing stress or anxiety then a game that is gently competitive where you focus on what you are doing and don't need to consider others may be the right choice. Games like Azul, Calico, Fire in the Library, Dice Hospital, Takenoko and Carcassonne can all be played in this way. I often prefer games like this. I would rather focus on maximising my score rather than using energy trying to mess up other people. Often, in games where you are choosing a tile or card from a shared pool, deliberately choosing one your opponent wants means you don't get the best one for you either.
In addition to the style of play, I prefer tactile components if I am looking to games for a mindful experience. Beautiful counters that you can turn over in your hands like the deliciously weighted counters of Splendor, or the careful building of bamboo towers in Takenoko help to immerse you in the game. In addition, artwork like the quilts in Calico or Patchwork, or the glint of the sun stones in Latice lend a contemplative beauty to the experience. A well chosen game will allow you to engage your senses and really dwell in the moment.
There are also games that can be played solo allowing you to be completely immersed in what you are doing – like Assembly, Spirits of the Forest or some of the Ell deck games. I particularly enjoy Spirits of the Forest as although it is quite thinky you don't have lots of different things to concentrate on, you are just collecting sets of cards.
Whenever I am looking for ideas a quick tweet usually yields a lot of different suggestions. It was a tweet asking people which games they consider 'mindful' that led me to Babel and I'm delighted to have found it. It was a mindful activity and so much more too. Babel is like a solo role playing game with creative writing stimuli as well as being a strong game too. It describes itself as 'A solo game of language and reality'.
To play Babel, as well as the game booklet, you will need:
a Jenga tower (or similar),

pack of cards, (you don't have to have vintage ones)

letter tiles (I used Bananagrams).
It also suggests a recording device but I just made notes in a different colour on paper. I'm very old school and plus I felt that the use of something so modern would interfere with my experience of the game. I, of course, added in a cup of tea. I can't be expected to make my way out of an ancient tower, rediscover my own identity and find humanity's one unifying language without a cuppa. That's just silly.
It suggests in the book that the game lasts around 30 minutes. I got lucky first time and played for around 45 minutes. I do think the game length will vary widely depending on how much writing you want to do or feel inspired to do. As the game progressed my journal entries became longer as I relinquished my self consciousness and worry about presentation, grammar or exact word choice and instead became immersed in the story. For a long time the only writing I did was model exam answers or, when I set a class off on a writing task I would complete it at the same time. The end result there, was always that I would share my work and we would scrutinise it – in my mind it could have mistakes and crossings out but it also had to showcase whatever skill we had been working on – appealing to the senses or using semi colons for instance. So it was always a very conscious activity and not at all relaxing. For me mindfulness, while it is a conscious activity by its definition, should contain an element of relaxation or recharge, some sort of break for your brain. I loved the writing I did as part of the game – it was never intended to be shared (let alone deconstructed!) and it flowed freely from my pen spilling ideas onto the page. The prompts were brilliant – a mixture of questions – "whose voice is it you hear in your mind?"; suggestions "You listen to the whispers of the wind, and you hear a song from your childhood."; statements that put you in the action of the story "…you feel the bricks shift." and the odd philosophical question "If everyone spoke the same language… would there be less conflict?"
You can see how you could easily spend some hours on the journaling aspect of this game. One of the suggestions is that rather than playing it in one sitting, you could play over a number of days – perhaps mimicking real time so playing one 'in game day' per day. As you can tell I have particularly relished the time, space and prompts to help me write creatively and freely. I was happy to set quiet time aside to concentrate on this. But, if writing is not your thing as long as you enjoy the story telling experience then you will still enjoy this game. Instead of writing you could very easily (as the game suggests) use your phone or other recording device to record your experiences.
The game play itself is fun and engaging. There are two ways to win and two ways to lose Babel. At the start of the game you place tiles which spell your true name (at least 10 letters) face down and shuffled onto the Ace of Hearts. If you can reveal all of these tiles then you will win. The remaining tiles stay in a bag or box – these form a pool of Hidden Letters. By drawing one of each letter from this pool you will have discovered the lost alphabet of the Unified Human Language and you will win the game. However, as you draw cards from the Oracle (shuffled deck of cards) should you draw the four Kings all is lost and you remain trapped in the tower for eternity. If when you remove a brick from the Tower itself, it topples then you die – buried inside the ruins. The odds are stacked (excuse the pun) against you. I had a long game but was eventually defeated by the Kings and the Tower then fell anyway (nothing like losing twice in one go!).
Each turn you roll the die of Fate and it determines how many cards you should draw from the Oracle. You reveal them one at a time, resolving each one by consulting the codex which will instruct you to pull bricks from the tower, remove bricks from the game, take tiles from the Ace of Hearts moving you closer to revealing your true name, reveal tiles from the hidden letters pool – or to return tiles to either of these. The codex will also ask you to consider ideas, remember or reflect on things. As your final action roll the die of Fate again – if you roll a 6 then you can draw a letter from the Ace of Hearts. Once this phase is completed you should complete your journal entry reflecting over the events of the day; perhaps considering your progress, what you have learned and what is to come. You are then instructed to close your eyes 'for a long time'. When you awake you are ready to play the next day.
The game continues in this manner until you triumph and revel in your rediscovered identity or die in ignominy beneath a heap of Jenga bricks.
Every action in the game is mindful, the roll of the die, the slow reveal of the cards, the painstaking removal and replacement of bricks. The tower in particular demands your full attention. You may find yourself examining it from many aspects before selecting your brick and inching it free. You feel every movement of that tower and see every shake or wobble. This helps to focus your mind on the experience of babel. When I saw the big list of accoutrements I needed to play this game I wondered if it would be silly or gimmicky but it isn't either of those things. All of the objects enhance the experience and make it truly immersive and mindful.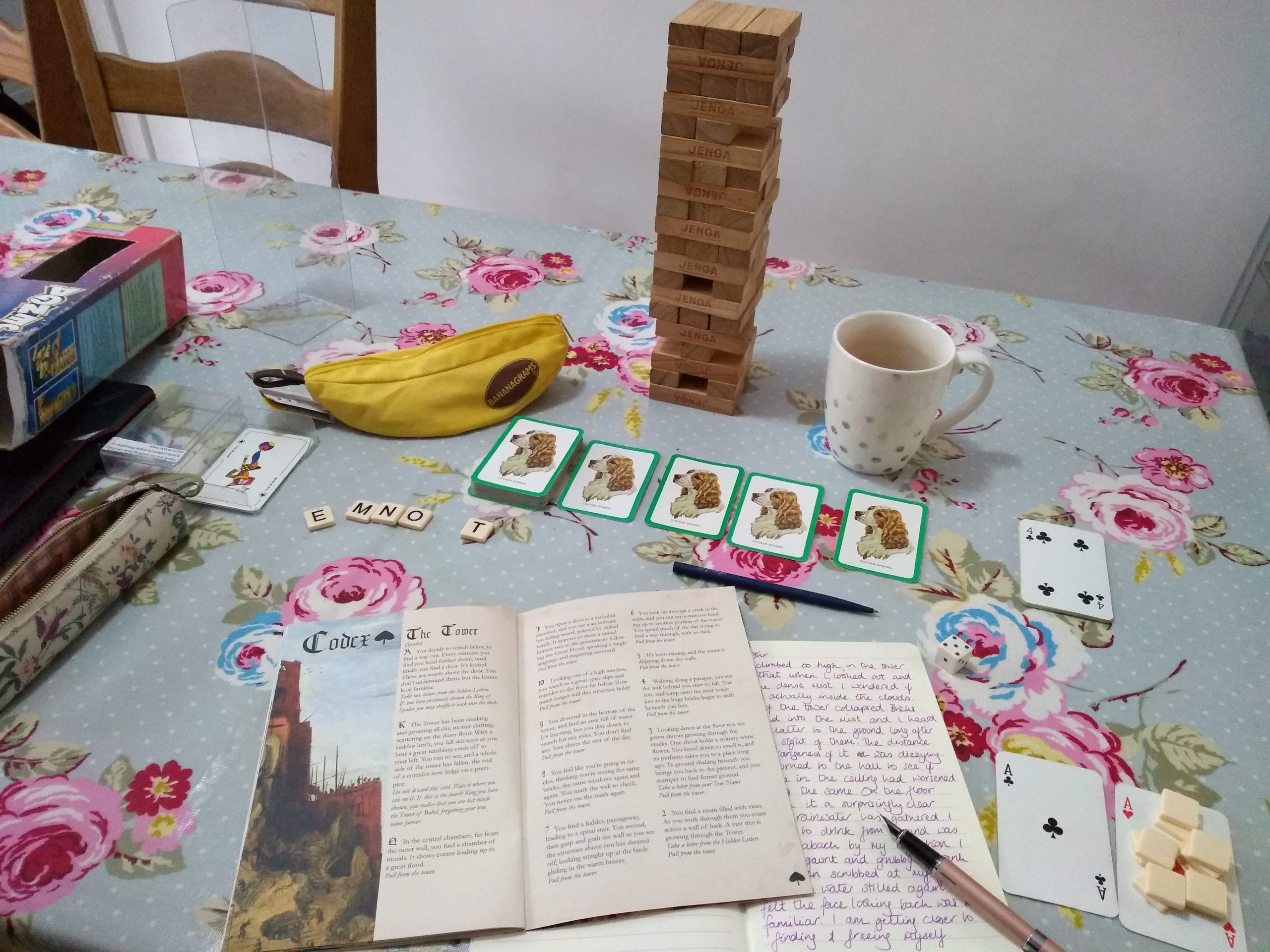 I will be running a session on Card and Board Games for Mindfulness at The Abbey House Museum on Friday 22nd October 2021 from 2.45 to 3.45.
I'll definitely have Babel in the bag along with the others mentioned in this blog and others too. I'd love to see you there. Click
here
for more details.
Make sure you subscribe to the newsletter below and check out Cards or Die events
here
.
Here is the link if you fancy getting your own copy of Babel.