Storytelling is an ageless activity bred of an instinctive human desire to connect with others. Back when we lived in caves and all you needed to do to impress someone was light a fire, we would sit round that fire and tell stories: stories of the mythic beasts we had slain; cautionary stories of the dangers our youngsters should avoid; stories of comical mishaps and misunderstandings. Playing games is an ancient pastime, and it's no coincidence that games is another great way to connect with other humans. So, what could be better at connecting us than games that tell stories?
Here are some of our favourite story telling style games:
Players use the letters that are revealed to create sentences. Each sentence must use all of the letters in order reading left to right or right to left. You place 7 letter cards and a category card face up to create the board. The category card awards different points depending on the subject of the sentence. Turn over the 3 minute timer and off you go! You need to make sure that the sentence is grammatically accurate and you can use names but not just to use up letters – they need to be an integral part of the sentence. Write as many sentences in the time to maximise your score. The rules claim that the game is outlandish and creative, and the results certainly lend credence to this claim!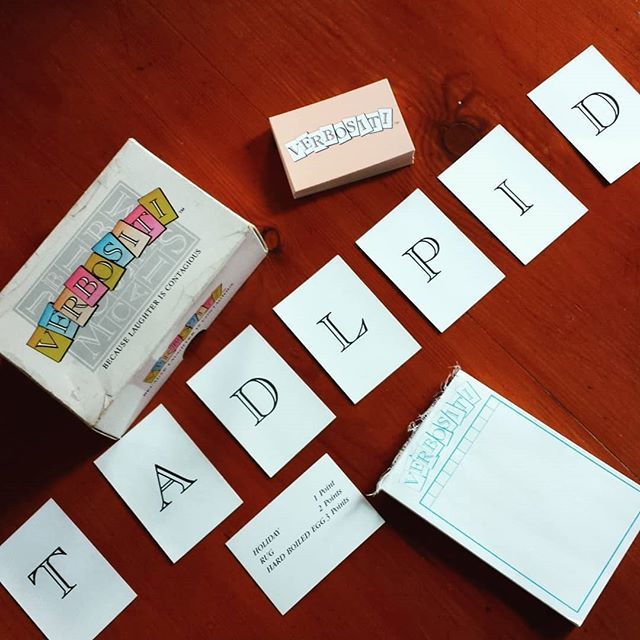 A variation allows you to place 10 letters and choose a sequence of those to make your sentence. In this version you score according to the length of your sentence.
The game is played over 5 rounds, so you've got time to warm up!
This is a quick, fun party game. It is challenging but it's the kind of game that once you warm your brain up, you can create all sorts of bizarre and entertaining stories! Have a go at the boards in the pictures to get you started!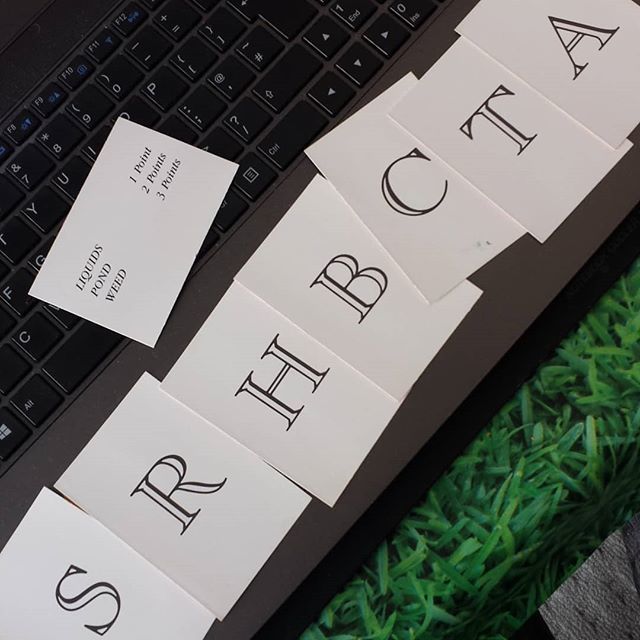 Another classic party game. I was wary of this one at first as it says it's suitable for ages 17+… some people had seen it in my collection and said the thought it would be like Cards Against Humanity – this didn't help! 9as you may know, I am not a fan of Cards Against Humanity at all. I've played it and I felt that some of the topics were so tasteless that I could not find any humour in them). But, I found a copy of this in a charity shop and it is by Big Potato Games (Creators of Obama Llama which is well loved here at Cards or Die headquarters) so, the conditions were perfect for me to throw caution to the wind and suspend my reservations. And, I'm glad I did.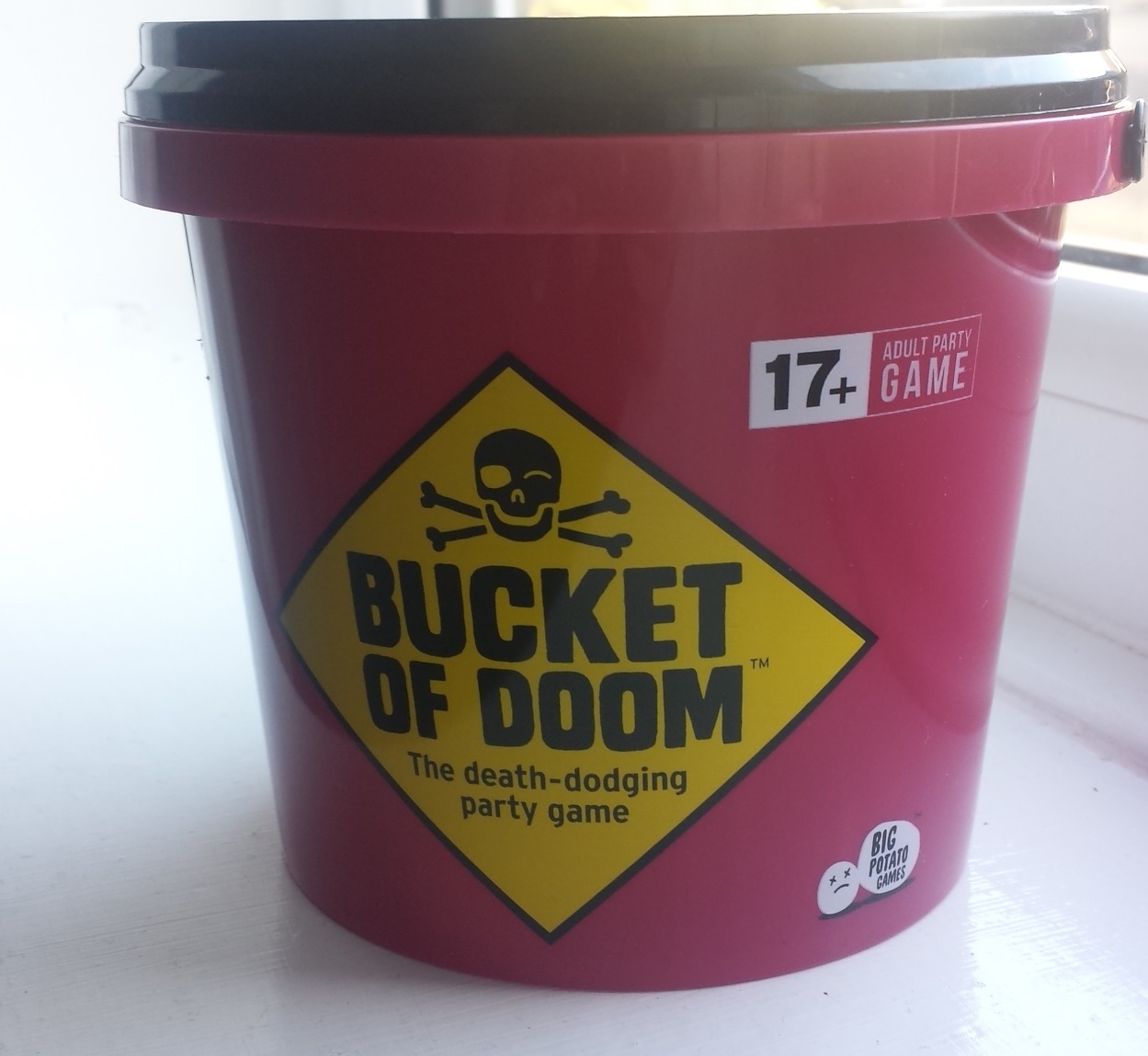 You have 8 objects and an improbable yet perilous scenario. The scenarios are mainly ridiculous, some are rude and many are nightmarish but they are not offensive. You must use one of your 8 objects to escape the scenario you find yourself in. The group choose the most convincing and entertaining explanation and we have a winner/ survivor. Above all else this game is ridiculous. It demands that you engage your imagination and reach into its farthest recesses to generate plausible absurdity.
So, how will your Bachelor's in drama get you out of this suicidal whale?
Serving suggestion: definitely the sort of game which is best served with fizzy wine or fine ales.
In Dixit the player who decides on the phrase, word or saying that encapsulates their card is referred to as the storyteller. Each image tells its own story. I have already written a detailed review of Dixit -you can read more
here
.
I love Gloom; both the game and the Eeyore-like state of being. We have the Cthulhu version. Despite the tuck box (we won't talk about
that
it upsets me), this is a brilliant game. The aim of the game is to make your family as miserable as possible before killing them all!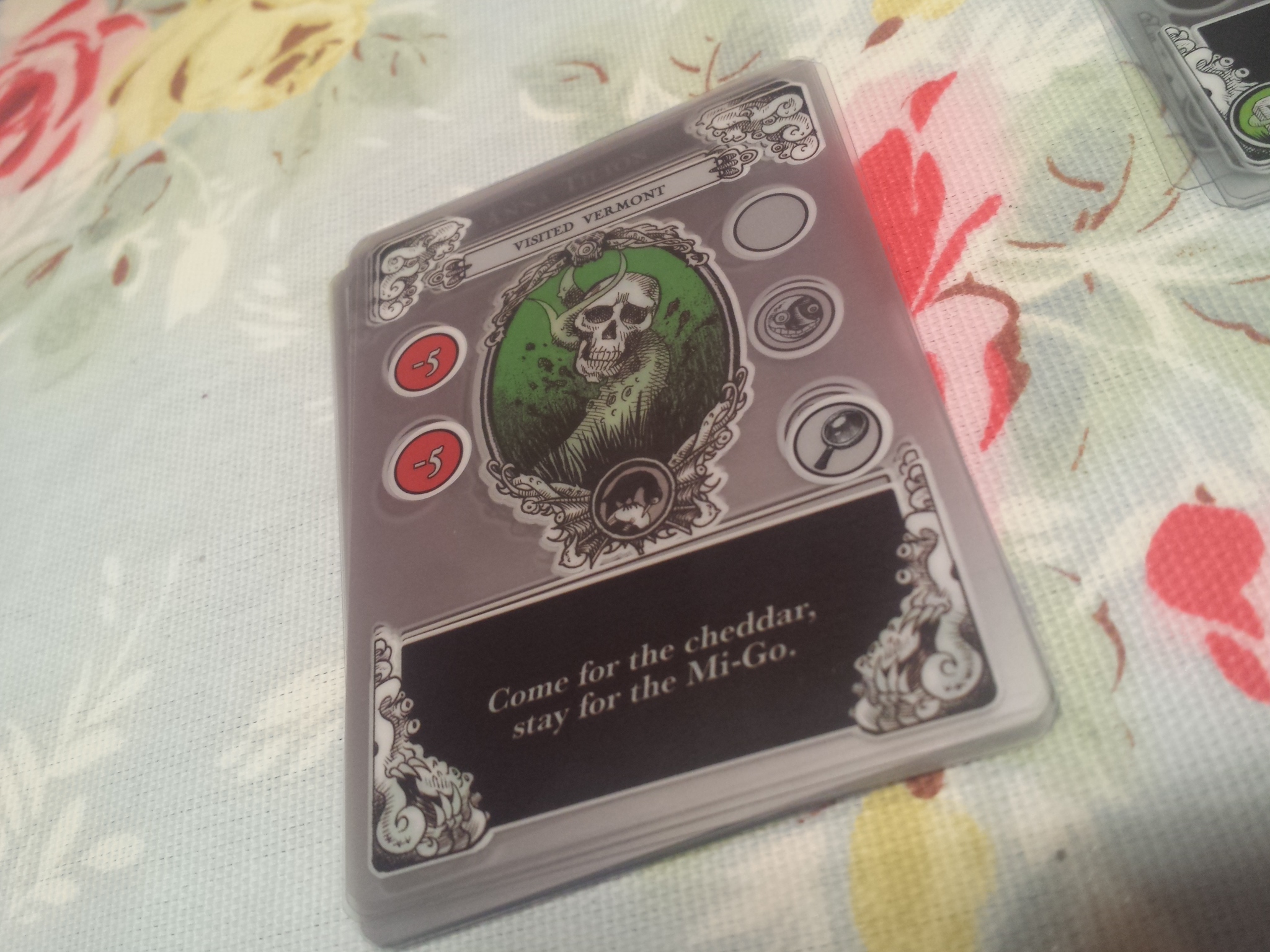 The cards are see-through so that you can stack them up, obscuring or replacing some or all of the existing scores and categories. Event cards intensify the gloom of your family and outline a mishap or terrible event: 'disappeared in the night' or 'was part of a feast' for example. As these stack up you tell the horrifying story of that character. Storytelling is outlined in the rules as 'half the fun': you are encouraged to flesh out (if you will) how these chilling events came to pass. It's definitely more entertaining if you engage your storytelling brain as well as your maths/ strategic one. This goes some way to settling the 'Is Maths better than English?' debate. Or perhaps they work in beautiful harmony? Nonsense, English makes everything better. (This is the answer, no need to comment below).
Whilst trying to make your family as miserable as possible you can cheer up your opponent's with bargainous books or secured tenures. When you have enough negative points you can cause the untimely death of your family member or as a philanthropic gesture you can limit the unhappiness of an opponent's family member by putting them out of their misery – literally.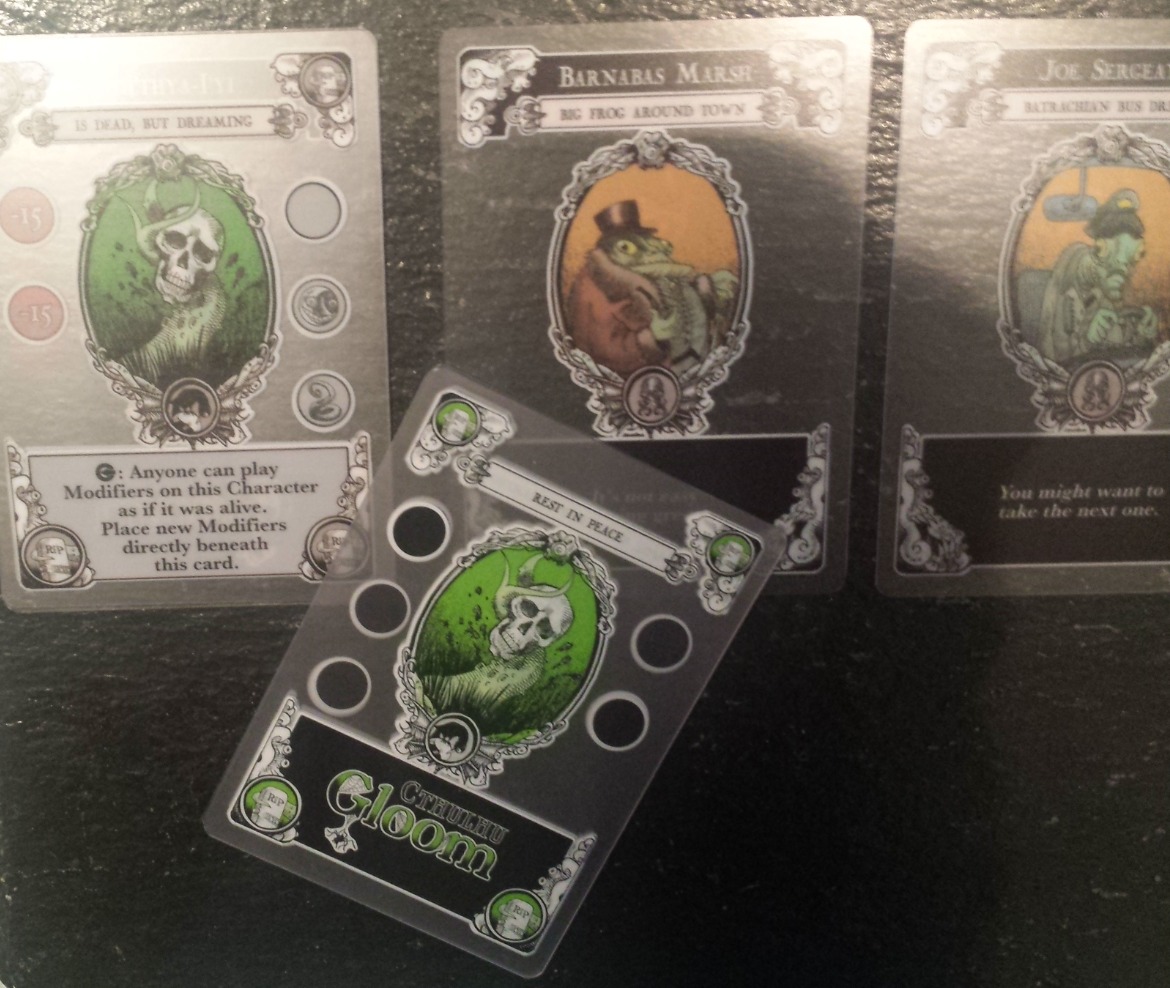 When your entire family have gone to a better place (which given the circumstances wouldn't take much) then the game ends and you total up the points to see who has spread the most gloom. Fabulously gruesome!
In Colt Express you are all ruthless bandits in the Wild West trying to grab the most loot and prove yourself as the fastest gunslinger. The marshall guards the prize on the train – a briefcase full of money. But watch out, get shot by the said marshall and that really messes up your plans.
One of the immediately impressive and striking things about Colt Express is that it uses a cardboard train rather than a board. It truly is a thing of beauty. You make your way along the train either clinging to the roof or risking life and limb as you swing from carriage to carriage.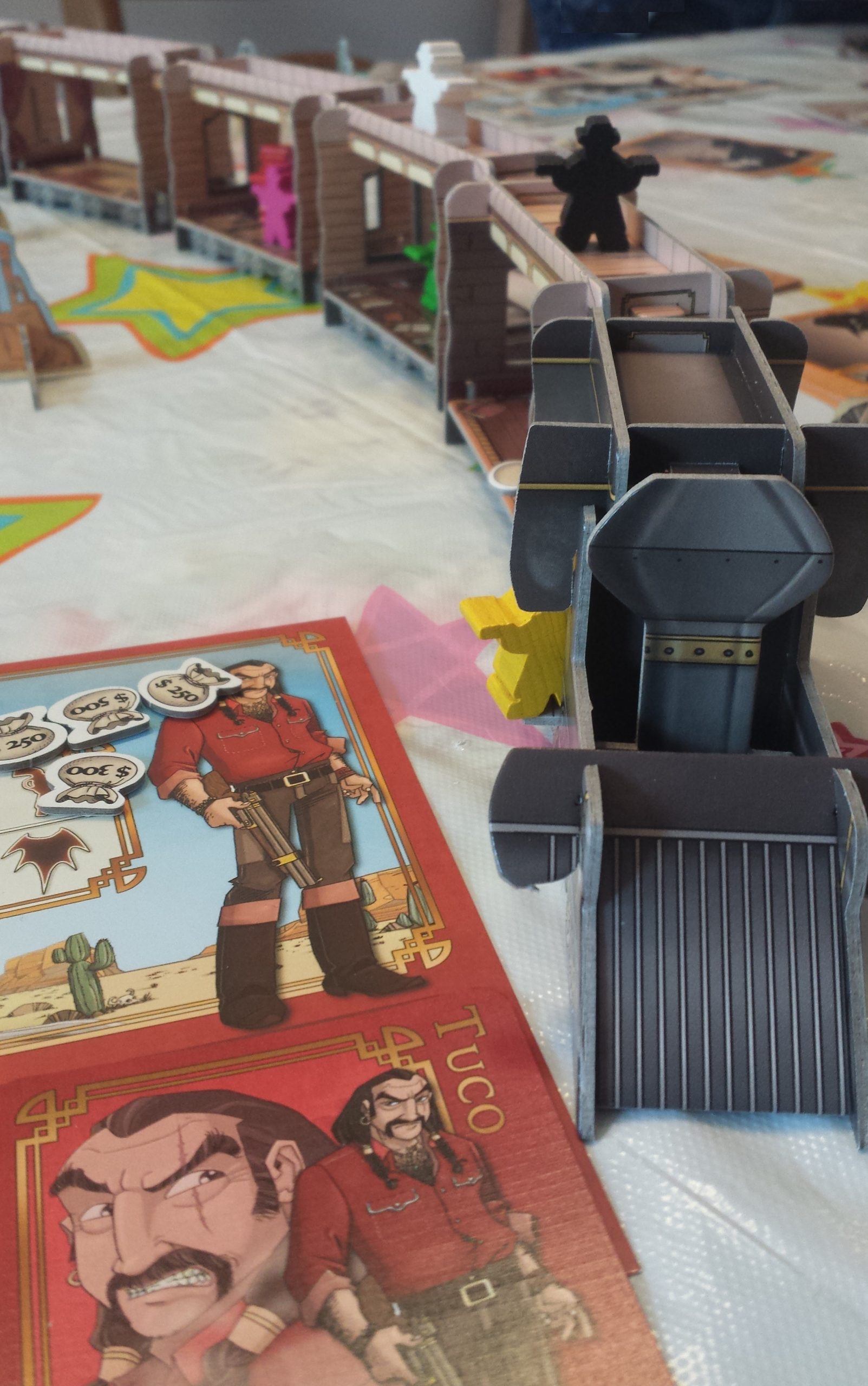 Disappointingly the number of female characters is limited to the usual two and one of them is predictably busty. As with so many games I overlook that. If I only bought games which fairly represent the diversity of society my shelves would be significantly emptier.
Colt Express uses a programming mechanic. A round comprises 4 to 6 actions per player and this is detailed on the round outline card. Some of the outline cards dictate that certain cards are placed secretly and some end with an action like the train screeching to a halt – when the outlaws who have chosen to risk the high winds and jolting tracks by creeping along the roof are jettisoned dangerously closer to the marshall.
Each player chooses the action they plan to execute and places their card in the pile. When this is completed, one player then tells the story of the round. This mechanic makes the game quite tricky; to play effectively you need to not only keep track (no pun intended!) of what you're planning but of what everyone else is doing and where they are, adjusting your plans accordingly.
The storytelling element and the cardboard train are my favourite bits of this game. (It even comes with cardboard cacti!) For me the game is perfect when people enter into the storytelling element of it with enthusiasm. A list of actions becomes a scene from a Wild West train robbery with a cast of rival guns prepared to fight to the death. Each player has a special ability which lends some more depth to the game and there are two expansion packs available which I'm keen to try out.
Everybody needs good neighbours and you can join forces with yours in The Neighbours board game to create the best plotline ever. I have thoroughly enjoyed playing this game and it's had good reviews from events too. Now – whenever I read the word "hilarious" in a review part of my soul dies, but honestly Neighbours is hilarious to play (admittedly we consumed wine while we played – a theme is emerging), but it is a fun game – and the plot lines you create have to be grammatically accurate, which pleases me more than I can tell you. Pretend it's the 80s, pretend it's sunny, and dive right in!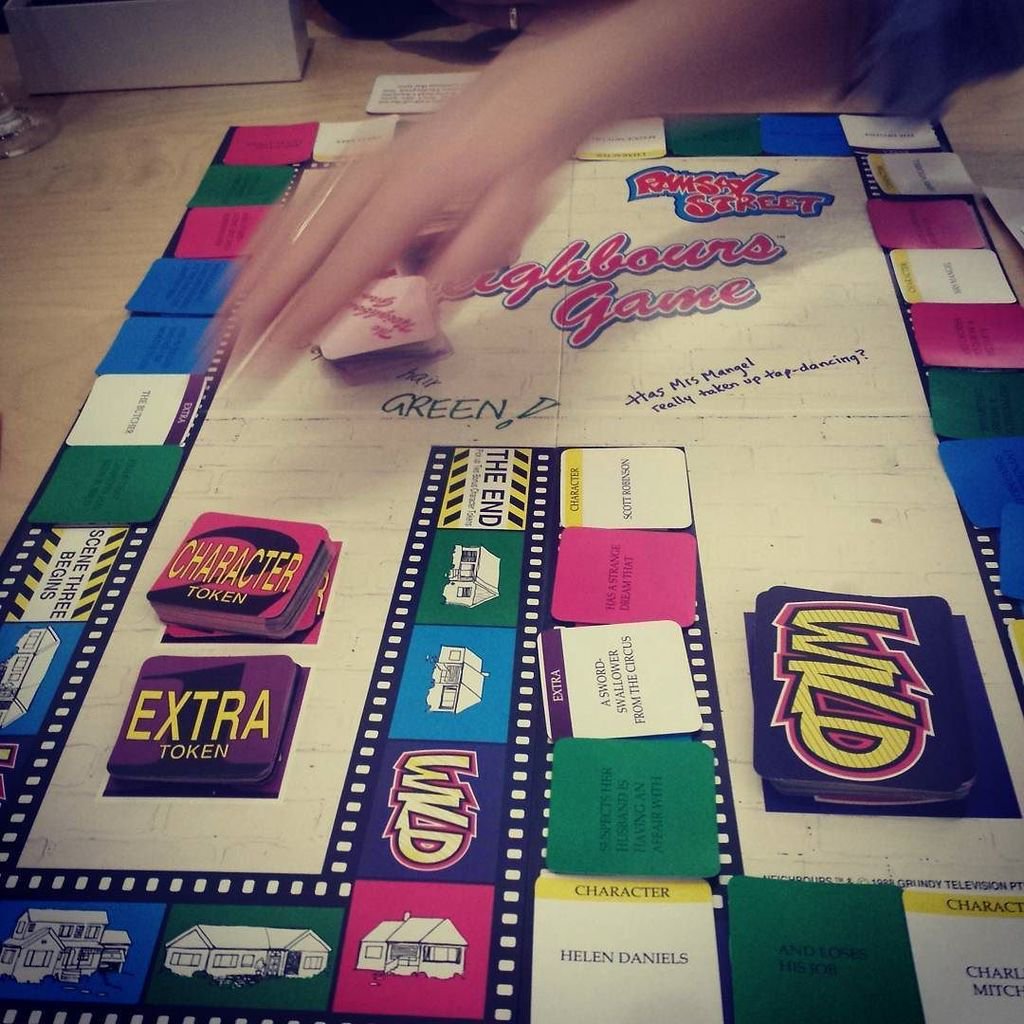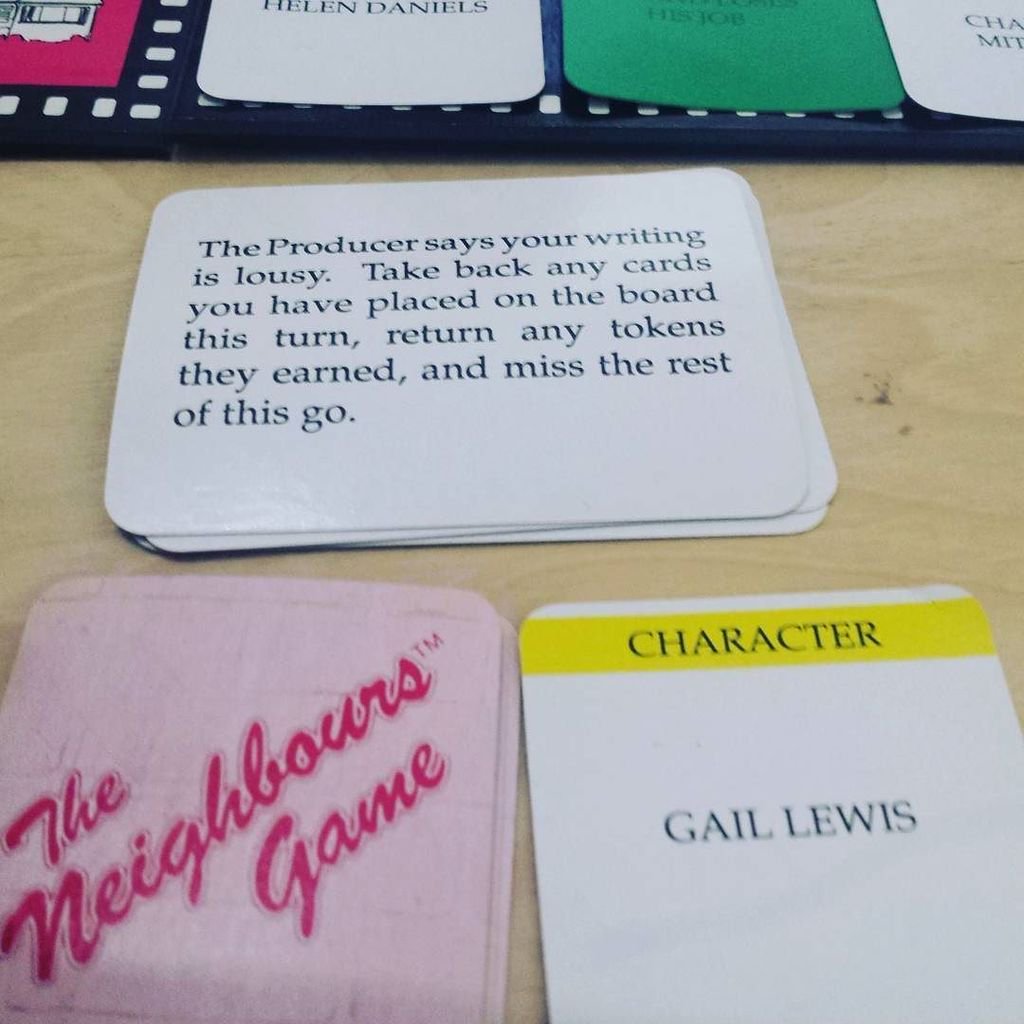 So what is the story we should take away from this post? Well, once upon a time there was a little girl who eschewed the rules of grammar. She thought that what really mattered was the story, not the way it was written. She was wrong. She lost. Grammar matters kids.
As a poster in my classroom stated:
"Let's eat Grandma! or, Let's eat, Grandma!"
It takes a lot more than lighting a fire in a cave to impress people these days… get this wrong and you could have been having quite a chewy dinner…