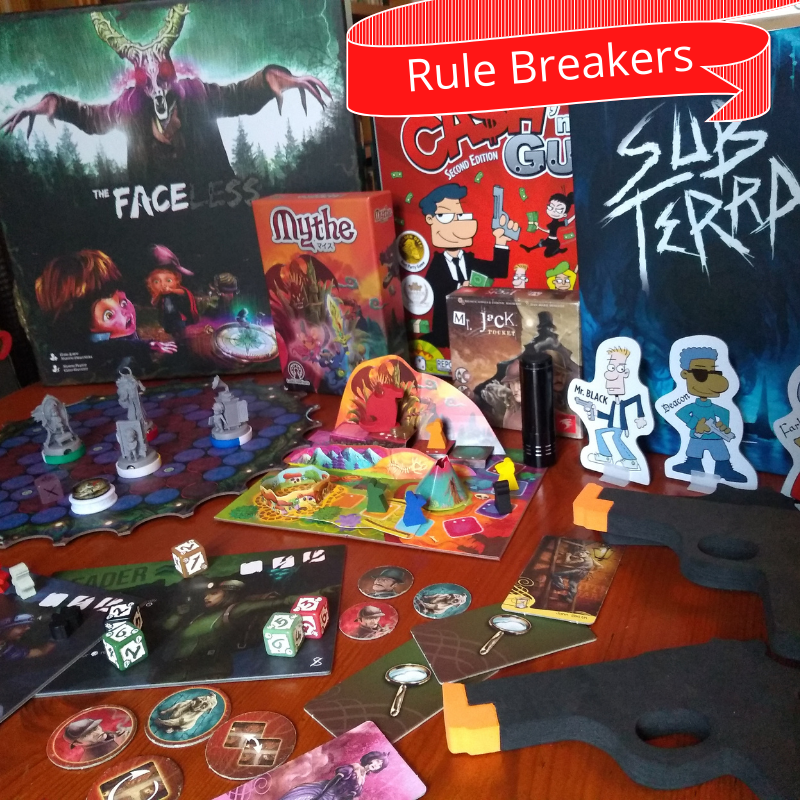 The choices for this category of the 100 Novels that shaped the world are:
A Confederacy of Dunces – John Kennedy Toole
Bartleby, the Scrivener – Herman Melville
How to be Both – Ali Smith
Nights at the Circus – Angela Carter
Nineteen Eighty-Four – George Orwell
Psmith, Journalist – P. G. Wodehouse
The Moor's Last Sigh – Salman Rushdie
Zami: A New Spelling of My Name – Audre Lorde
You can find the complete list
here
.
So, it is nearly time for you to get your entry together to the Leeds Libraries Games Jam. You can find all the details you need to enter
here
along with details of the cash prizes to be won. Just a reminder that your game can be in any format. I've concentrated on board games because that is my area but feel free to explore and enter in the format that suits you. There is also no expectation that you attended any of the sessions. They were simply to help and provide some inspiration. So if you have attended all of the workshops or none of them, read all these blogs or just some of them. I would start planning around the following prompts:
You can do this by copying and pasting these headings into a word document, a table or I know I would be spreading out some big sheets of paper and cracking out the post its and sharpies. You do you. But whatever you do – start planning big! I can't wait to see what you create.
Novel the game is based on
Will there be a solo option?
In the solo option will you play against yourself? A robot/ dummy player? The game?
Your audience – Age? Interests? Board gamers?
Choose your own adventure?
Will you use sound in your game?
How structured do you want your game to be?
Future expansion possibilities?
Real life elements to include?
Other elements to consider…
Games creation has all sorts of jumping off points. Sometimes it's a dream you had, a game played with the wrong rules or with no rules just the components, a feeling that you need to plug a gap or meet a specific need; it can be a theme that you love or a character; a message you want to convey or explore; an image or set of images that you saw(just a reminder that there is a Leeds Libraries FlickR account with loads of images linked to the BBC 100 novels list); an urge to create, to leave your mark on the world; home schooling boredom that made you look for different approaches; playing a game that's nearly good but needs some tweaking or maybe it's a novel that you want other people to love as much as you do. The BBC 100 Novels that Shaped the World is a rich seam of inspiration. How could you take one of those books and make a game? How could you explore the world or the character of the novel in such a way that people would go off and read the novel? Whatever your inspiration there is so much fun to be had playing around with those ideas, making, breaking, remoulding, and coming up with something that works as a game. And if you decide to take it further the joy of seeing your creation go out into the world and bring others joy.
We have already looked at some games that have broken the rules like
…and then we died
which has no real win condition just an end point. We all agreed that was a game but if you asked me before I played it 'Does a game have to have a win condition to be a game?' I'd have said 'Yes'. We looked at
Tales of Evil
's Fusion Events which bring real life elements and objects into the game. Some games are such rule breakers that they shake our very understanding of what a game is.
In this week's workshop we looked at games that break the rules in some way – games that do something unexpected, truly original. This is quite a wide and varied selection of games.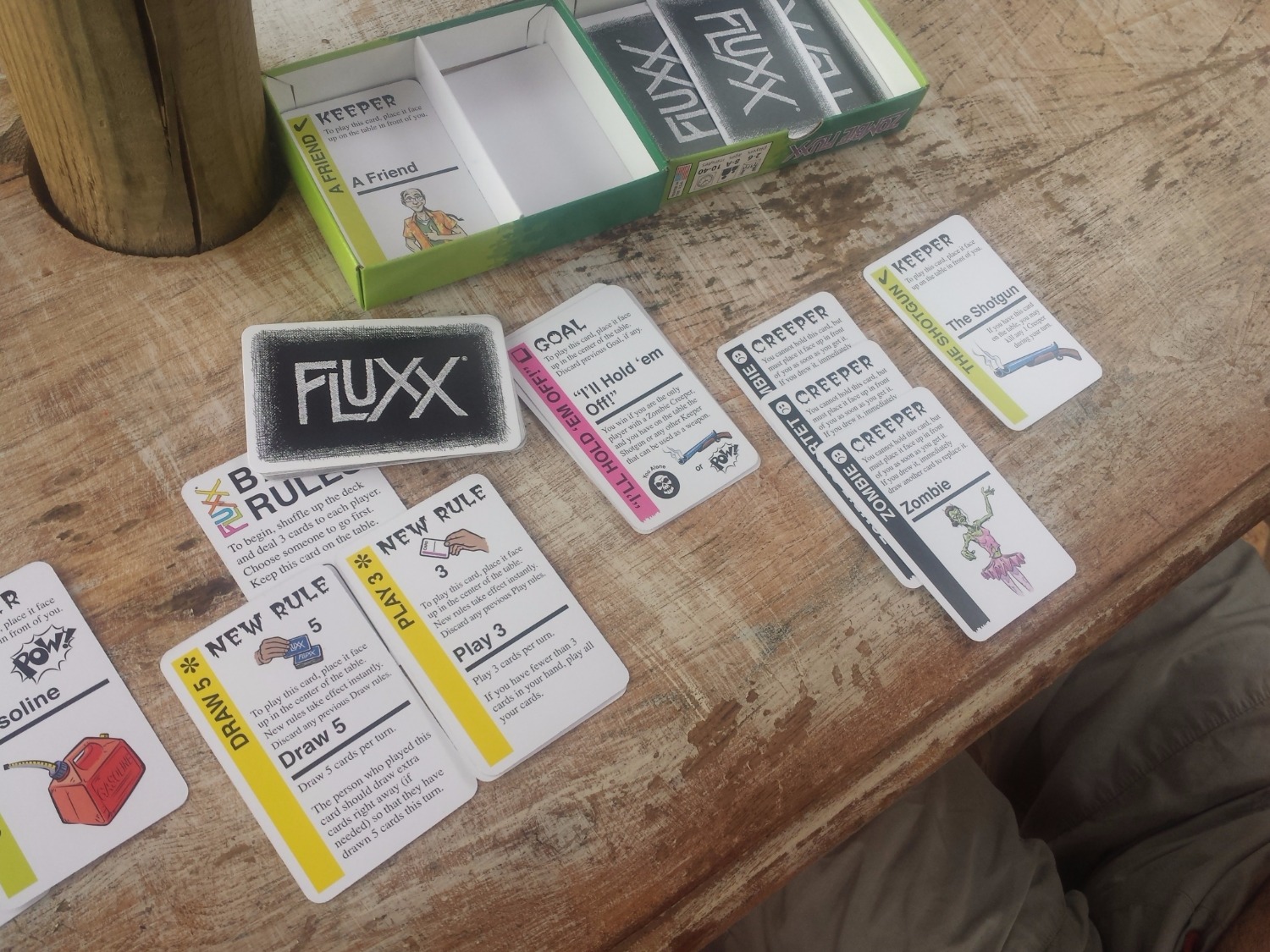 When we think about what makes a game, a game we might reasonably expect a set of rules that tells us from the outset what we can do and how we can win. We expect to have a hand limit for the amount of cards we can hold, a fixed number of actions. Fluxx takes those expectations, tears them into tiny pieces and throws them over a waterfall.
In Fluxx as the name suggests, the only constant is change or even 'Plus ca change, plus c'est la meme chose: the more things change, the more they stay the same'. I'm pretty sure both of those quotations come from novels. Fluxx begins easily enough: you deal each player 3 cards and you begin with the basic rules of draw one, play one. There is no goal at all to begin with until someone plays one. But that goal is replaced when someone plays another goal. If an ungoal is played then that replaces the win condition with a lose condition – if this is met then all players lose. Meanwhile cards are played which change the number of cards you draw, play and your hand limit. As well as the usual range of action cards you get in all card games.
It is a bit of a love it or hate it game. It can be incredibly frustrating as you may have the two cards you need to win only to have someone change the goal just before you play the second card. It also means the play time is difficult to estimate- it says 10 to 40minutes on the box but we have had both shorter and longer games! But it is also very entertaining. Revel in the chaos!
We Didn't Playtest This At All and We Didn't Playtest This At All Either
Both of these come from the same kinds of brains that created Fluxx. Except it is even more chaotic. The playing time on this is 1 to 5 minutes and again we have had both shorter (Yes really) and longer games. Playing PC 'Everyone still in the game wins' or The End 'At the end of your next turn everyone loses! Including you' can bring the game to an abrupt end, especially if one of those is the first card played. Sometimes it has taken longer to set up than it does to play. Bearing in mind 'set up' involves opening the box and dealing two cards each that's quite some feat.
The thing that we love best about this ridiculous game is the text on the cards.
'Zombies' reads 'Play face up in front of you. If a player doesn't say 'AHH! Zombies!' before playing a card on their turn, zombies eat their brains and they lose. Unless they have a banana. Zombies are afraid of bananas. They're a natural predator.'
This entertained us no end – especially because the box states 'BONUS Chaos pack included! (and a banana!*)
There is no banana card either so unless you have a real banana about your person then you'd better remember to do the Ahh Zombies noise before you play each turn.
Like Fluxx some people find this game too silly and too chaotic but it has always been a hit in our house. We're a bit silly like that.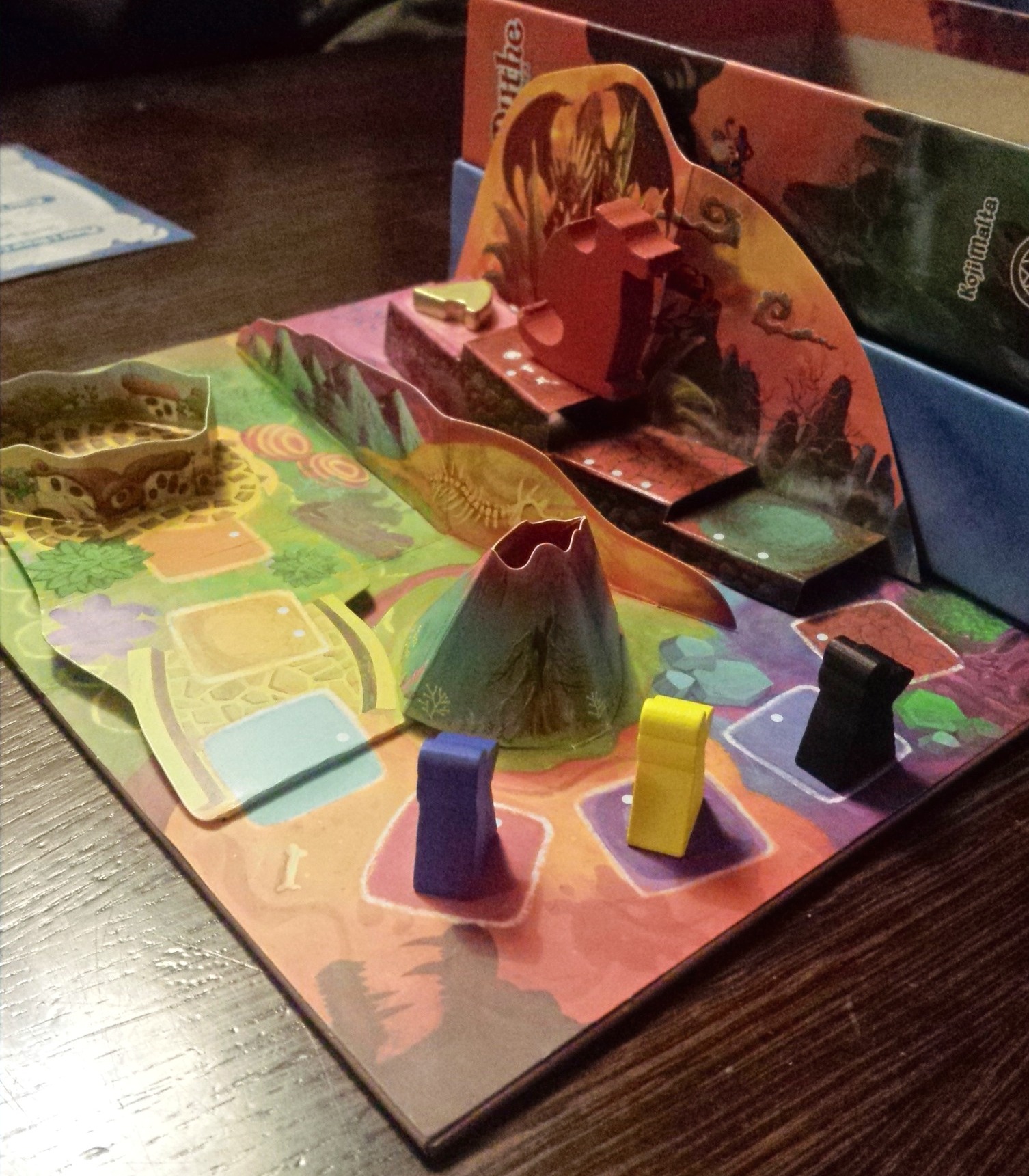 This game by Ludi Creations has a beautiful pop up board which reminds me of pop up story books. You are all mice who are competing to recover the sacred golden cheese which is being guarded by a dragon of course. Not only is the pop up board element unique as far as I know, it has a strange and clever card playing mechanism too. Mythe is a push your luck game which means that you need to know when to stop drawing cards. I am terrible at this and always go for one more even when the odds are stacked heavily against me. This means that I usually lose but on the positive side when I do win, I win big!
The clever bit in Mythe is that, rather than drawing up from a central pile, you draw cards from other players' hands (one by one) stopping before you hit an obstacle card. When you finish your turn by advancing on your cheese quest or by fatally overestimating your mousely strength, you give cards away to other players.
So, you just give away all the good cards and then draw them back up next go? Right?
No. Because to defeat that pesky dragon before your cheese becomes fondue you need to hold a legacy item. Obviously. How else would a mouse defeat a dragon? Also, by the time your turn comes round the other player may have a very different hand.
We've talked a few times about player numbers and this is a good example of one that I feel shouldn't have a two player variant. In the two player variant you have to include a dummy hand. The game is much, much better when played with 3 to 5 players.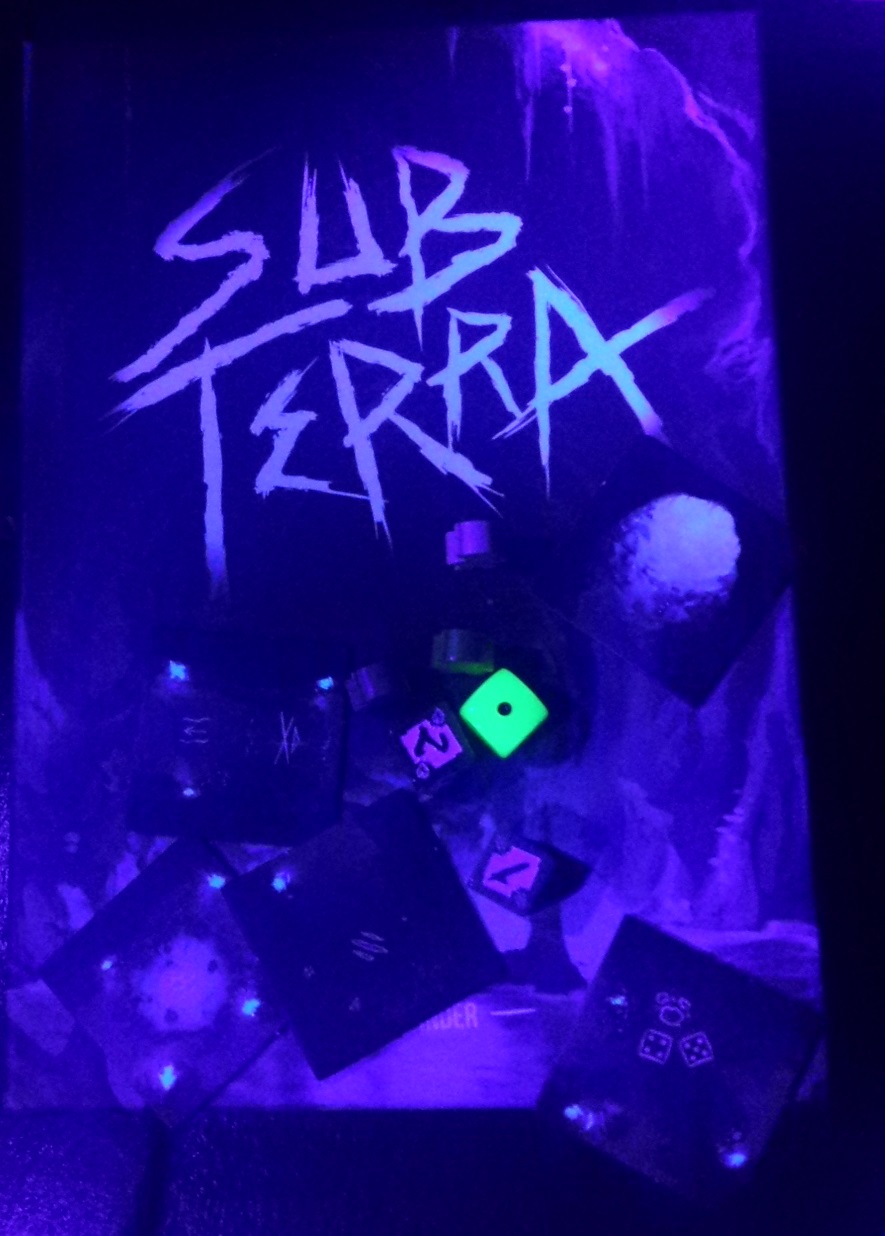 You are trapped in an underground network of caves and tunnels. You must work together to find the exit and escape before your torch lights run out or the horrors get you. There are other threats too: cave ins, gas leaks, floods and the dodgy background of one of your fellow cavers. The board is treated with UV paint so that you can play it in your blanket fort with UV torches for the full immersive horror experience! They also put together a spotify play list to add to the atmosphere which I love.
I have banged on about inclusivity a lot over the course of the workshops and we have seen lots of games that get it so very wrong. One of the pure joys of this game for me is the fact that the cavers are a diverse mix of race and gender. Finally, a games designer who has got it so right. So right that when I play with my family, I don't have to be a boy character because all the girls have gone. And, in the immortal words of Lotto from 8 mile "This shit is a horror flick, but the black guy doesn't die in this movie …" as the medic it's very, very unlikely that Louis will meet a sticky end.
The characters came with little booklets telling you about their back stories and there is a comic book which you can get if you enjoy the story of this game. All of these extra bits are not essential to the game but they do make for a more immersive experience. What would you add to your game? A soundtrack? A menu? Games don't have to be a complete experience but they can be.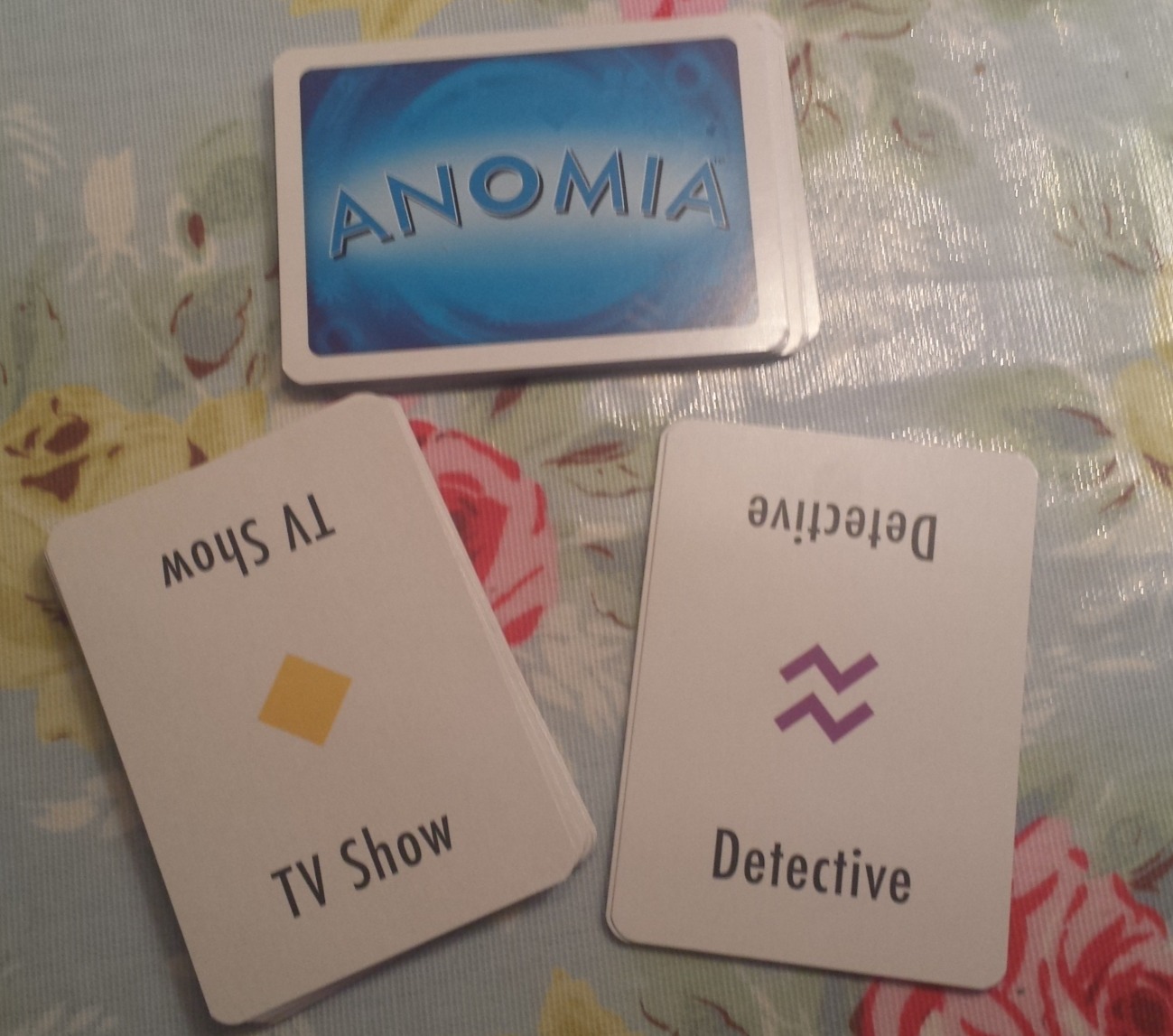 Even small shifts can completely befuddle and challenge your players. Anomia is a fast paced matching game – when you match a symbol with another player, the first person to shout out an example from the correct category wins the pair. Easy and very similar to many other snap based games. Except, in Anomia you shout out an example from the category printed on the card in front of the other player. This is incredibly hard for some reason and the fast paced nature of the game compounds the difficulty making it incredibly entertaining. It can be hard enough to think of sensible answers under time pressure without trying to think of an answer that's on the other players' card!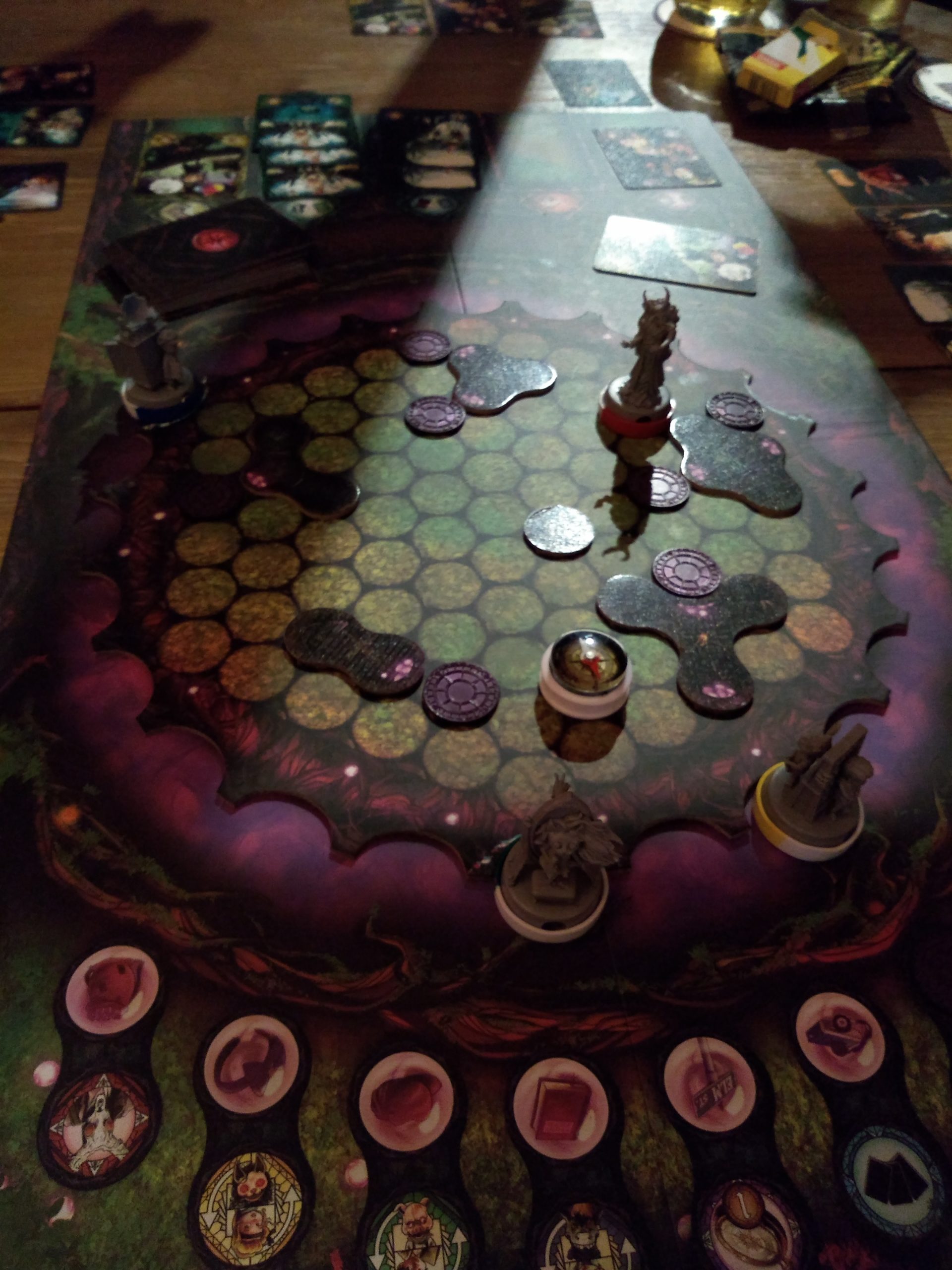 This uses a compass and magnets to dictate movement. I have honestly never seen any other game like it. Thematically it reminds me of Tales of Evil which we looked at in an earlier session. A child has gone missing and your gang must investigate and rescue the missing child. It also has that Stranger Things vibe as a monster from the Duskworld is responsible for the disappearance. You succeed in rescuing the missing child by collecting his scattered memories and bringing them together.
It is a co-operative game. Your movements are governed by the cards that you play and these cards allow you to rotate and move the miniatures around the board but be careful – don't get too close to the monster! Despite the fact that it is a really cool and quirky mechanism we found that the magnets weren't always so easy to control and ultimately it can be very frustrating. I think with a little refining of the components it could have been a fantastic game and we certainly enjoyed it enough despite the glitches.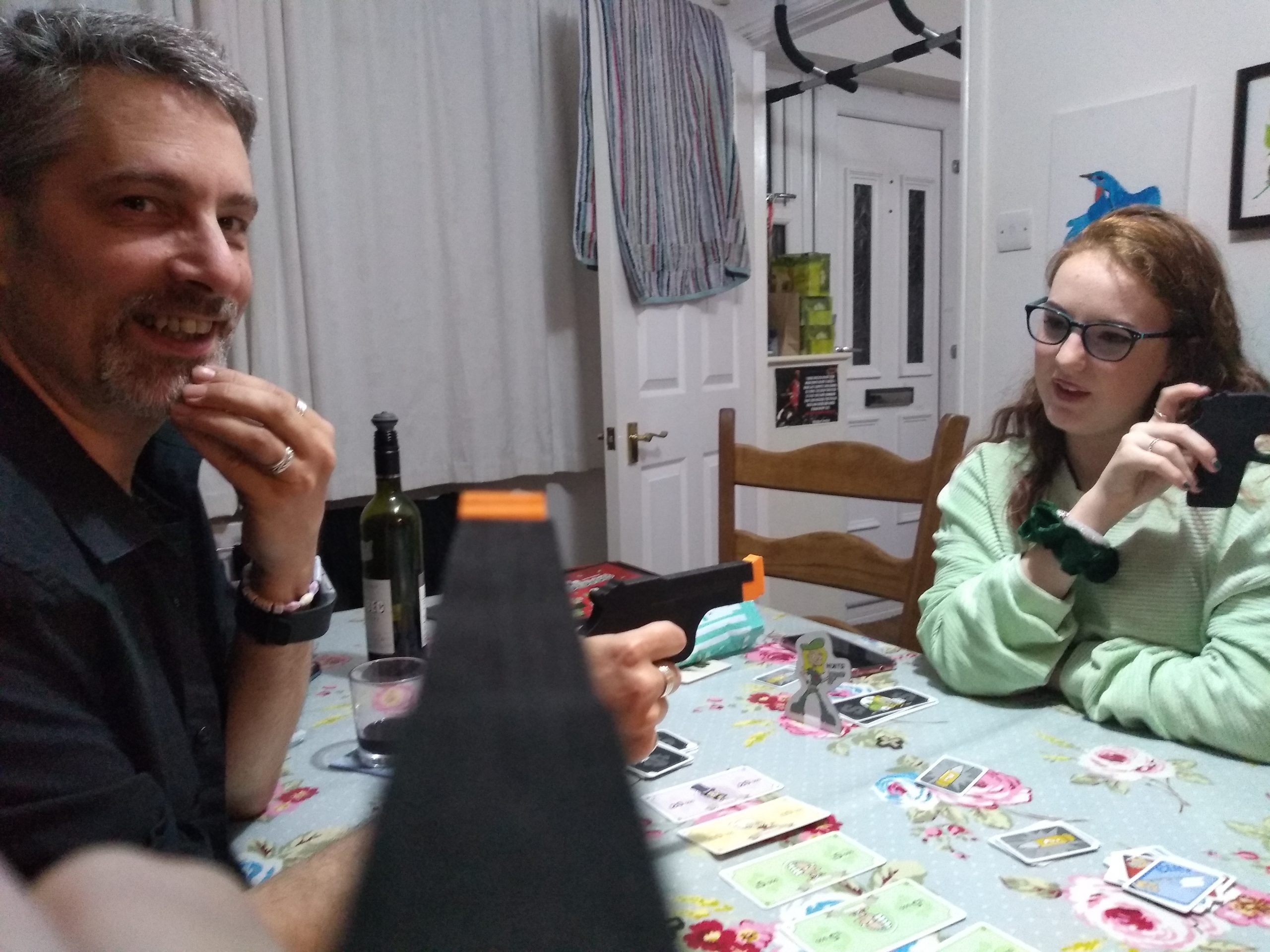 You are a gang of robbers who are squabbling over how to split up the loot from a successful heist. This is a quick to learn, quick to play game of bluff and double crossing. You divide the loot by pointing your foam guns at each other and seeing who will have the courage to stay in and who will end up shot! The brave ones who don't get shot divide the loot between them. Each player has 10 bullet cards to play (one for each round) – seven are blanks and three are live. This means you know how many live bullets someone has left – the question is, does the foam gun they are pointing at you have one of their remaining live bullets in and how much do you want that painting?!
It's loads of fun and was an instant hit in our house. It's a permanent fixture on the favourites shelf.
I don't have this one and haven't played it yet. It was designed by Catherine Stippell for her uncle who is blind. She wanted to create a game that he could play with others and not be at a disadvantage. For blind players people often suggest co-operative games but that can mean that the player who is blind ends up steered round the game by others and is also having a mammoth memory test as they try to remember where things are on the board, what cards they and other players have. It can be a deeply unsatisfactory experience. In Nychtophobia players wear black out glasses and rely on their sense of touch and work together to escape a predator hunting them in a dark forest. There are a couple of different game modes and people have found it thrilling, tense and even terrifying. It has been on my list of games to try for a while now.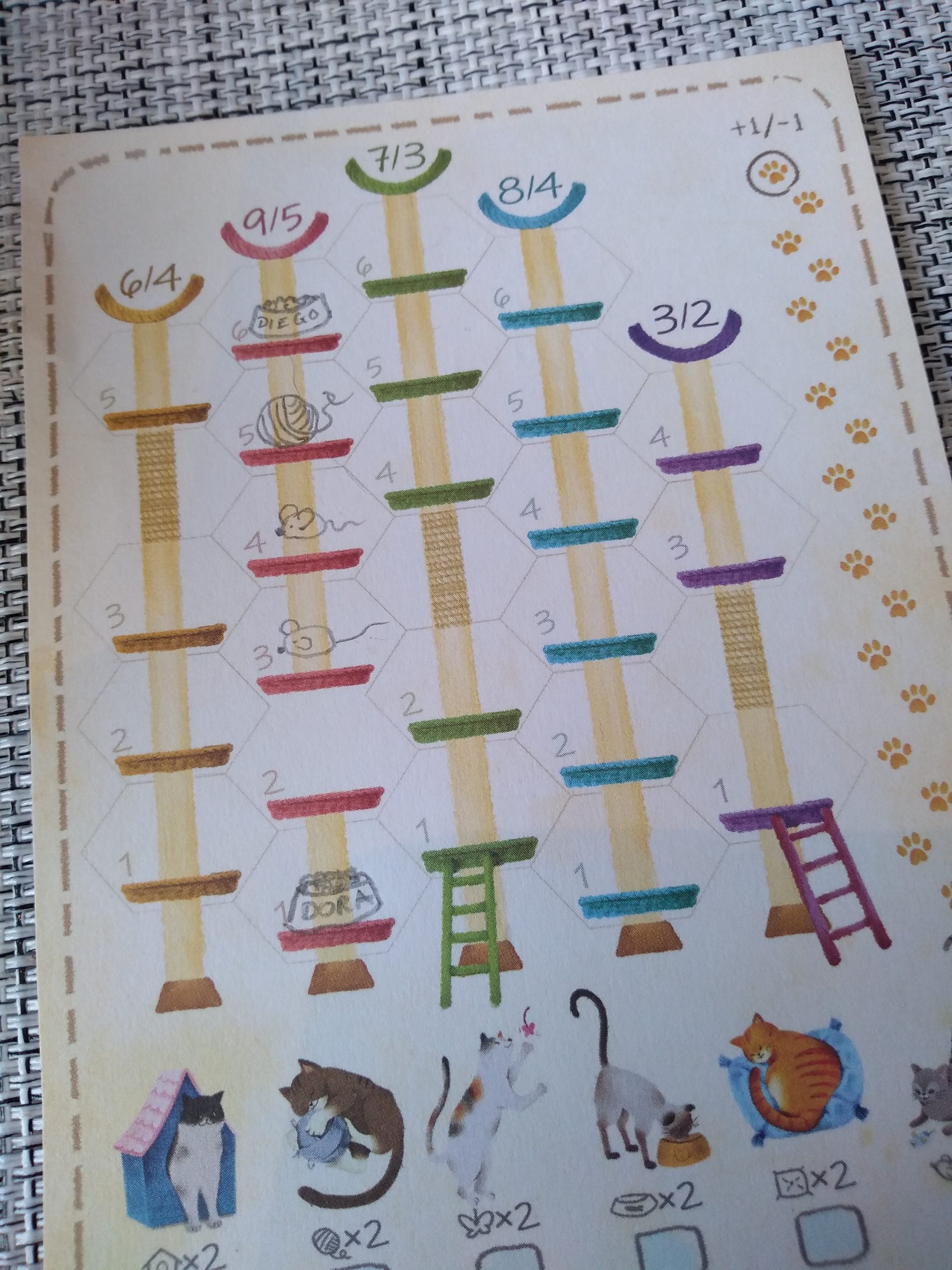 Roll and Write games are enormously popular and I wanted to give them a mention as they are a very accessible way to design a game both for the designer and for your prospective audience.
In a Roll and Write game, you roll the dice and usually choose some dice to reroll or choose dice to use. Each turn your choice of dice will dictate what you record on your paper. Yahtzee and Beetle are early and very familiar examples of this style of game. Roll and write games have recently seen an upsurge in popularity.
The modern example that I am most familiar with is Cat Café by Alley Cat Games. In this game you are creating a cat café which will appeal to the most cats and each feature you add has a unique way of scoring. Each turn you choose dice from those rolled – one die decides which level of your play tower you will add to and the other decides what you will add. Some points are scored immediately and some at the end of the game. For instance, cushions score based on the level they are on – cats like to be high up so higher levels score more while mice score more if they are close to other mice (safety in numbers presumably!).
The winner is the one with the most points. It always surprises people how strategic and complex the game is. It looks simple, but trying to maximise your points each round as well as considering how to limit other people's points means it really isn't.
One of the nice things about it is that on each sheet it shows all of the scoring criteria so that once you've played a couple of times, you don't need the rule book. Everything you need is on the sheet that you write on.
I love playing it and in terms of design and in order to play it – you just need some dice, some paper (perhaps printed with the categories and scoring) and a pencil. You can make your game as easy or challenging as you like. You can make the drawing a key part of the game or an incidental part. When we play Cat Café we always draw our mice and balls of yarn very carefully even though that is not a pre-requisite!
As always we will end with some more questions for you to consider:
What would be on the soundtrack to your game? Favourite tracks/ tracks that suit your theme?

How will your game be different to other games?

What components does your game need?

How could components add to your game?

What will your board look like?

What will your cards look like?

What will the dice/ die look like?

How will you make sure your game is accessible?
I hope you are all ready for the Games Jam this weekend – I can't wait to see your entries!