Whether you prefer to drink real ale, drive classic cars and shout at Junior Detectives, wear a deerstalker and have sharp cheekbones, or exercise your little grey cells (and if you didn't read that in a Belgian accent you've let yourself down) – you will certainly enjoy these detective games. In our house we love a bit of intense sleuthing and here are some of our choices…
There are three female characters to choose from which is a boon. Although since my daughter adopted this as one of her favourites, I never get to be Miss Scarlet anymore. I am often relegated to the buxom and comforting steadiness of Mrs White and spend the game internally creating a salacious back story – she wasn't always this matronly you know!
At the time when Cluedo first appeared in the mid-forties it was an important alternative to the roll and move games which were so prevalent. Even as a child in the late 70s / early 80s I was not so spoilt for choice as we are now. Cluedo offered a relief from the day long unpleasantness of Monopoly or the inordinately (and unjustifiably) long games of Frustration and Ludo. I enjoyed it then and now because it uses your brain. Being able to accurately deduce who commited the murder, where and with what implement is still very satisfying. Even when you don't win, you are invested in the outcome – often the reveal is followed by a comparing of notes and discussion of how close or far off other players were. It is that which gives Cluedo continuing appeal.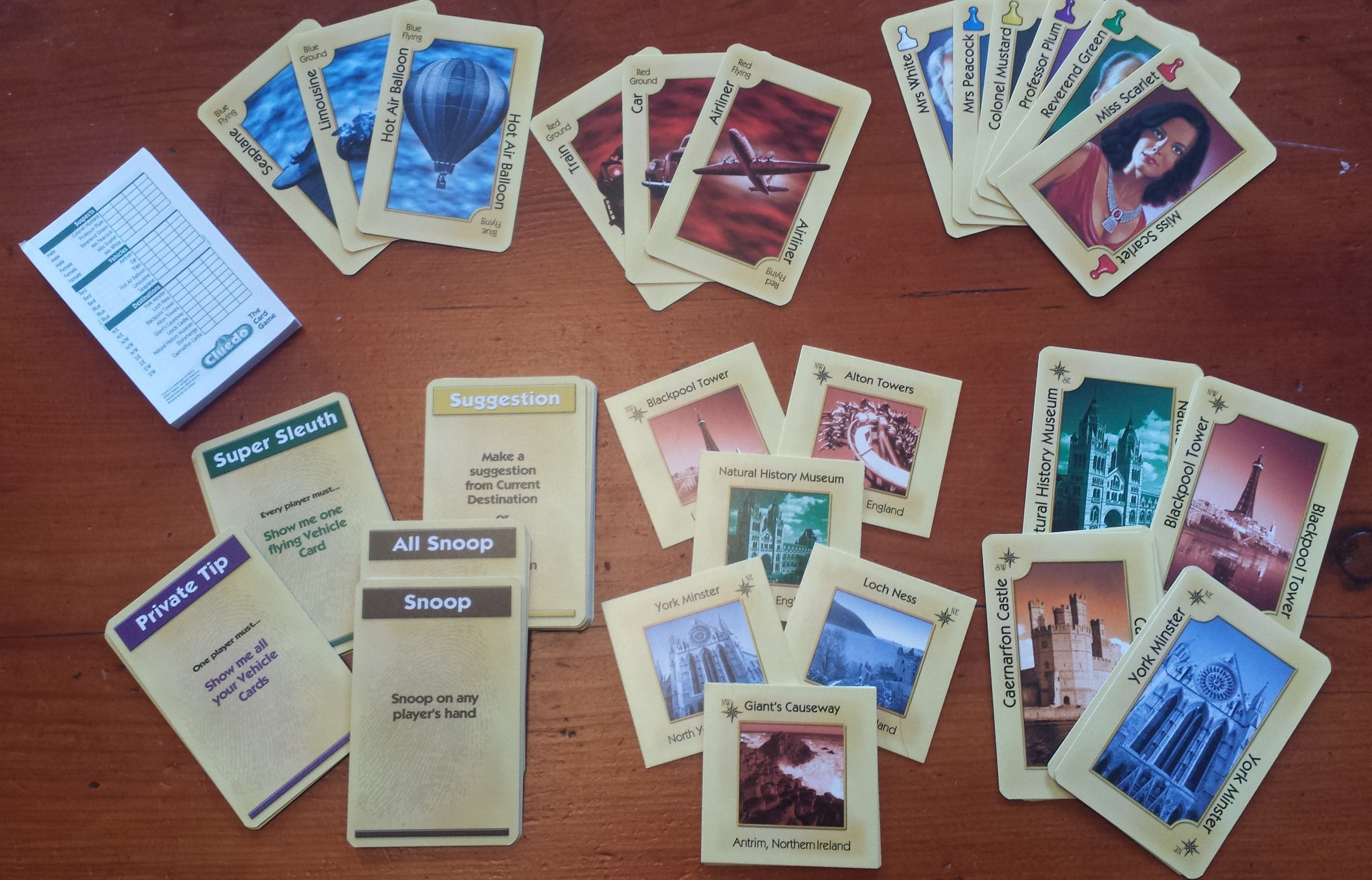 Cluedo but portable? Yes please. The game works well as a card game and sticks reasonably closely to the original. In this version you must use your deduction skills to ascertain the Suspect, the Destination and the Vehicle they are making their getaway in. Action cards determine what players may do on their turns. The addition of destination markers which are all visible help to maintain the mechanic of moving to a room to make your accusation.
There is also a 'one against all' variation. One player assumes the role of the fugitive and must form an escape plan while the detectives must thwart the villains plans before they can make good their escape and time runs out.
I love the artwork on the cards, especially the old fashioned modes of escape like the seaplane! All of the cards – photographs and illustrations – have been given a sepia, aged tone. This makes some of the seemingly random destinations all the more enjoyable – Miss Scarlet might have hopped on her hot air balloon bound for Loch Ness, Alton Towers or perhaps even Blackpool Tower! It is a fun variant of Cluedo and easy to take to the pub, so everyone's a winner!
221B Baker Street has 75 different cases to solve (if you buy the most recent version). Cases vary in complexity as well as making different demands of the detectives; for some crimes you need to uncover the motive, killer and weapon while others ask for cause of death, how the victim died or other more obscure details of the case. You start off at Baker Street and then make your way round the board to different locations, collecting and solving clues as you go. You can only read the clue once and there is a time limit of 30 seconds and may not refer back to it – so the notes you take are vital!
When you believe you have solved the mystery you return to 221B Baker street and announce your theory. If you are correct you are victorious and the game ends. Fail and you are suspended from duty – effective immediately – you do not even get to share your notes with fellow officers.
You are able to seal off locations to hide valuable clues or mislead other players. These are fairly easy to unlock and although you are only allowed one key and one Scotland Yard card to seal and unlock locations, they are easy to replace. It is not a feature that we often use when we play, because of the "actual murder" thing (see above!).
While it can seem slow to start, the game soon picks up pace. I enjoy the problem solving and deduction as well as the opportunity to take opium and play the violin erratically.
We enjoy it despite the fact the children find some of the clues too obscure. We usually start out individually and end up in some sort of co-operative game where we work together to solve the crime, or we visit different locations and swap clues. I'm basically quite conflict averse, so we don't enforce the 30 second rule, or use a much longer time. Not only would it make the game more difficult, but I can't imagine a scenario in which one of my children would not attempt to kill the other with the clue book rolled up around a lead pipe, in the dining room, when their 30 seconds was up and they 'HAVEN'T EVEN READ IT ONCE'. I'm a strong believer in house rules and am not a stickler for the printed ones. Games are about having fun and as long as all rules are pre-agreed by the group so that everyone can access and enjoy the game that's what matters most.
Mr Jack is a great little 2 player asymmetric detective game. The Inspector employs Holmes, Watson and Toby the dog to track down Jack the Ripper. It is short on diversity of characters but it has many plus points. We took it on holiday with us and played it a lot.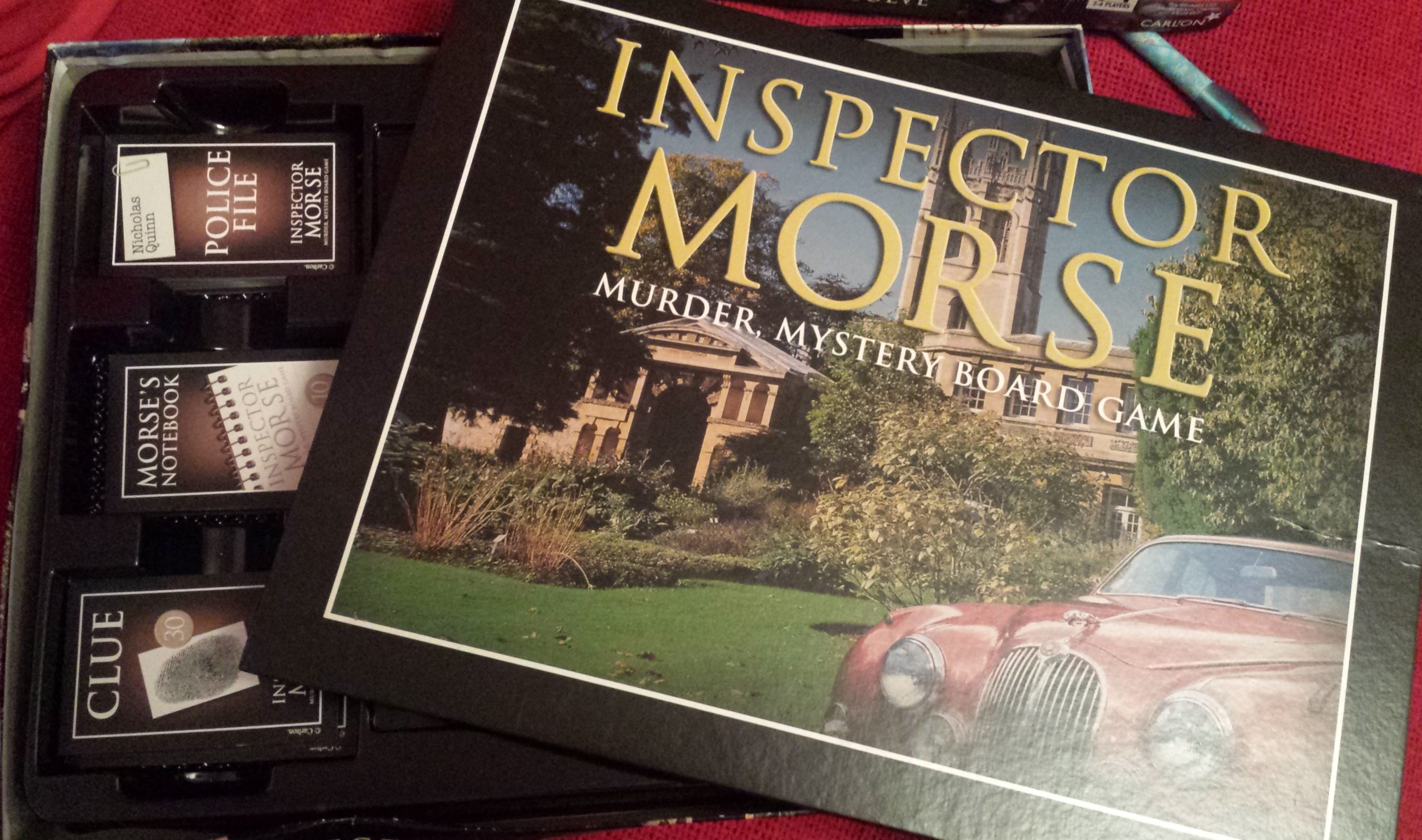 Unlike 221B there are only 9 variations to play here (3 cases with 3 question cards each). So it has a clearly limited life on your shelves. Lucky for you I bought it so you don't have to!
You begin by reading the case book but make careful notes as anytime you want to look at it again it will cost you 10 points (each player starts with 500 promotion points). The object of the game is to move around the board solving clues so that you are able to correctly answer the six questions from the question card. Locations contain clue cards which once read are replaced at the bottom of the pile and if you are unlucky enough to draw the same clue twice that's just tough – you don't get to swap it for another!
As you move around the board you also encounter difficulties and positive adding a (possibly unnecessary) element of luck to the game. The square may cause you to lose or gain promotion points at random; move to certain locations or squares or move other players. You can move around the board in a variety of ways though.
There are two endings to choose from which as a group you can decide on at the beginning. You may either return to Morse's office with your theory, at which point all players hand in their notes sheets which are scored (plus points for correct deductions, minus points for incorrect or missing answers) or, return to Morse's office and see if you are correct. If you have solved the case then the game ends but if you have not then the remaining detectives slog on while you wait in the pub with an increasingly warm real ale for them.
Despite the luck element this is an enjoyable game, especially if you enjoyed the TV series. Relish the opportunity to say 'Lewis' in a suitably angry or disparaging tone every time someone else lands on a bad square! Best played in the pub with a real ale – it's where you do your best thinking after all.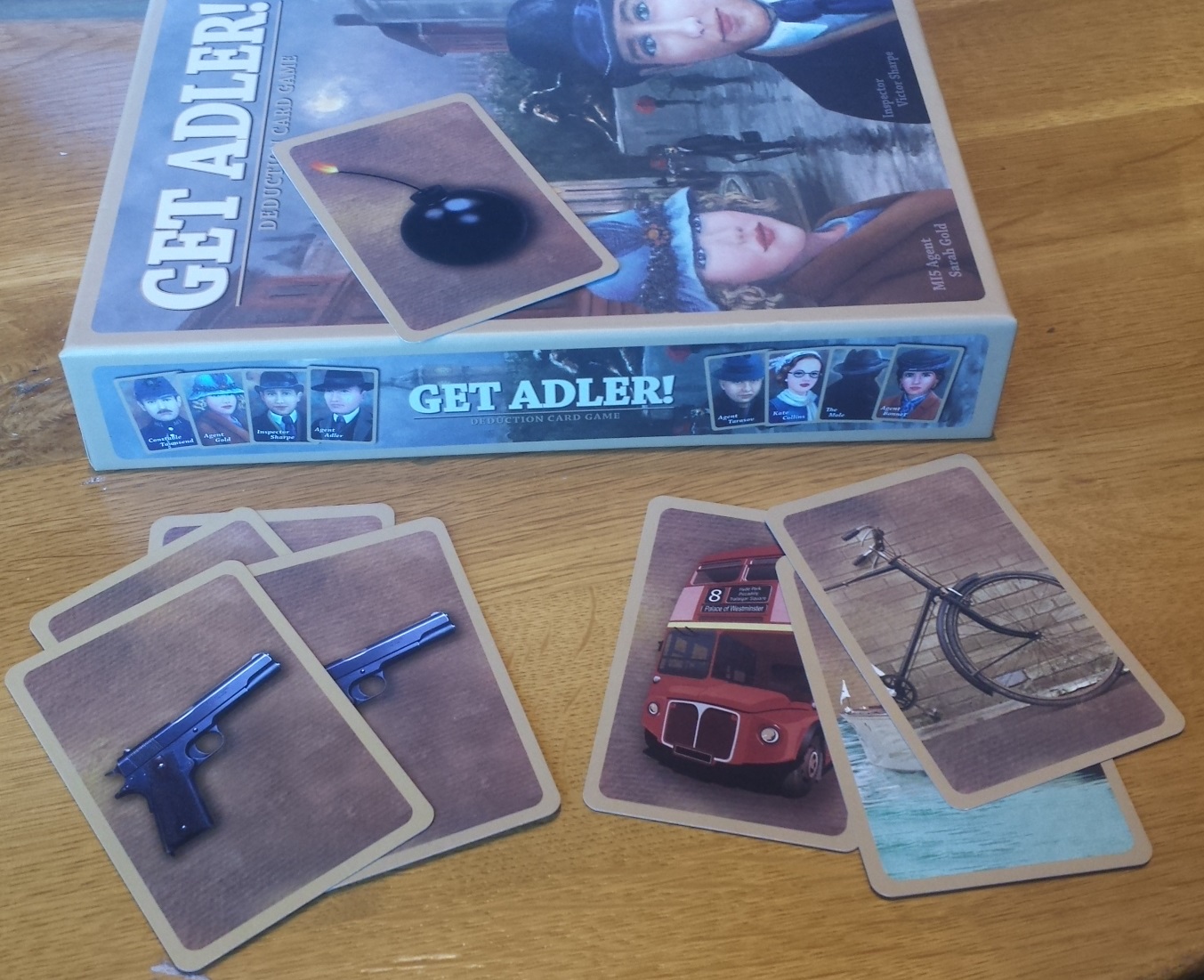 Get Adler is a brilliant, fun game. In the first half the agents are searching for Adler and in the second half Adler tries to escape while the agents try to catch him. Particularly good for larger groups as it plays up to 9 people. Mechanics wise it combines guess who with fast paced strategy!
And I couldn't write a blog on sleuthing without featuring a Sherlock gif, could I?