Board games can be a serious business. Try circulating at an event, trying to capture photos of people having a great time playing games and you'll soon see: the furrowed brows; the intense examination of a hand of cards; the co-operative players desperately trying to escape The Curse of The Temple. It's all fun and games till someone loses a die.
In this week's blog I want to look at the lighter side of board gaming, focusing on 6 games that will make you laugh.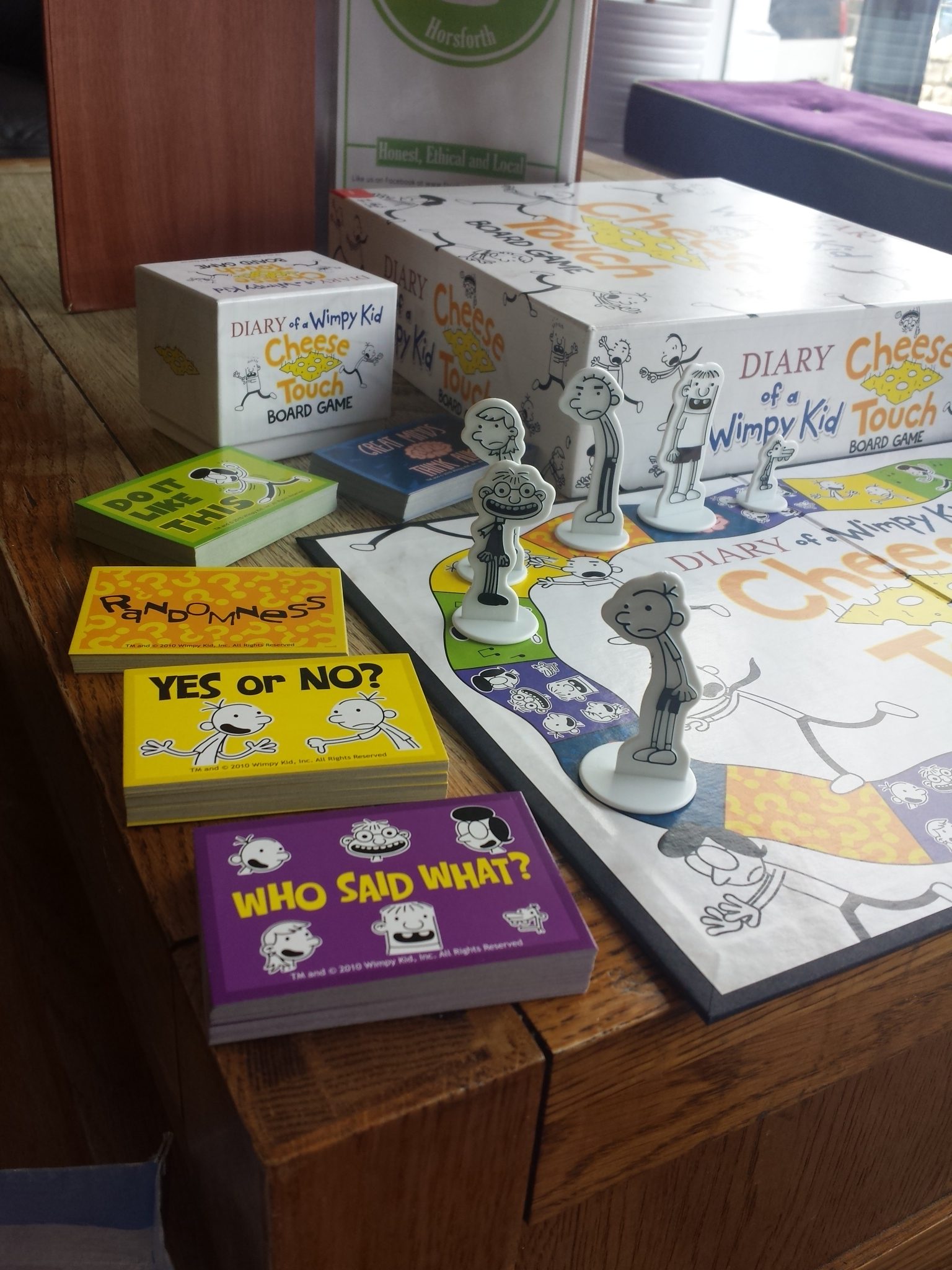 How well do you really know these people – your family, friends and fellow gamers? Thanks to the Cheese Touch, you are about to find out. As you move around the board you have to complete tasks like- miming an action using the adverb on the card (e.g. lazily), the player whose turn it is has 5 chances to get the correct answer; there's Yes or No – choose a player who you think will give the same answer as you; Who Said What? – match responses with players or Great Minds Think Alike – reveal identical answers to win. Succeed in these tasks and you will be rewarded with movement towards the end of the board… but fail and you will have The Cheese Touch… To win the game you must get round the board first and be free of the cheese touch!
Even if you never read the books, didn't watch the film or don't believe that cheese is inherently comical you will still be doing your level best to avoid the cheese touch and laughing as you do!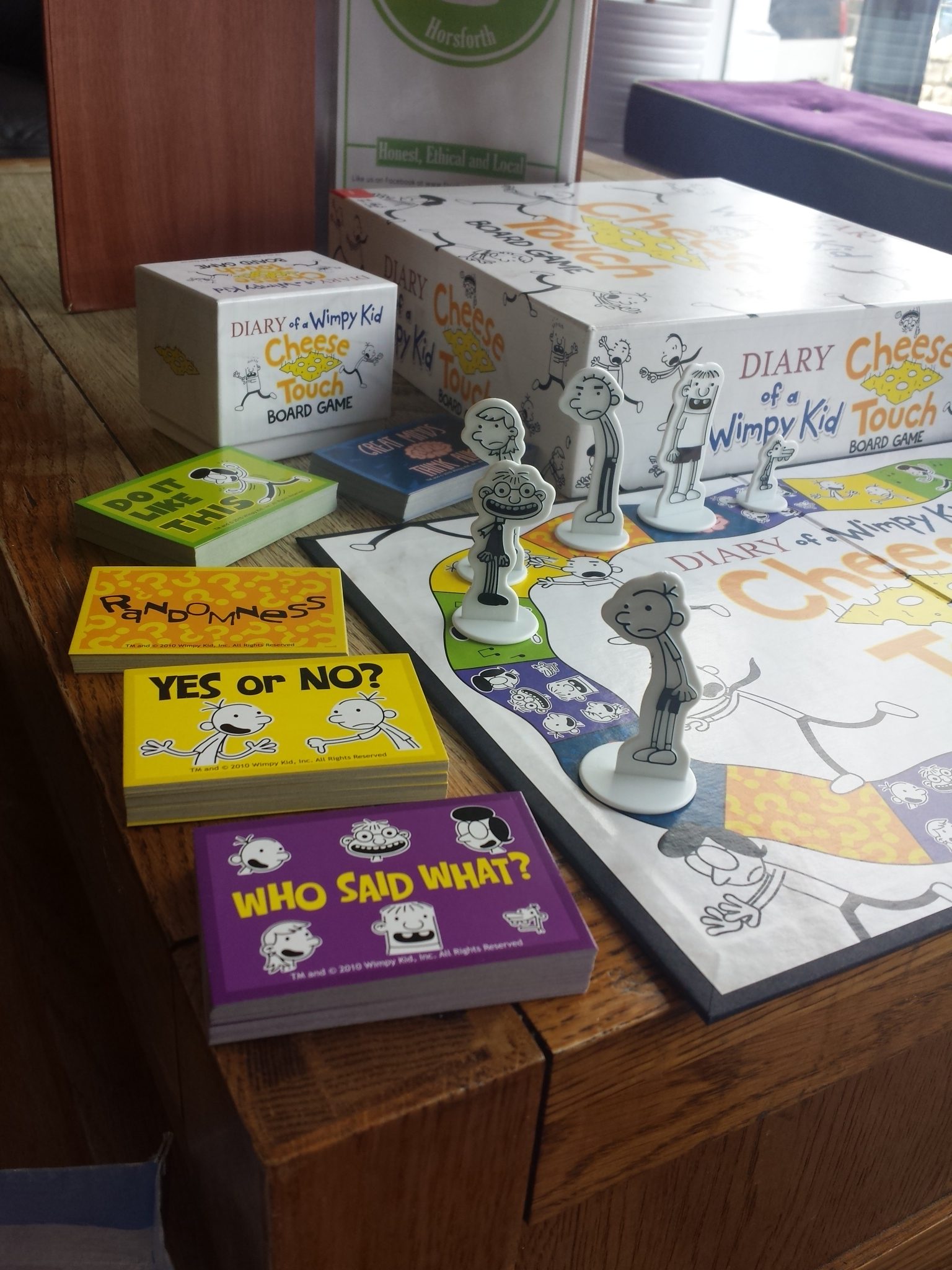 The first thing you need to know about Cobra Paw is that the tiles are called Clawfuku – I'll let you work on the pronunciation yourself. Roll the dice and identify the clawfuku which matches the symbols shown on the dice. Grab it quick with your stealthy ninja skills, before anyone else. First to 6 (or 7 in a two player game) wins!
But be careful- just because a clawfuku is in front of you does not mean it is yours. At every roll of the dice, they are all up for grabs. You need 'eyes in your arse' to win this game!
Despite your temptation to pronounce clawfuku in an aggressive manner – the divit of diplomacy will avert any unpleasantness. In the case of a close call, whichever player has their claw in the divit is the winner of that particular clawfuku.
The game pieces are chunky and colourful, delightfully tactile and the game itself is quick to learn and play and endlessly entertaining.
A quick fire game – like a powered up version of snap. Match the symbols then call out an example from the category on the other person's card to win the pair. Like so many classic games, it sounds so easy. Then as it gathers speed you realise that you don't know any animals at all and the only TV shows you remember went off air in the 1970s. Or, worse still the only word you can think of is flatworm and you're not even sure what that is.
Wild cards add more mayhem by allowing you to match on two symbols. So in the one pictured you could have a match with 2 crosses, 2 zigzags or 1 cross and 1 zigzag. Frankly after 'a' glass of wine that can be a challenge too far – if in doubt shout flatworm and hope for the best.
A mime in two acts. Animal Ailments demands that you successfully communicate which animal you are. Then through the medium of interpretive dance, charades or simply with the power of your mind – communicate your ailment. You gain cards for miming excellence and for understanding other people's interesting interpretations! Can you recognise a hungry tiger, a camera shy kangaroo or a snail who is (understandably) scared of birds?
The cards also have power ups, giveaways, extra turns and other abilities which make the game more chaotic and entertaining. And, of course there's a timer – everything's funnier when you are under pressure!
A thoroughly entertaining and ridiculous game. We love it!
Quirk is like Happy Families (if the families were on crack). To win quirks (sets of three cards) you must act out or make the sound of the quirk you are trying to complete. Quirk Legends has the added twist of allowing you to count up how many goodies and baddies you end up with! Both games include tactic and skip cards which allow you to complete actions like – stealing quirks, stealing cards or blocking others' actions.
The illustrations are lovely too. I particularly like those in Quirk legends. I've got a soft spot for the T-Rex though – I'm not convinced they're a baddy!
It's obviously great for kids as it is easy to learn and it appeals to their sense of silliness. Recapturing that silliness makes for an entertaining game for adults too. I went for years without rolling down grassy hills and when I had children I rediscovered the joy of it. It's something I won't have the chutzpah to do for much longer as I risk embarrassing myself and the children. This game is perfect for giving you permission to be as daft as you like – children or no children.
A thoroughly enjoyable game. In this instance the lack of timer makes it more entertaining as you force your opponent to repeatedly impersonate a wizard whilst sincerely claiming you have no idea which card she's after. Make 'em earn their quirks!
A word game that has endless possibilities for creative hilarity.
Read more about it in my recent review of it
here.
So if you are game for a laugh and you want to challenge your pelvic floor as well as your brain give one of these a go!