Every day over half term (16-24th February) Cards or Die will be joining the Royal Armouries Leeds in their War Games exhibition. I'm choosing a selection of war themed games and war time games from our collection for you to play or just have a look at. There will be loads of activities on throughout the week – you can see weaponry commonly found in video games, take part in historical and sci-fi scale model gaming, take part in a cyber mission and see war gaming demos.
Here are some of the games Cards or Die will be bringing along:
Playing cards have been around for centuries and were certainly in both sets of trenches, on all sides of the wars, in homes and in kit bags. By carrying a deck of cards you are carrying an endless selection of games: games of skill, strategy, bluff, luck, push your luck – all the key game mechanics are here. Many of those classic games are still played today – Rummy, Whist, Pontoon, Old Maid, Bridge, Cribbage … the list is endless. Even simple childhood games like snap and Happy Families or Go Fish provide the basis for some great modern card games. Dobble, Twin It, Anomia, Who Did It? all use Snap as their basic premise.
As well as providing a pastime in the trenches, cards provided opportunities for propoganda – the Germans produced decks which depicted German heroes or caricatures of the enemy. Decks of cards were also used to educate – some decks were used to teach basic French vocabulary, while others showed the colours of the allies to help with recognition. Of course just as we do now, people would come together over the games – sharing their experiences and memories, teaching their favourites from home. At a time of shortages cards were the perfect game – cheap to produce and most households would have a couple of old packs of cards they could hand down to bored children.
Word Games like Lexicon from 1932 and Kan-U-Go also from the 1930s remained popular for years. I remember Kan-U-Go from our caravan holidays as a child (and I'm not *that* old). Later this penchant for word games led to the development of scrabble.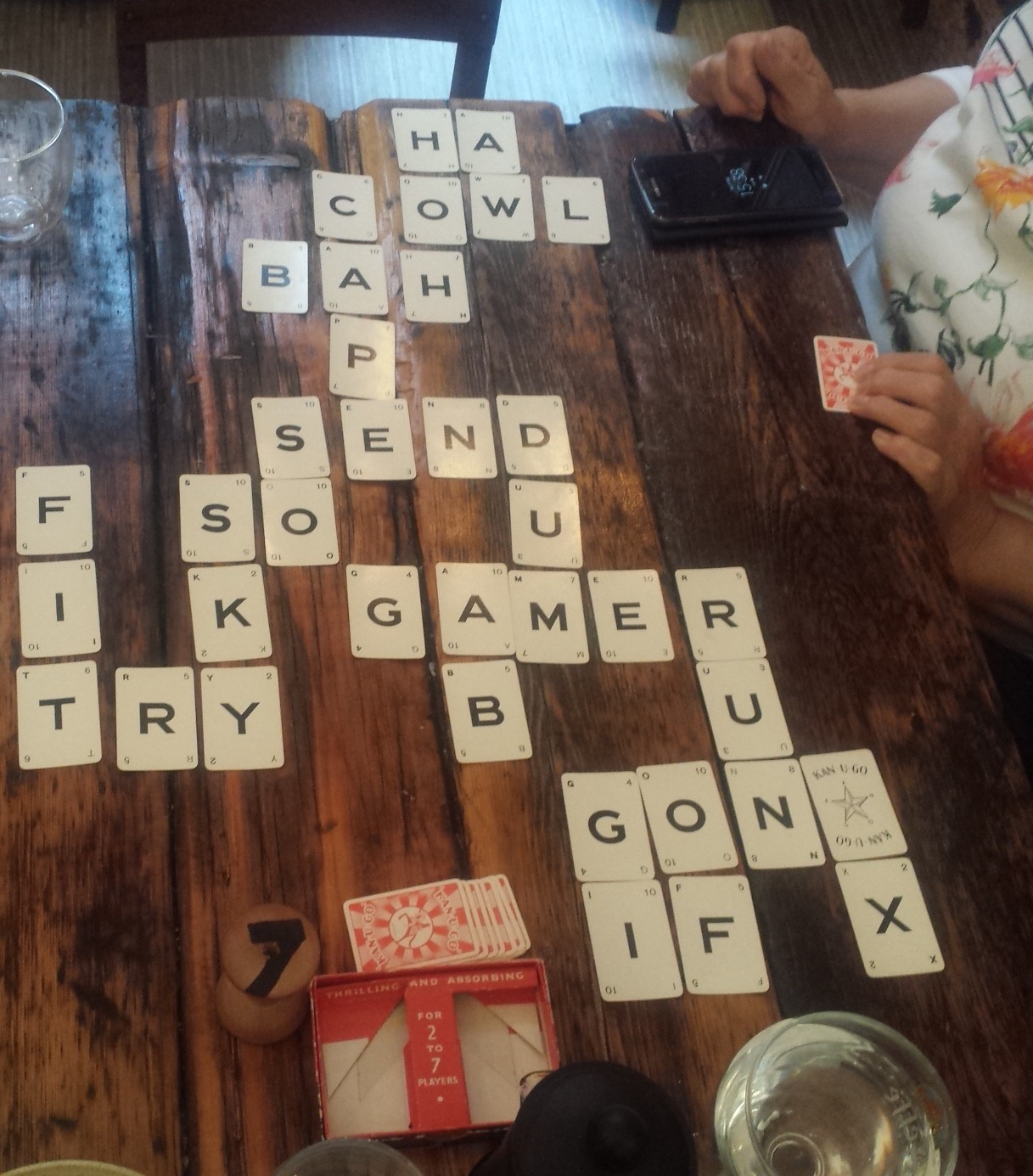 Snakes and Ladders actually dates back to the late 1800s and has always been loved by children. I don't still have my childhood copy but I do have the wooden shaker that came with it; I still like the sound and feel of it. A simple game that doesn't take too long and I remember really loving the pictures on mine. Now I have a lovely cloth bag version from M&S. Side note I did a Women's Institute booking and one of the ladies said it was her favourite game – I expressed surprise and she explained that every time you go down a snake you drink a gin! We won't be playing this version at The Royal Armouries but I thought I'd share the suggestion!
Sorry 1929 – like so many traditional family games this is sure to end in tears. It is very similar in principle to Frustration, Headache, Ludo and its German sibling 'Mensch ärgere dich nicht' which literally translates as 'don't get angry, mate'. You move around the board landing on people and sending them back to their original base to start again.

Cluedo and Monopoly from the 1940s have remained international family favourites and have been treated to many specialised editions. I've even seen a Big Bang Theory Cluedo. Many people start with these classics and then move on to bigger and (many would argue better) board games. Monopoly had a very special role in the second world war as Waddingtons manufactured editions with maps, real money and fake documents to be sent to prisoners of war. While I will still happily play Cluedo, I'm not so keen on Monopoly. You can read my further thoughts on that

here

.
A friend whose brother was in the Navy told me about this one. The rules can vary depending on who you ask -so before you settle down to a game it's always best to check which house rules you'll be adopting. Based on Ludo it can be played on a Ludo board but an Uckers board is actually a mirror image. Often Ludo boards were used or hand made boards.
Just as in Ludo you must get all four pieces home before your opponents, if you land on an opponent they are 'ucked off' back to the starting point. Once you reach home referred to as 'the tube' or 'pipe' your pieces are usually safe (although some versions have rules allowing 'suckback' or 'blowback'). Rules vary on whether you need to roll the exact number required to get home.
If your dice goes off the board three times (a 'bum' roll) it is declared "off the IPS" (International Playing Surface), you incur a punishment such as losing a turn. Rolls that knock other people's counters out of place are also considered 'bum' or 'cocky' rolls and incur penalties.
To start moving round the board you must roll a 6 and place a piece on to the 'doorstep' (the first space). A roll of snake eyes triggers 'out all bits' which means all of your pieces, and in some versions your opponents too, come out on to your doorstep. Each dice may be used to move a different piece or you use the sum of the dice to move one piece.
Landing on your own piece creates a blob (like a barrier in Frustration or Headache) which prevents opponents from passing but your own pieces can move past. Blobs can be destroyed by landing on them with another blob or 'sixed' by rolling a 6 plus the number of pieces making up the blob. Destroyed blobs are sent back to the start. In a two player game, where players have two colours you may end up with a 'mixi blob' of two of your own colours – this works as a barrier but can be sent back by landing on it with a single piece. Blobs may be moved around the board but you need to roll doubles.
People who argue over the rules are encouraged to check the underside of the board where the rules are said to be recorded. In fact all they will find are the names of previous sore losers who have 'upboarded' either deliberately or in a fit of pique thereby forfeiting the game.
These are just the basic rules but there are advanced adaptations too. I don't have an actual Uckers board but I'll have the Ludo board so feel free to have a go at Uckers on it!
We'll also bring a selection of War Themed Games from Battleships to Homelands.
What will you play first?