The world of online dating is fraught with cliches. Fortunately for you, I have found a practical use for them. Simply choose the cliche which best summarises you and I've matched you with your soul mate. Sad news, it turns out your soul mate is a board game. Read on to find your perfect match. All you need now is someone to play with….
1. I like going out and staying in.
Which makes me a match with everyone on here – I can't believe I'm still single (that's how my dating profile opened!). You are all things to all people, easy going and laid back, I'm starting with you first because you're the most difficult to accommodate. You will love Sushi Go.
Sushi Go is a lovely portable game so you can pop it in your bag and take it to the pub – or play it at home! It's a quick, fun game. Collect a high scoring combination of sushi by choosing cards carefully before you pass them on. Strike a balance between blocking your opponents, collecting cards that score now and puddings that will score at the end of the game.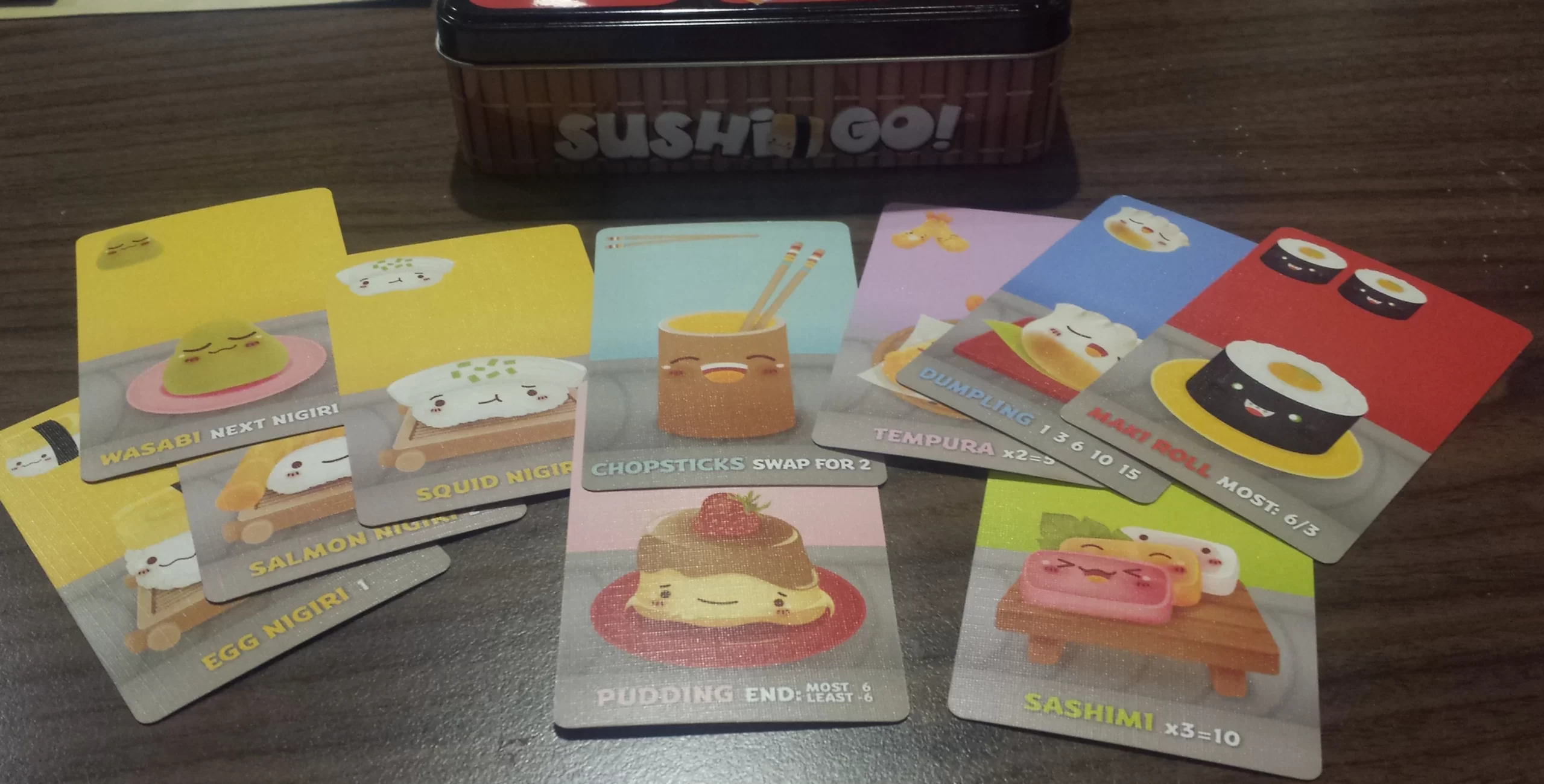 2. Cosy nights snuggling up in front of a roaring fire are my favourites.
You're all about hugs and holding hands – you need a tactile game. Azul fits the bill. In Azul you are creating a beautiful mosaic with these gorgeous tiles. You score for placing tiles in the correct place and bonuses for sets of colour, columns and rows. The mechanic is straight forward but you need to plan carefully to ensure you maximise your points. You also need to keep an eye on what others are doing to make sure your plan can't be scuppered! Each round you get to dig deep in the drawstring bag and replenish the tile stock – a very satisfying task!
3. GSOH – I don't care about looks, I just want someone who I can have a laugh with.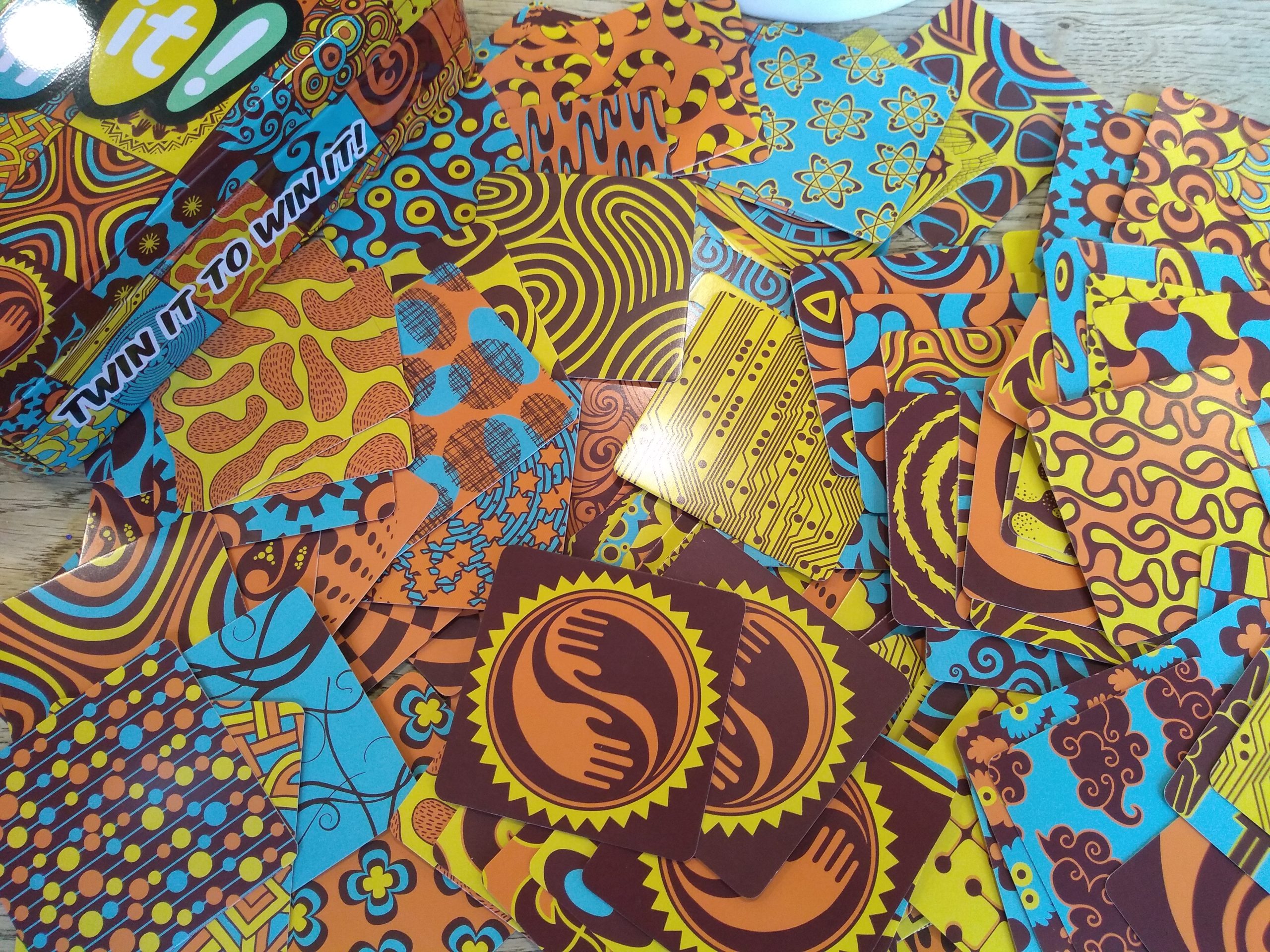 Twin It: visually noisy, this is loads of fast paced fun. A variation on snap – you need to keep your wits about you as you have to be the first to spot a pair of matching patterns from 8 different piles (in a 4 player game). For added challenge, play on my chintzy tablecloth!
4. Honestly, though, you do care about looks
.
Be honest now, if you had to choose between looks and personality – you choose looks every time. High Society is your game. Beautiful images adorn these cards which each represent elements of high society living that you can bid for. Attaining Joie de Vivre will double your points but watch out some cards half the value of your stash or make you discard a card. When these appear you bid NOT to end up with the card. The other nice twist in this game is that the person with the least money at the end of the game is disqualified. So make sure you don't run out of money or it won't matter how pretty your cards are – you've still lost. I think there's another cynical dating reference in here somewhere….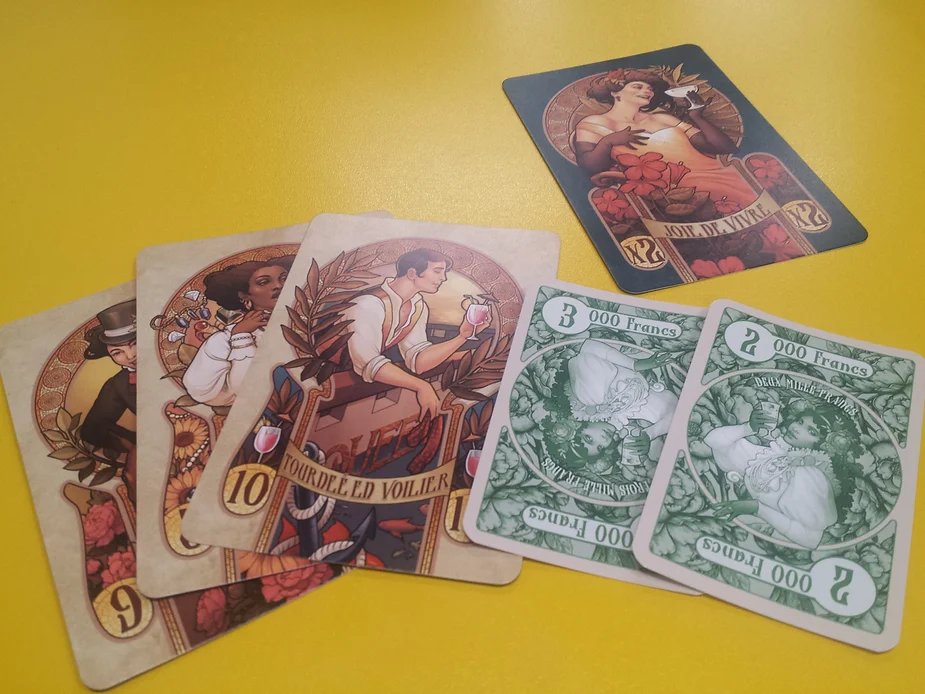 5. Looking for fun – no strings attached.
No deck builders or legacies for you!
Yogi is a physical card game – it has been likened to Twister but with cards. I can see why, but it's much more inventive than Twister. You must follow the instructions on the cards as you turn them over, each turn it becomes harder and harder as you add more cards to the mix. You might be battling to keep your lower teeth hidden, hold a card on your eyebrow, hold another card between your fingers and keep both arms touching!! Then you still need to be able to pick up another card and follow the instruction. Whenever we play it ends in chaos and laughter. Also if you get the right combination it can transform you into a rock star!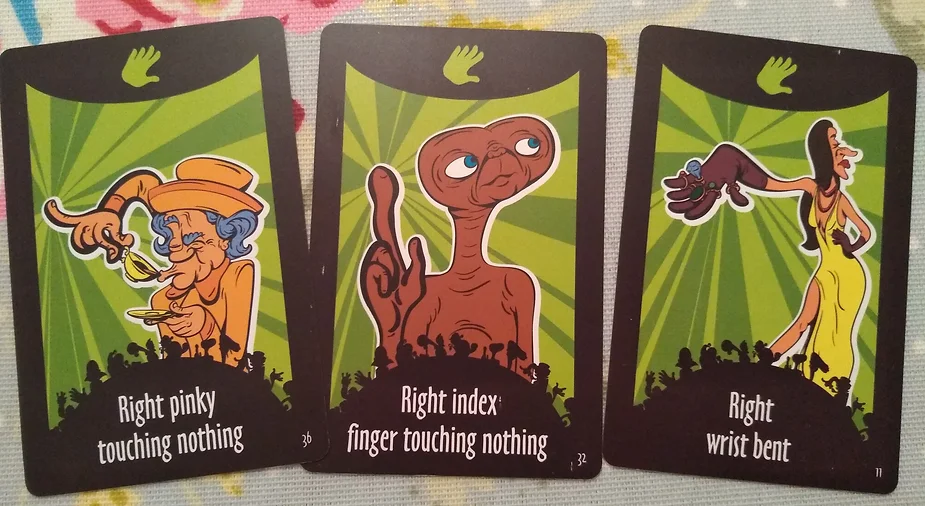 6. I'm new to this. My friends said I should try it… I'm not sure what to put but here goes…
Everyone loves Carcassonne, it is one of my most played games. My copy has been played at all sorts of bookings cafes, pubs, weddings… And with good reason -it's a lovely game, great if you want to try something a bit more complex than Monopoly or Cluedo. Because of the different possibilities when placing your meeples and claiming land or roads you can just layer up the complexity as you go along. I've only recently mastered farmers and for some reason I still sometimes struggle to explain it clearly. So if you're new to it I would advise you to come back to farmer later…
In its simplest terms, all you do on your turn is place the next tile from the pile adding to the map image – continuing roads, fields or cities. Each turn you can place one meeple, thereby claiming that stretch of road, city or fields surrounding an Abbey. You try to get the biggest cities or longest roads to get high scores. It's a very satisfying game as you watch your lands grow, your score increase and your cities sprawl out. The more you play the more strategic you become.
7. Looking for my partner in crime.
If you have written this it is more than likely you are romanticising criminals – picturing stylish gangsters and their molls, spies and espionage, car chases and adventure. Get Adler will allow you to either take on the hidden role of Adler or play detective and is from just the right era to match the film playing in your head!
Agent Adler has done a runner with Top-Secret documents. Your mission, should you choose to accept it, is to track down and eliminate Adler and retrieve the stolen dossier. You have seven hours… The game is played in two halves – in the first part you must identify Adler and in the second you must apprehend them using the cards you have collected. Have you got enough pistol cards to outshoot Adler or will you be shot down?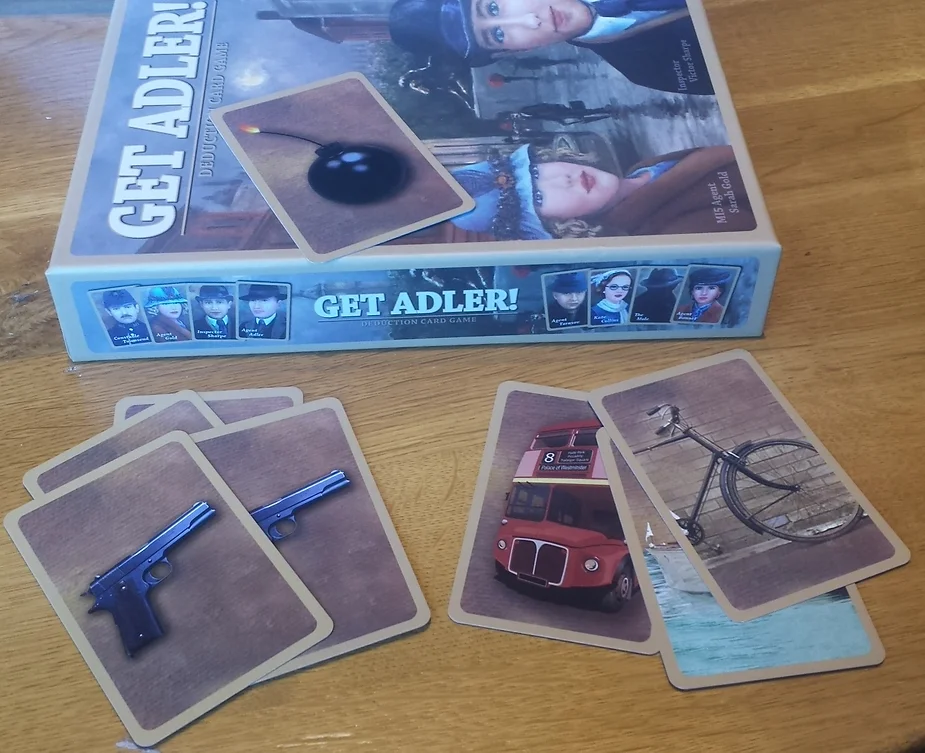 8. I enjoy long walks… to the pub.
What you need is a game that you can slip in your bag and it won't weigh you down on your long hikes. Travel Hive is a lightweight but lovely game which comes in a drawstring bag so it will fit easily into any backpack. Win by ensuring that your opponent's Queen Bee is surrounded by tiles. Each insect in the hive has a different movement ability, making it highly strategic. It is reminiscent of chess but a much quicker game.
9. I'm laid back and easy going.
You're not are you? In fact, you are super competitive. Your perfect game allows you to grind your opponents into the dust where they belong while you tactlessly celebrate. You need an old school classic – the insincerely named, Sorry! The kind of game siblings have played for decades, the kind of game that usually ends in tears!
Ticket to Ride allows you to wistfully recall your travels round Europe and rant about the inadequacies of British transport whilst enjoying a tactical game of route planning and claiming. Best of all it comes with little trains!!
11. Don't message me if you can't differentiate between 'your' and 'you're'.
You're lack of patience (d'ye see what I did their?!!- ooh and there. Are you twitching? What about know?) and love of language lends itself to Speedy Words. Be the first to shout out a word which matches the symbol and the letter shown. In the picture that would be a food beginning with P. If you win, you take the card and the person with the most cards at the end is the overall winner -the supreme word master, vocabulary overlord. You can come up with your own grammatically accurate title – you love doing that.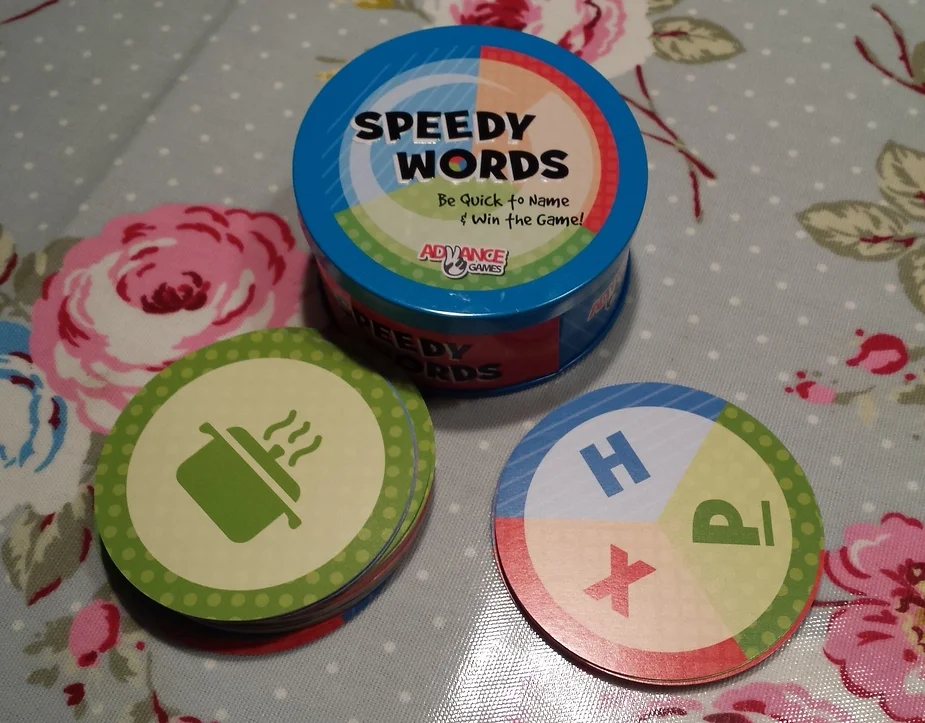 12. I don't need any more drama in my life.
Oooh you big fibber, you thrive on it – otherwise you wouldn't have mentioned it. Bucket of Doom for you! There are just three easy steps – choose 1 from 8 random items you could use to escape the terrifying scenario; convince the group that your plan is the best; vote for a winner each round. You definitely need a very fertile imagination for this one – you don't have to be dramatic but it helps.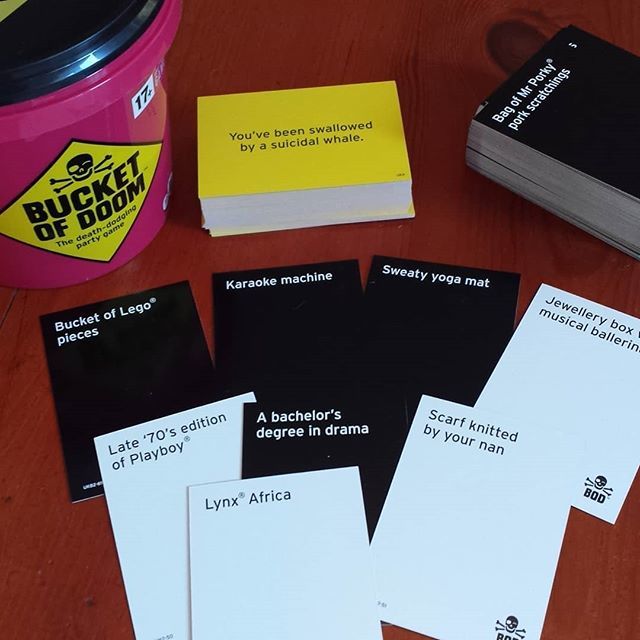 Only people who are not normal claim to be normal. You're not only lying, you are missing out on an opportunity to embrace your lack of normality. I can help you with that. In Quirk! you need to collect the most sets of three cards. Sounds normal so far. The twist is that in order to collect the sets you need to become the creature you're collecting. In Quirk! Legends for instance to complete your set of Unicorns cards you must impersonate a Unicorn. You can also play tactic cards which allow you to block, distract others and tell people to Quirk Off which is immensely satisfying. It's hilarious and noisy and anything but normal. Just like you.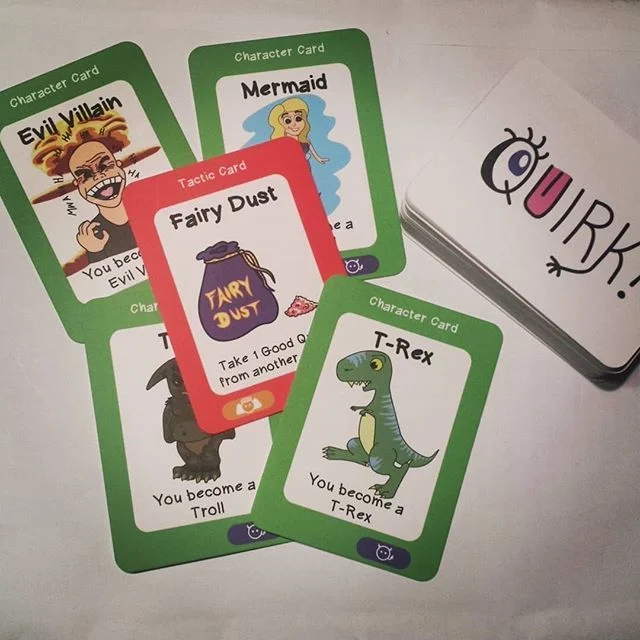 The fact that you feel the need to announce this fills me with suspicion that your beloved family are under the patio. You can reminisce about their gruesome ends with a good game of Gloom. In Gloom your aim is to make your family as miserable as possible before killing them off, you can also try to lift the spirits of other people's families (see – you're not all bad.) The cards are see-through so that you can stack them up, obscuring or replacing some or all of the existing scores and categories. Event cards intensify the gloom of your family and outline a mishap or terrible event: 'disappeared in the night' or 'was part of a feast' for example. As these stack up you tell the horrifying story of that character. Storytelling is outlined in the rules as 'half the fun': you are encouraged to flesh out (if you will) how these chilling events came to pass – perhaps you could draw on past experience.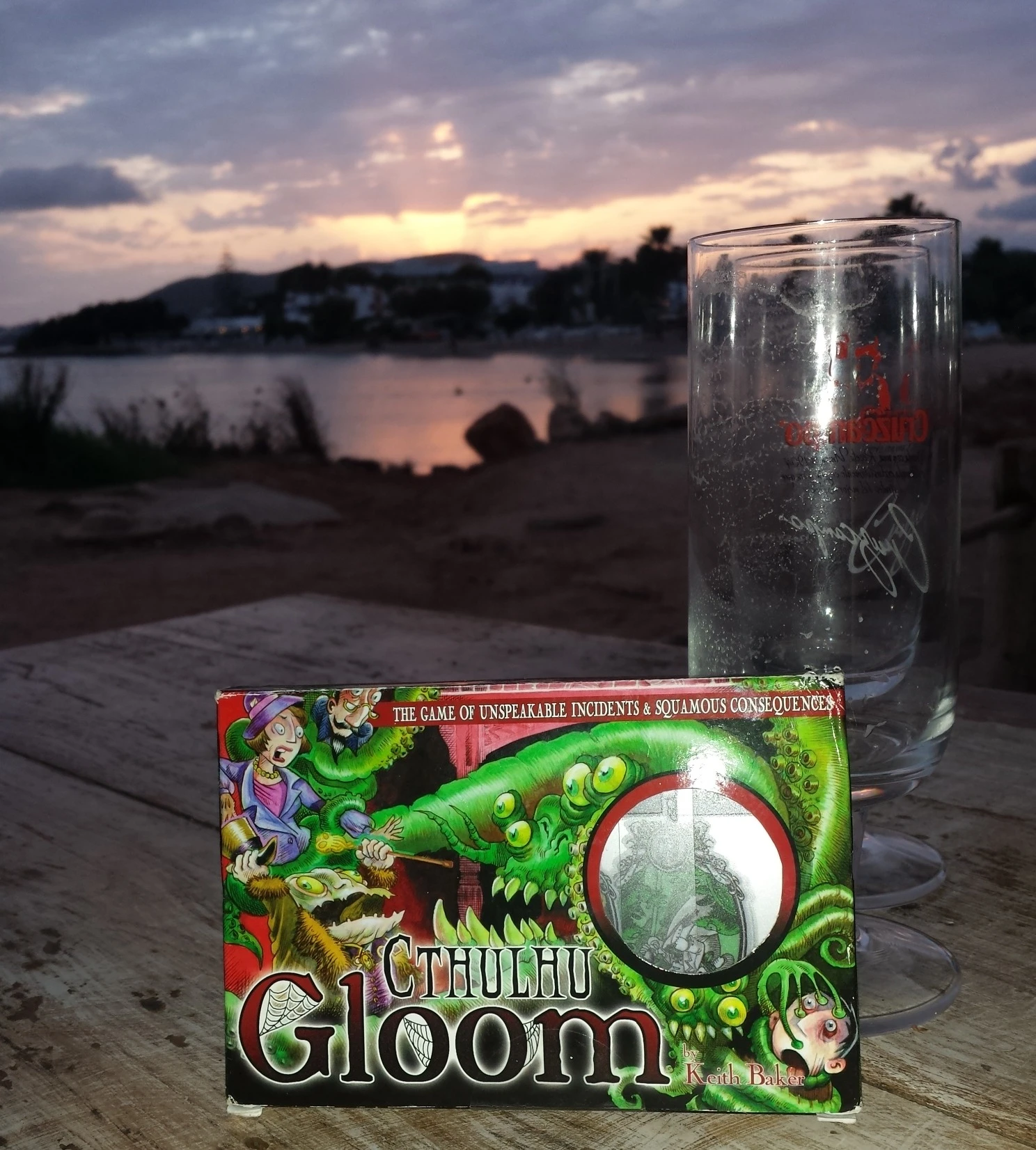 15. I give up. I'm deleting my profile.
I feel you. You don't need anyone; you are a rock; you are an island and what you need is Tiny Epic Galaxies: a solid solo game. Take over galaxies, farm resources, beat the rogue galaxy – all in a small (ish) box. Perfect for while you are waiting for late friends (or dates).
I hope you all get to play a game you love and that loves you.