As you've probably gathered by now if you follow me on instagram, twitter or facebook, one of the main criteria for a successful Cards or Die game is aesthetic value. Much can be forgiven if your cards or board are pretty and charming and I have definitely fallen for games which favour style over substance before. But, Terrible Monsters has style
and
substance – win win. Terrible Monster was unleashed on Kickstarter in 2016 by
Sweet Lemon Publishing.
The illustrations are by Isabel Bollmann.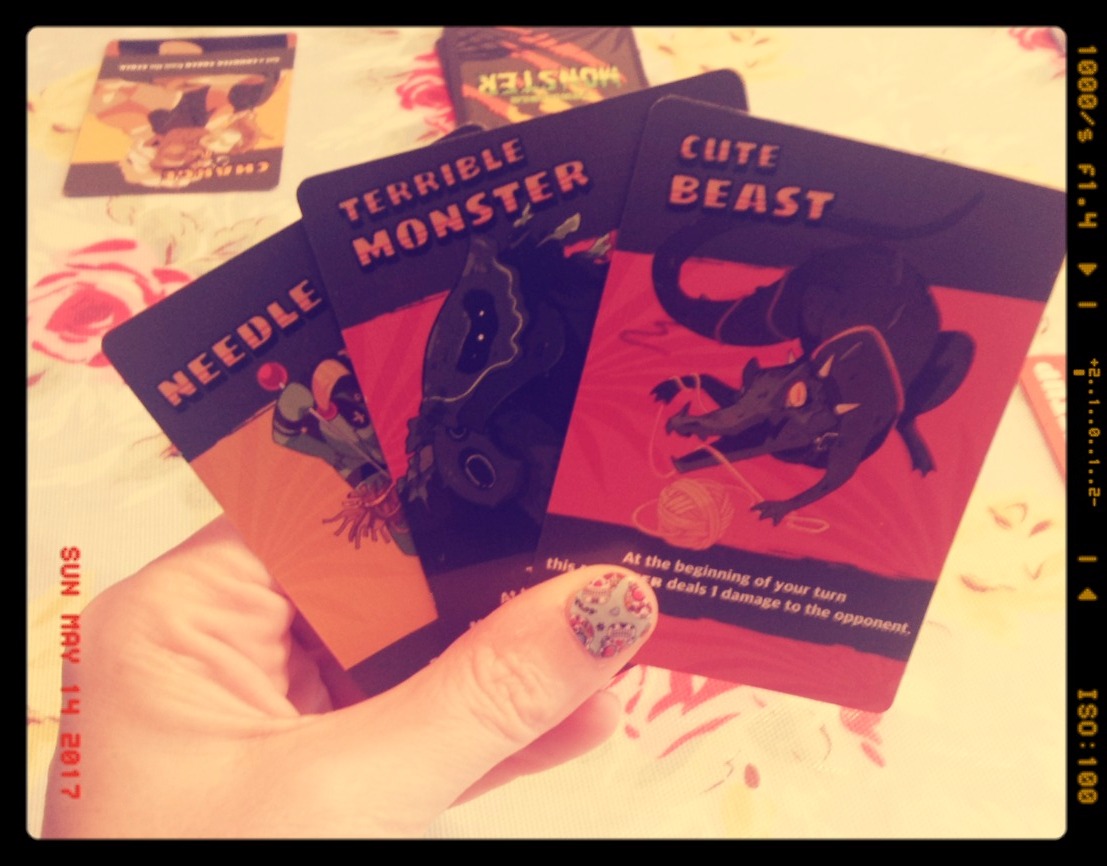 Cute Beast – Beautiful but deadly
One of my other priorities when choosing games for the business is that they are low threshold, high ceiling – by which I mean: easy to learn but with enough complexity to give you seemingly endless options and outcomes. Terrible Monster fulfills this perfectly. It is easy to learn and yet has ample twists and turns, making it unpredictable and challenging. Even at a point where I had carefully planned my apparently hapless opponent's demise (I only needed to get to my next turn) my plans failed and I ended up defeated!
You think you've won but then – Boom! You haven't.
Your objective is simply to deal enough damage to kill your opponent. Each player only has 4 life tokens – how hard can it be? <hollow laugh>
Actual hearts – love the artwork
Terrible Monster is a game for two players, lasting 5 to 10 minutes. Your turn consists of: drawing a card from the draw pile, playing up to two cards, maintaining your deck of 5 cards. There are three monsters in the pack and spell cards which have various effects. All of the cards state clearly what you must do when you play the card and some cards work together, so you need to consider your choices carefully. For instance, Terrible Monster deals 4 damage and so when played can end the game… but you need to be able to summon it, and both the Leech and Deduction cards allow your opponent to take Terrible Monster from your grasp!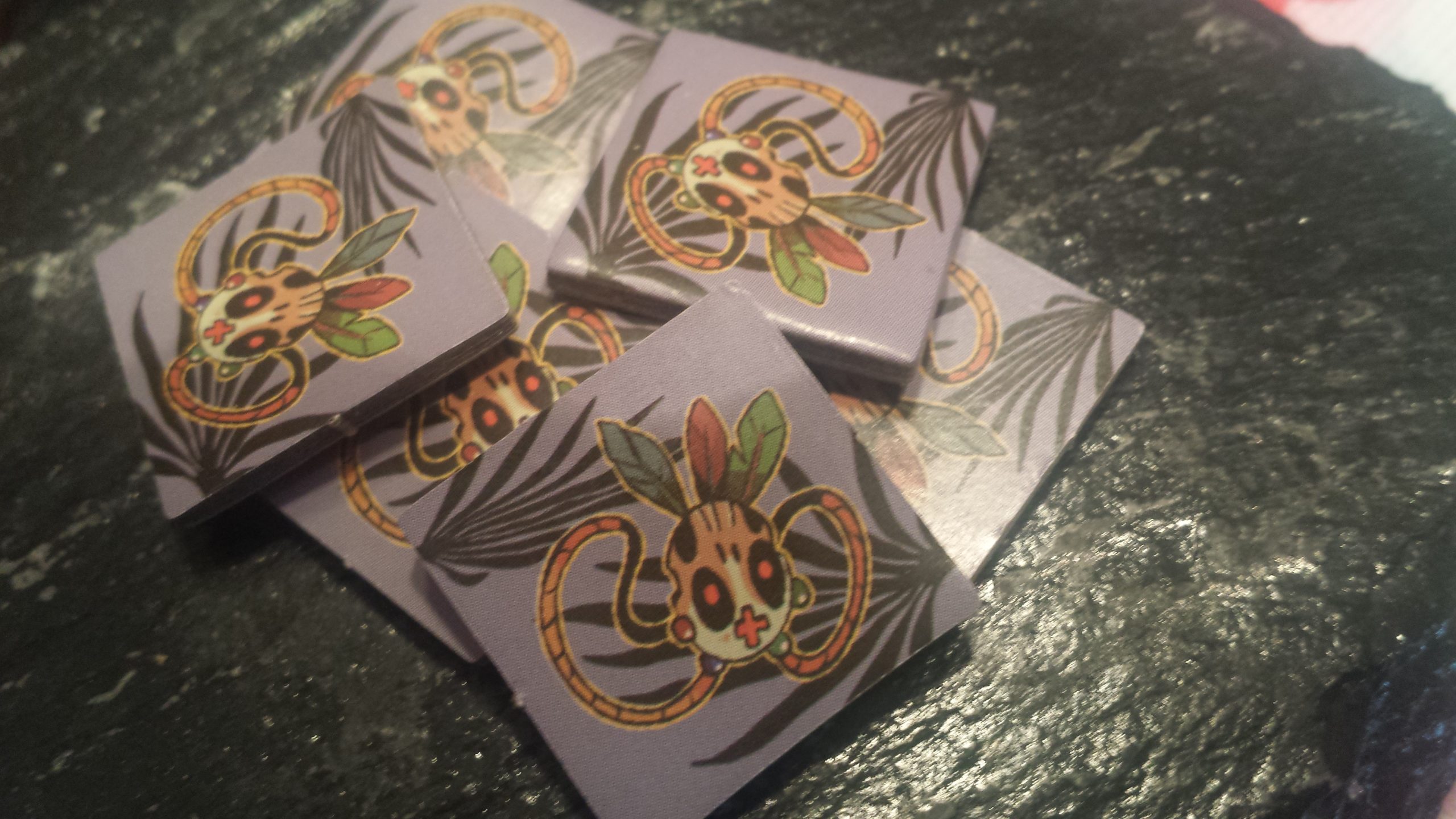 Counter Tokens – use them wisely
It is also possible to use counter tokens to block your opponent's actions but the fact that you only have two of these makes blocking a tricky decision. Do you block now or is it only going to get worse? More intense still – if your opponent blocks your action, you can counter that by using two of your tokens, enabling you to go ahead and attack them – but at what cost? Will you wish you had those later, when
they
summon Terrible Monster?
As I mentioned above, the Terrible Monster card itself is a stroke of genius. It's a high risk, high gain card. The rules around counter tokens make decisions high stakes which makes for a fun and intense game. Many of the spells let you manipulate the deck, see your opponents cards, move cards around, and snatch victory!
I also love that each player gets their own summary outlining the effects of all cards and a brief outline of all rules including order of play. I know many games have these now, but why not all of them? It's an invaluable aid. I've got enough going on with working out whether I want to use my counter tokens or not, without having to remember what my turn consists of!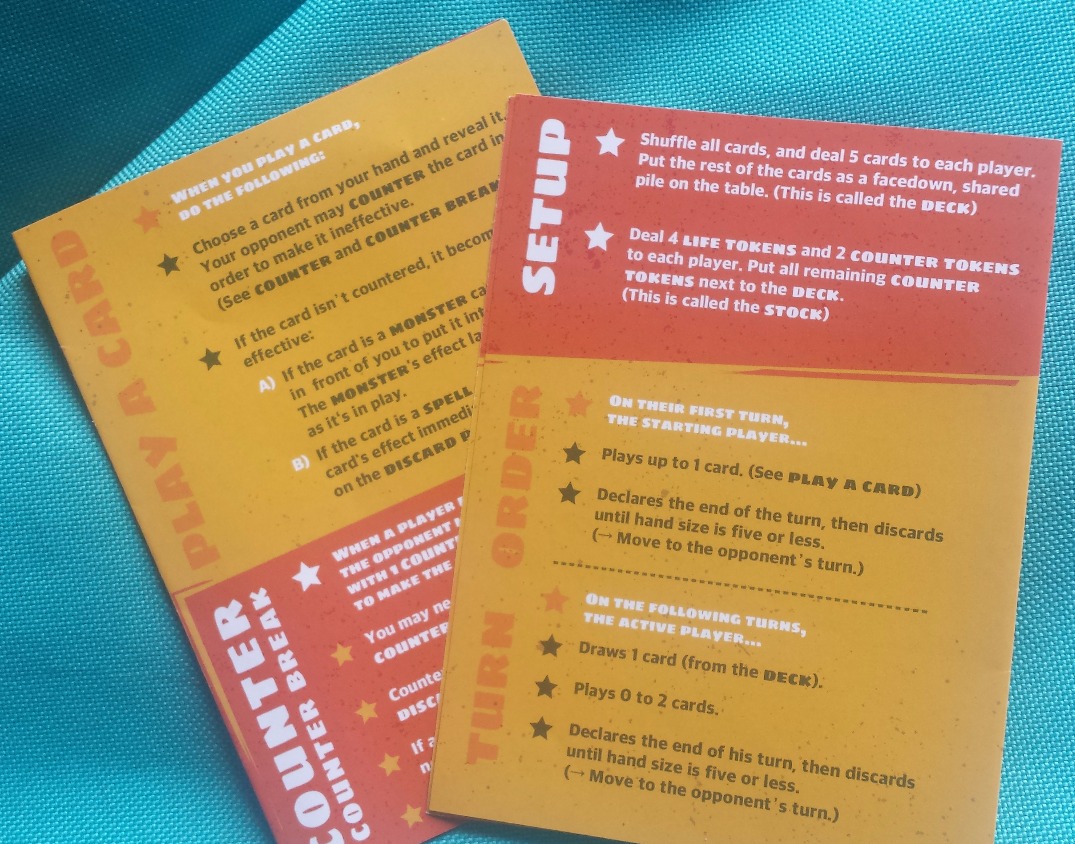 If you're designing a game – DO THIS!
And here it is, the predictable, yet shameless plug element of the blog – come and see us at
Shepley Spring Festival
on 19th -21st May or at
The Abbey Inn,
Leeds on the first Wednesday of every month if you fancy a game. (Did I mention this is one of over 150 games you can choose from?!)
Check out
Sweet Lemon
's website for more brilliant and quirky games.