Quirk! is a quick to learn and play card game for 2 – 6 players aged 5+. You can adjust the level of challenge and the length of play from 15mins to up to 60mins. It contains two decks which makes it super flexible.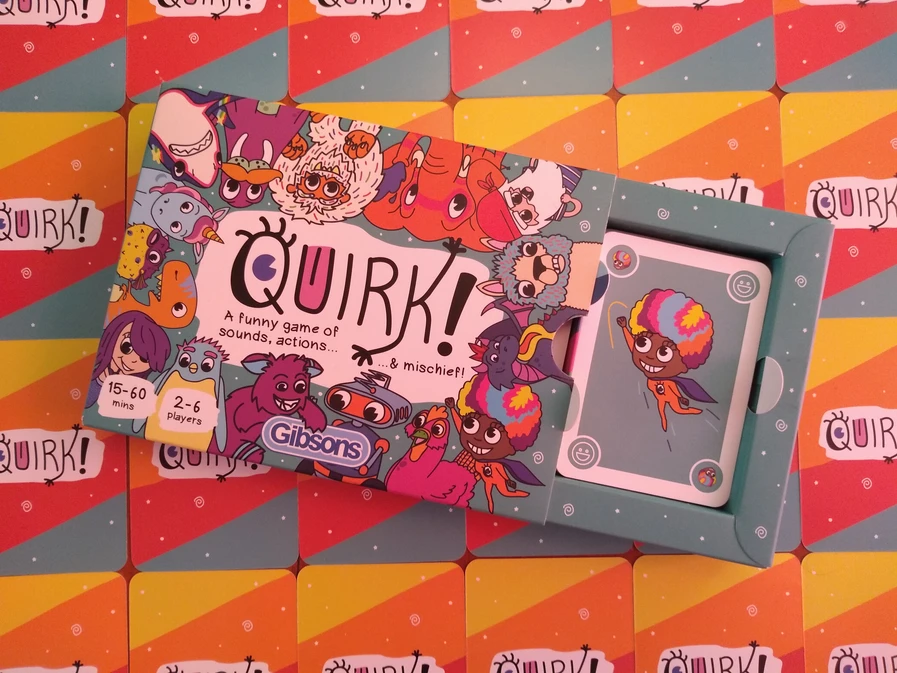 The object of Quirk! is to collect the most sets of three cards (called Quirks) – you do this by acting out the creature on your card and taking cards from your opponents.
You start with three character cards, if you fall below three, you draw up. Character cards form sets of three and the person with the most sets wins! So just remember that three is the magic number and you are half way to learning how to play!
Now for the fun bits! On your turn you choose a card in your hand, choose an opponent and act out the creature on your card. You can use sounds and actions but you mustn't describe the character or say its name. If your opponent has one or two of that card they must give them to you.
And if they think your pirate is a parrot and give you the wrong cards? That's their loss – you get to keep the cards. But maybe rethink your plans to audition for the next Pirates of the Caribbean film.
Pro Tip – even if you know what they are doing I like to feign confusion for a good while so that they really have to work for the card. That means that even if you sacrifice a card you are laughing! This is especially satisfying if you have graduated to the more challenging deck. I'm always playing with the secret secondary objective of 'How long can I make someone be a Bigfoot for?'
If you are unsuccessful and you don't gain a card, you must 'Go Quirk!' – which means you pick a card up from the draw pile.
As soon as you get a set of three or a 'Quirk' you place it in front of you face up. Once 13 Quirks are face up on the table, the game ends and you count up your Quirks to find out who won.
These special cards are used once and then removed from the game so use them wisely. They allow you to disrupt others plans! You can stop someone in their tracks, preventing them from asking you for a character. There are 5 steal cards which allow you to steal complete Quirks from your opponents but only 3 block cards which prevent people from stealing. Each deck has it's own set of these so you can play about with these balances if you want to.
Double the Decks = Double the chaos!
I absolutely love the fact this comes with two decks – it gives you so much flexibility. You can adjust difficulty by substituting some of the easier ones for more challenging ones or simply adding extra sets for a longer game. If it's additional chaos you crave sling in some extra Mischief or actions. You can use a mixture of characters to up the challenge or stick to the easier deck if you prefer.
The game is suitable for 5 years plus but I have played it with younger ones and just removed the action cards to make it super easy. There's no reading requirement in the game apart from the Mischief Cards which do have visual prompts so that makes it more accessible too. The action cards are colour coded but the artwork is clear and distinctive and symbols are also used for clarity. For instance the block cards feature a large shield.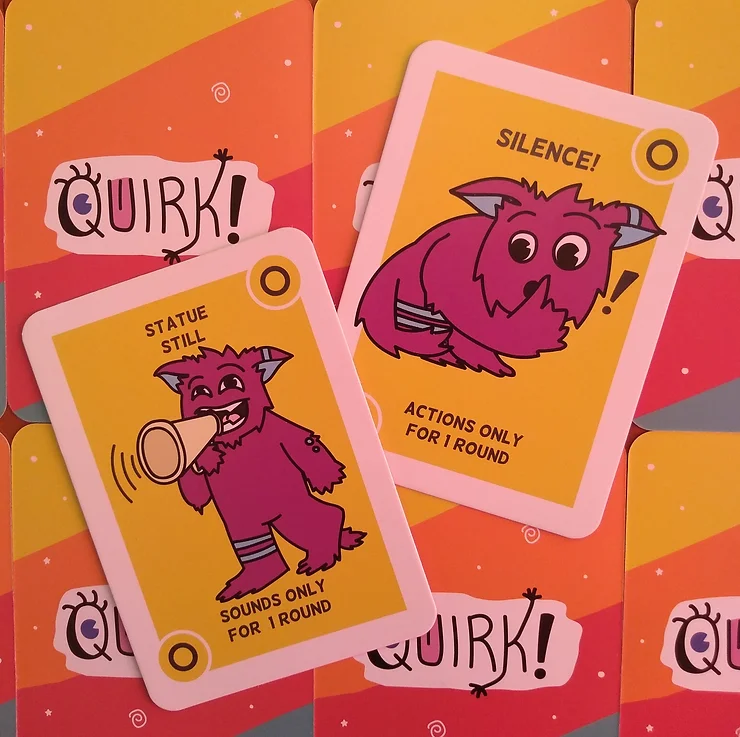 You may recognise the distinctive artwork, the title or the game itself from the earlier version of Quirk. That's because Emma May from
Emmerse Studios
has worked closely with
Gibsons Games
to bring you new characters, a simpler, clearer design, a honed mechanic and new mischief cards. The work Emmerse Studios is doing on character development is really clear from this new design and I'm loving watching Mischief grow!
The Mischief cards add a fun and chaotic challenge to the game making you redistribute your hard earned Quirks, passing hands on or gaining an extra card. These cards are played and come into effect immediately. My two absolute favourites are the statue still/ sounds only for a round and the actions only for a round. It is also worth noting that each deck has it's own set of Mischief cards so you could add extras in. As if I wasn't making you work hard enough for that Big Foot card – these are a gift!! Plus the sight of Mischief wielding a megaphone brings a smile to my face!
Over the year Mischief has become a character all of his own – starring in his very own book all about having the courage to be yourself. So, if you are enjoying this character in Quirk it's worth checking out
the book
too.
Quirk is a great family game for all ages and the fact it plays up to 6 players is brilliant. And when I say all ages – I really mean 'all'. Like many great family games, if you get a group of adults playing it, it is just as entertaining. We just need to give ourselves permission to let go, have fun and embrace our quirkiness!