The Buzzlebox, created by Dark Imp Games is a selection of games and puzzles delivered to your door for the whole family to play with and figure out together. At the moment there are two themed choices available- Gardens and Chickens or Doughnuts and Cake. With a Space themed box on it's way soon. Dark Imp games very kindly gifted us the Doughnuts and Cake box. There are 5 of us in my family – all with different, yet often, overlapping tastes in games. The children are 15, 13 and 12.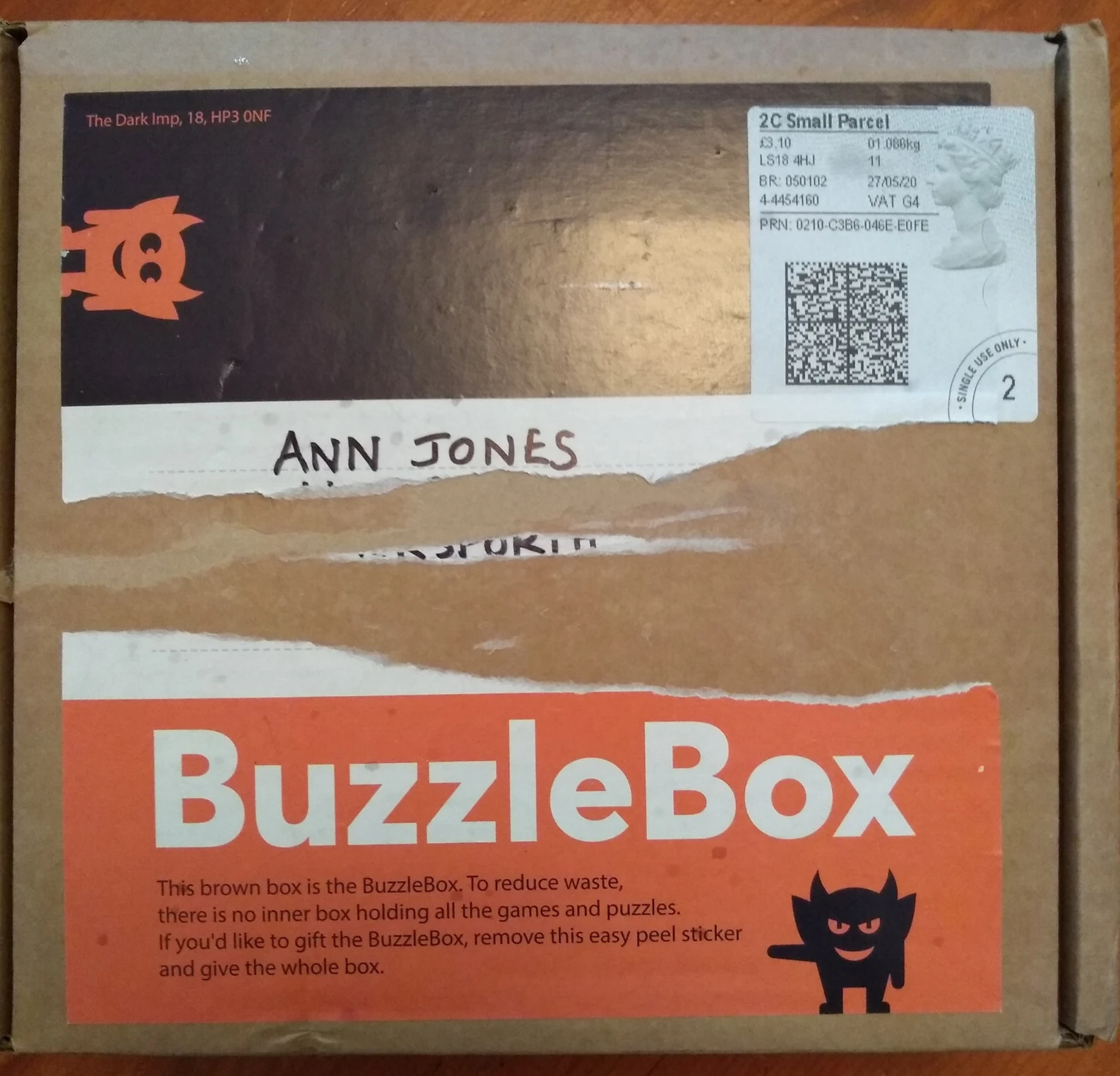 As soon as you start opening the box, the fun begins. There were stickers on the box which related to one of the three puzzles. These stickers were everywhere – on the back of things, on the letter, inside a packet of card games – a really simple touch that made it immediately engaging. It's also worth noting that there is no excess packaging or plastic which is a breath of fresh air when so many companies overlook the importance of this.
I approached Doughnut Dash with trepidation. Anyone who knows me or has ever been in the car with me knows that my sense of direction is non-existent. So, when I saw the direction cards and read some of the sugar rush action cards – my heart sank. However, I am happy to report that I navigated the game successfully (multiple times) and I really enjoyed it. There are cards which clearly label the directions and the cards that allow you to change direction all contain an example which I'm sure was put there for younger players but was totally vital to me!
You are running a pair of impish thieves who must make their way round the factory stealing doughnuts from the shelves and from other thieves that they encounter. The theme is brilliant with lovely wooden components that are pretty and bright. We played it with 2, 3 and 4 players and it was brilliant each time. My only complaint is that it didn't play 5. It is rare that we can get all 5 of us to play the same game at the same time – for once they were all interested in playing together and so we played in different groups but it was a shame we couldn't play all together.
I have spoken to one of the Dark Imps and it turns out they have psychically resolved my concerns by designing the next box (which is Space themed) to include a 3-6 and a 2-9 player game which is awesome. I look forward to ordering one of those!
One of the really nice things about this game is that you can try out different strategies – there are lots of different layers to the game which gives us plenty of incentive to play it again and again. For instance the Sugar Rush cards help you out by allowing you to adjust which direction you travel in or to swap some cards but if you can save them they are worth points at the end of the game. And the more helpful the card, the higher the value if you can avoid using it. Another clever idea is the rainbow frosted doughnuts which actually start off costing you points but if you can collect a set they are incredibly valuable. It makes collecting them a risky strategy but then choosing not to collect might leave them all for one other player – do you want to give away those points? It's questions and balances like this that make the game fun and varied.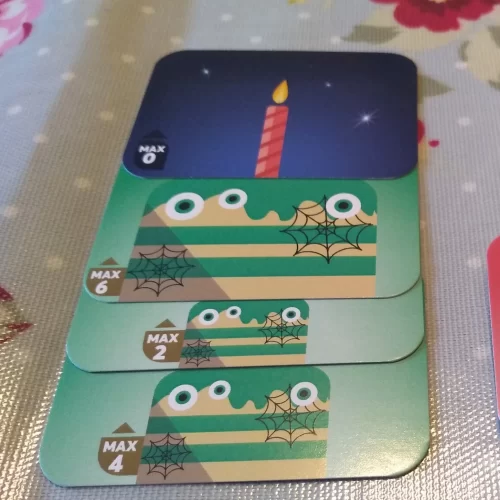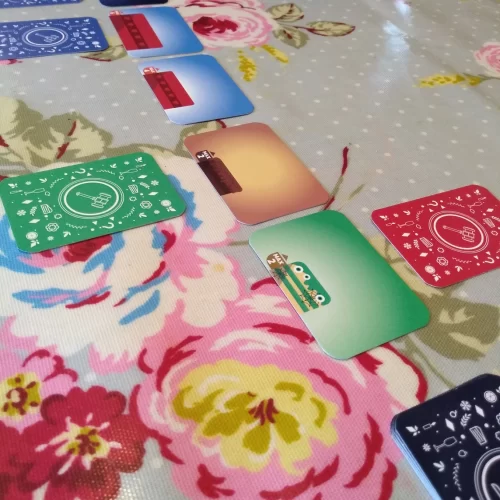 In Top Cake you are a hotelier competing to create the finest cake at the industry's leading luxury trade show. You must bid against other hoteliers to grab the finest layers to construct your showstopper. But of course, it's not so easy: bids are hidden, a reverse cards allows you to switch so that the lowest bid wins, a snatch card allows you to trump any bid but only once per game, the first player token doubles as a tantalising 1/2 point bid and if you match bid cards with another player your cards are returned to you! These are a few of the intricacies which make this such a great, thinky game. Played over 5 rounds you need to think quickly and decisively. Cake waits for no man!
Of course, you've also got the attraction of building a deliciously illustrated cake or a spooky looking cake which of course I gravitated towards. Unfortunately some swine snatched my bat cake topper. I'd have won if it wasn't for those pesky bat stealing kids.
Top Cake plays 2 to 4 players and is definitely more fun with more people. Like Doughnut Dash your strategies are strongly influenced by what other people do; you need to continuously adapt. In this way the games in the box are perfectly designed. They are supposed to 'help you reclaim family time by playing board games together' and they definitely achieve that. There is a lot of interaction in all the games in the box, you need to be acutely aware of each other and each others' decisions.
Even as I was still unpacking the box, I uttered the word 'puzzle' , pondered aloud about where all the stickers were and what they meant, and my 15 year old was immediately all over it. He absolutely loves a good puzzle. The first task of finding all the stickers in various places had him hooked. He was so keen to get going and the girls were working so rather than keep him waiting (or worse, risk loss of interest!) I actually photocopied the puzzles so he could get stuck in straightaway.
Despite 15s head start he graciously gave the others the thinking time they needed and didn't blurt out all the answers so we were able to work together to get one of the puzzles completed. We don't have a great family record in this area.
On recent holidays we have completed treasure hunts that you can buy from the Tourist Information shops. They are great fun and everyone loves doing them but they are always a source of contention. This fun holiday activity always culminates in me clutching the clues to me so no-one else can see and a strict ruling about not blurting out answers before other people have chance to think or speak. My son is particularly talented at both puzzles and irritating his siblings so these measures are necessary. So I was ready – hence the photocopying and the 'Don't tell your sisters any answers and DO NOT give them clues unless they ask for them' ruling. However, I'm sure other (less mad) families won't need to worry about that.
The first puzzle we did was a good mix of clues carefully pitched to play to each of our strengths; some the children couldn't have got and some that my partner and I had no idea of that the kids got immediately. I thought it was well balanced and we were forced to work together which is both the purpose and the attraction of the Buzzle Box.
Unfortunately we were stumped by the other two puzzles – they were just too tricky for us. But, by following the link on the puzzle card we got some clues which led us to our three cake related words. I've chatted with one of the Dark Imps and she is looking at both the difficulty level of puzzles and considering different ways of helping people to access clues in later boxes. Once you have all the clues you can unlock the secret page on the website.
One of our favourites was the 2 player game on a coaster. The one we got was quick to learn and quite straightforward. You each choose an image on the grid and then ask questions to deduce the whereabouts of your opponent's chosen image. The images are cute and colourful, the game is very appealing and can be played over and over again. Our 12 year old particularly enjoyed this one. It played 2 players but was fairly quick so it was fine to just take turns playing. It's the kind of game I tend to have in my bag to whip out if anyone uses the 'B' word. That's bored by the way. I'm not sure board games can stop them swearing, if anything they make my partner worse!
You can also buy most of the component parts of the Buzzle Box separately on the website. But honestly I think the box is such good value that the coasters and place mats are the only things I would consider buying separately. The coasters are sold in packs of 120 for only £16.99- they are perfect for weddings or for board games or family cafes. They are a perfect little gift or freebie to give to people if you're in a games related business.
This pack of three games just needed a deck of cards, pen and paper. I really liked the fact that it included a 1, 2 and 3 player game as it meant that we could all play them kind of at the same time. I've had a lot of fun playing the solo game – it's a patience type game with a puzzle element. My 13 year old really loves traditional style card games so this whole pack was right up her street. I can see the Gooseberry Fool game being a regular family games night feature and I know she'll want to teach her friends when she can get together with them again. Gooseberry Fool uses a trick taking mechanism which is very familiar and easy to understand. But more importantly it's a fun little game.
The instruction cards are clear and easy to follow but there is also a link to a 'how to play' video which is always helpful.
The Buzzle boxes cost £49.99 and for that you get: 6 original games; 3 puzzles all centred around an engaging theme;
as well as family time, away from distraction, screen free. We really enjoyed ours and the hours of entertainment we have had from it so far make it excellent value. There are loads of reasons to treat the family to a Buzzlebox or it would make a great gift for another family. For us it will the perfect addition next time we are going on holiday. We always take games with us and having tried one of the boxes I would be confident taking this pack of new games as a holiday treat. We usually go camping in the UK so it will be perfect for that 'occasional' rainy day!