I have always enjoyed an amble round the charity shops and since starting Cards or Die, I can amble with renewed purpose. Or 'pop in – just for a minute' as I refer to it when trailing a reluctant trio of kids. But in fact, I am not merely aimlessly ambling. It may surprise you to learn that there is a charity shopping strategy. And, no one expects the charity shopping strategy.
(Dramatic entrance, swirling red cloak) The key element in successful charity shopping is luck. Luck is the main element; luck and a fanatical devotion to bargains. OK… the two key elements are luck, a fanatical devotion to bargains and the willingness to take a risk….
(Goes out, bursts in again) The many faceted elements of successful charity shopping are luck, a fanatical devotion to bargains and the willingness to take a risk. So, ok it's three. But, many faceted elements sounds much more serious. And bargains are a serious business.
It may seem obvious but luck is a two way street. I've had some amazing luck at charity shops: 'Hey! That's my Fish!' for 49p; 221B Baker Street – still shrink wrapped £2.99, brand new Bucket of Doom 99p!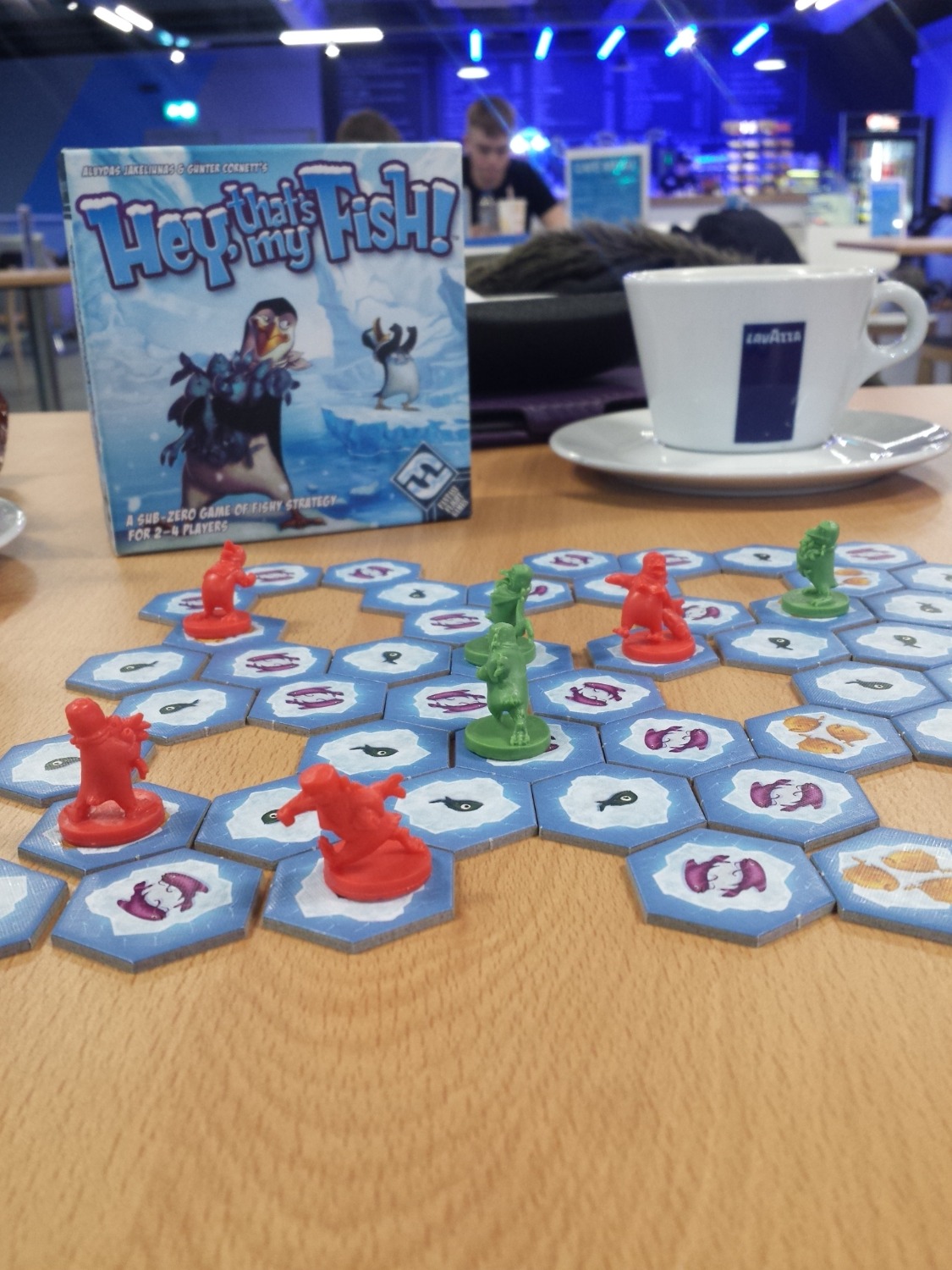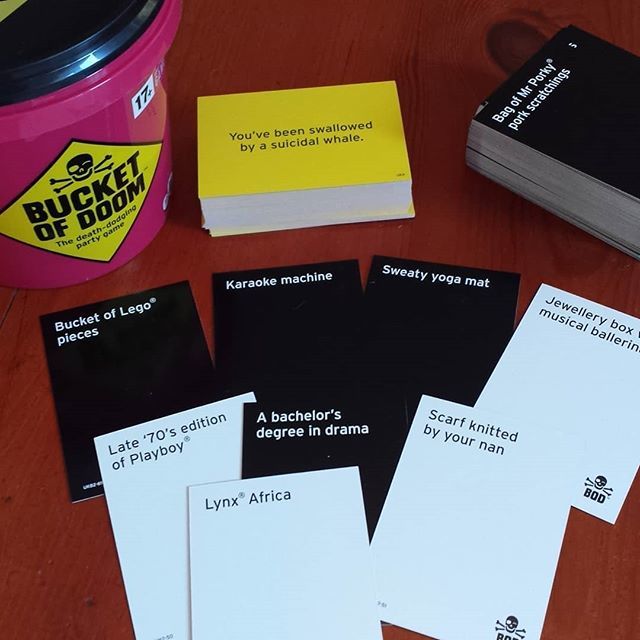 I've had some bad luck too – for instance Connect 4 (the co-operative version) and Buffy the Board Game – it turns out this was not the Buffy I was looking for.
The thing to take on board though… (I'll give you a moment to groan if you wish…) The thing to take on board is the number of near misses I've had too. I nearly bought Lost the Board Game. It was in a tin for goodness sake. But, I kept my packaging excitement in check and read some reviews on
board game geek
and averted disaster. I'm aware that the Connect 4 debacle could have been avoided by asking them to snip the tape* so I could look inside.
(*I'll come back to this)
Despite using the words 'disaster' and 'debacle', (prone to drama? Moi?) buying these games would leave me just under a fiver out of pocket. It's easy to change my language and view this as a charitable donation rather than a waste. Plus the Connect 4 will be useful as spares providing people only ever lose yellow counters…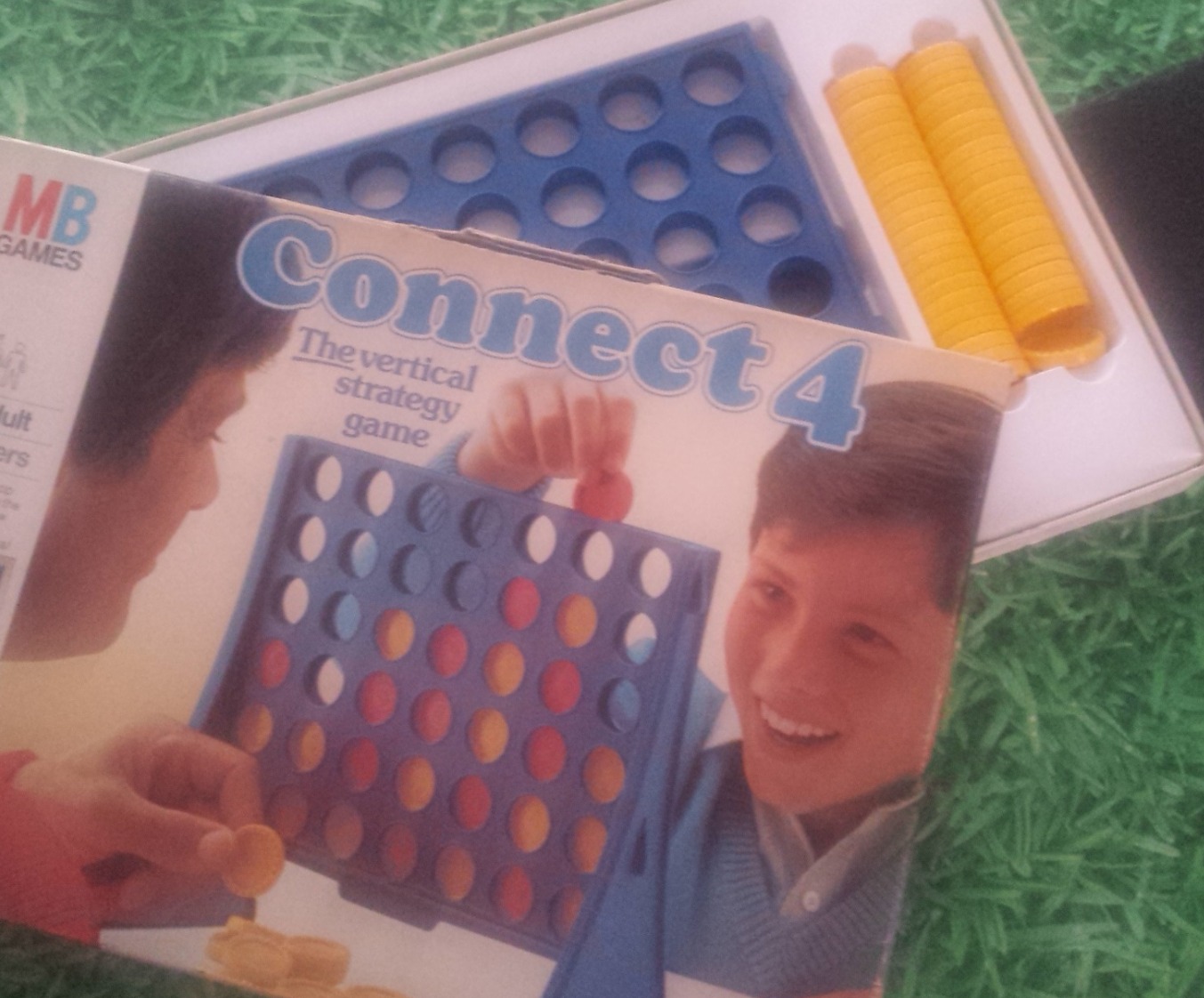 *Taping up board games. Please don't. I have invested in massive sturdy rubber bands and at Airecon, in possibly the geekiest conversation I had that weekend, I discovered rubber X bands which are super sturdy for your games.
If you want to look inside a box that is taped up – just ask. They will snip it open with scissors and reseal it. That way no-one has to end up with a ripped or damaged box.
Fanatical devotion to bargains
Raised Catholic, fanatical devotion comes easily to me! The more regularly and frequently you can visit charity shops the better. I can efficiently get round all the charity shops here in Horsforth because I know exactly where the board games are in each one. I can go straight to that shelf and check if there are any new additions. It really can be a quick task. Of course often there may be distractions that result in a new outfit which is a bonus!
I usually have a list in mind of which games I'm looking out for. On that list there are specific games and then sections like games from before 1960, for instance. If you are after a particular game or particular style or make of game you can request shops to ring you if that specific thing comes in. Some will be happy to do this for you. On the plus side you don't have to trawl round as much, on the other hand you may miss a find that isn't on your hit list. Part of the excitement of charity shop shopping is that you never know what you might discover so it's important not to be too focussed.
Going in the car to charity shops in odd, tucked away or far flung places can lead to some bargains too. I've had some fab bargains from a charity shop on a housing estate in Ellesmere Port whilst visiting my folks. It isn't really near much else – a newsagents and a chippy and I've had some good vintage finds there. Not to mention a dress that was in the sale for 75p!
Anytime we go somewhere new I always want to have a 'quick look' in the charity shops. You just never know what you might find. For some reason in different areas you seem to get different types of unwanted games so it's worth looking in different places if you can. In Wilmslow I got some fabulous condition retro games in a couple of shops.
The saying 'One person's junk is another's treasure' springs to mind and I am constantly on the lookout for treasure.
Willingness to take a risk.
Throw caution to the wind and splash out on a game you've never heard of! The great thing about this is if it's a dud you can use it as spares or just redonate it, safe in the knowledge that you have made a donation to a worthwhile cause. But if it's not a dud…
I've bought games that are not listed on board game geek and that I've never heard of. Or I simply haven't checked if they are listed – I like the look of them and at these prices it's a safe risk to take.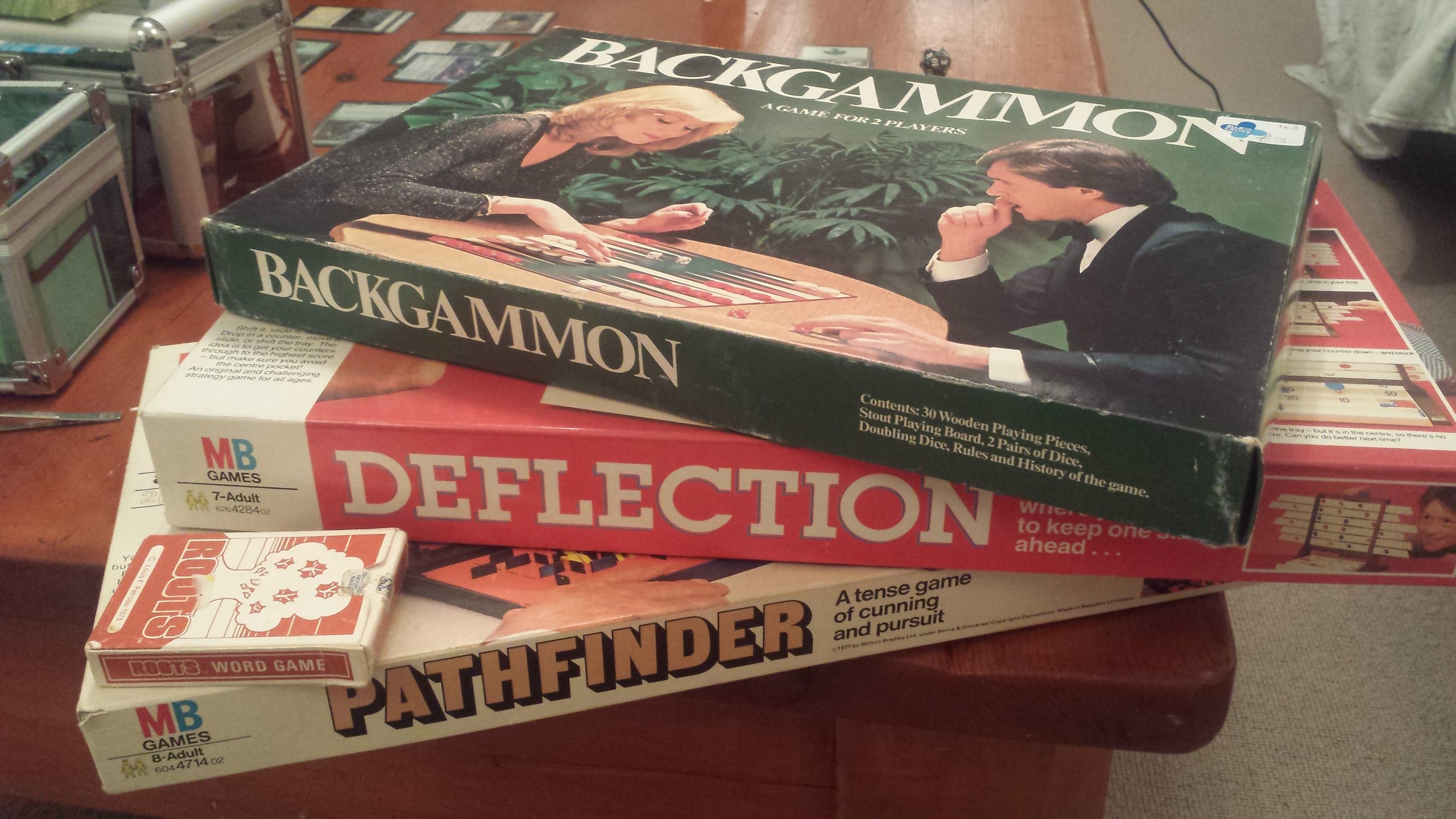 I took a risk with this because when I bought it, I didn't know what it was. I loved the carved wooden box and how tactile it was. I took it up to the counter and said 'Is this a game?' 'Yes' they said. And I bought it. Then spent a lot of time saying 'what's this?' and brandishing it at people. Eventually somebody said Mancala and all I needed to do then was learn how to play it.
Mancala is an ancient game and so there are many variations. I did some research and fixed on a set of rules that worked. As with all games as long as everyone is in agreement and understands how to win before you start, it should be fine!
This has been such a popular game at all my events. Quick to learn, strategic and mathmatical: it is the kind of game you want to play over and over. It is possible to get modern versions of it and it comes as part of many of the wooden games compendiums. I highly recommend it.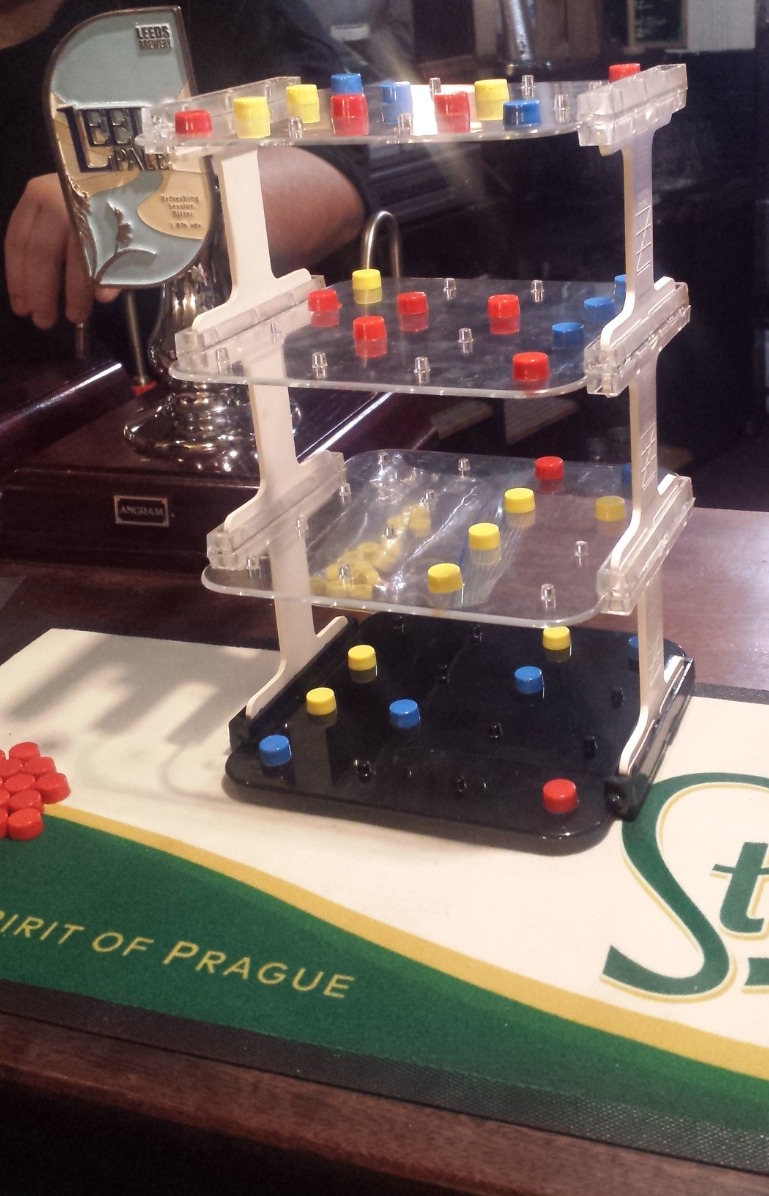 I had never heard of it and it was clearly a 3d version of Connect 4 which could be a but naff. But, interestingly it plays up to 3 and the picture on the box! Well, that's what sold it to me. The 3D game of the future, a brave new world where people would shoot coloured lasers out of their fingers. This was the kind of world I wanted a piece of. Once I had got over the disappointment of the lack of finger lasers, I realised that this is actually a really neat game.
Played two player, it is harder than you think to pursue your own series of 4 pegs whilst blocking your opponent. But when three play it becomes very interesting. There is potential for pairing up against one opponent or seeming to and then switching loyalties.Martin at The Abbey has introduced a no talking rule for the three player game which is an excellent idea as it intensifies the dynamics of the game.
Again this is a game with a very simple premise: make a row of four pegs in any direction. Each time you get caught out, you'll want to play again. The 3D, 3 player element means there are multiple strategies to try out.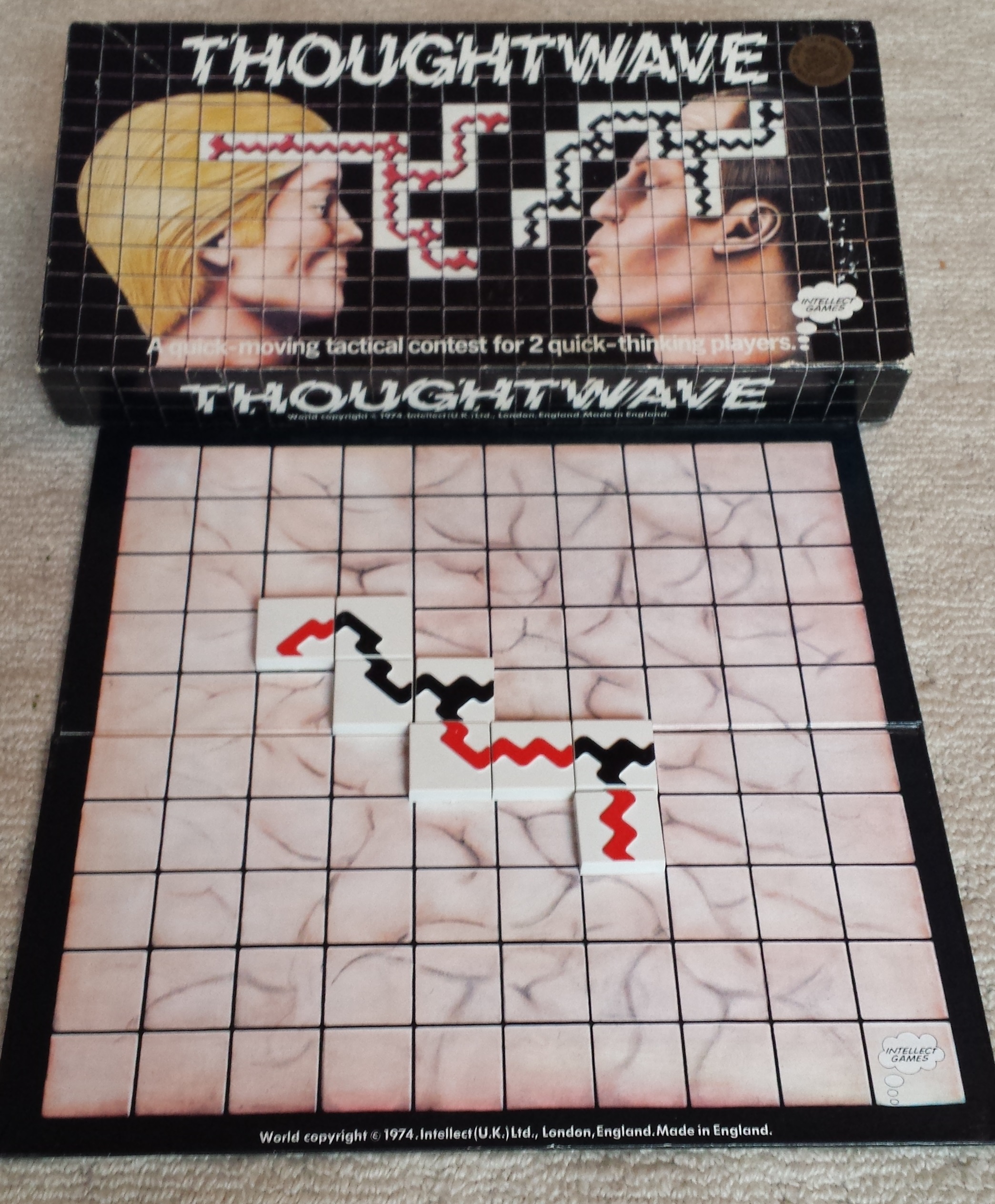 A two player strategy game. This time it wasn't the box itself that encouraged me to buy it, but its award winning status and the tactile nature of the pieces. One player is red, the other black; using your tiles you must make your way across the board from one side to another whilst blocking your opponent's bid to do the same. This is a gem of a strategy game and I can see why it won the Toy of The Year Award 1974.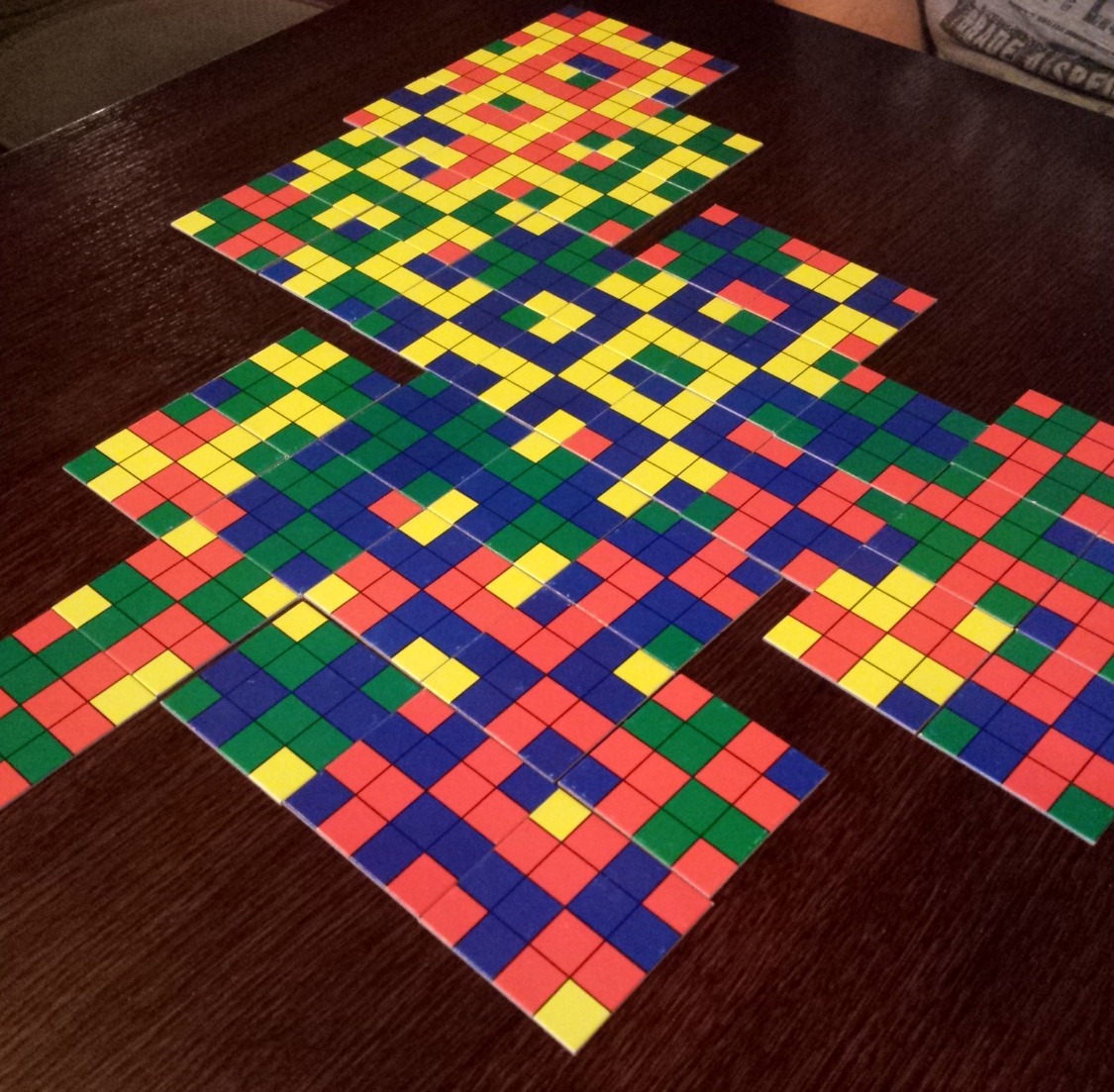 In this instance the box itself nearly stopped me buying this one. It was on a shelf with napkin rings (also in boxes) and display plates. So, when I picked up the box I wasn't sure what to expect. Whoever thought 'Burgundy and gold, that says fun'? Carefully prising it open I found the instructions which explained that it was a game where you match the colours and try to make a long chain of the same colour, scoring for each square in the chain. To be honest, it sounded a bit dull but it was under a pound and I thought someone might like it. I was both wrong and right! It isn't at all dull and lots of people like it! In fact it has been re-issued in a nicer box and is well worth trying out. If you like Tantrix (another charity bargain) you'll like this. It's pleasing to the eye and mildly strategic. There's something very satisfying about totting up your ever increasing score as you create longer and longer colour chains.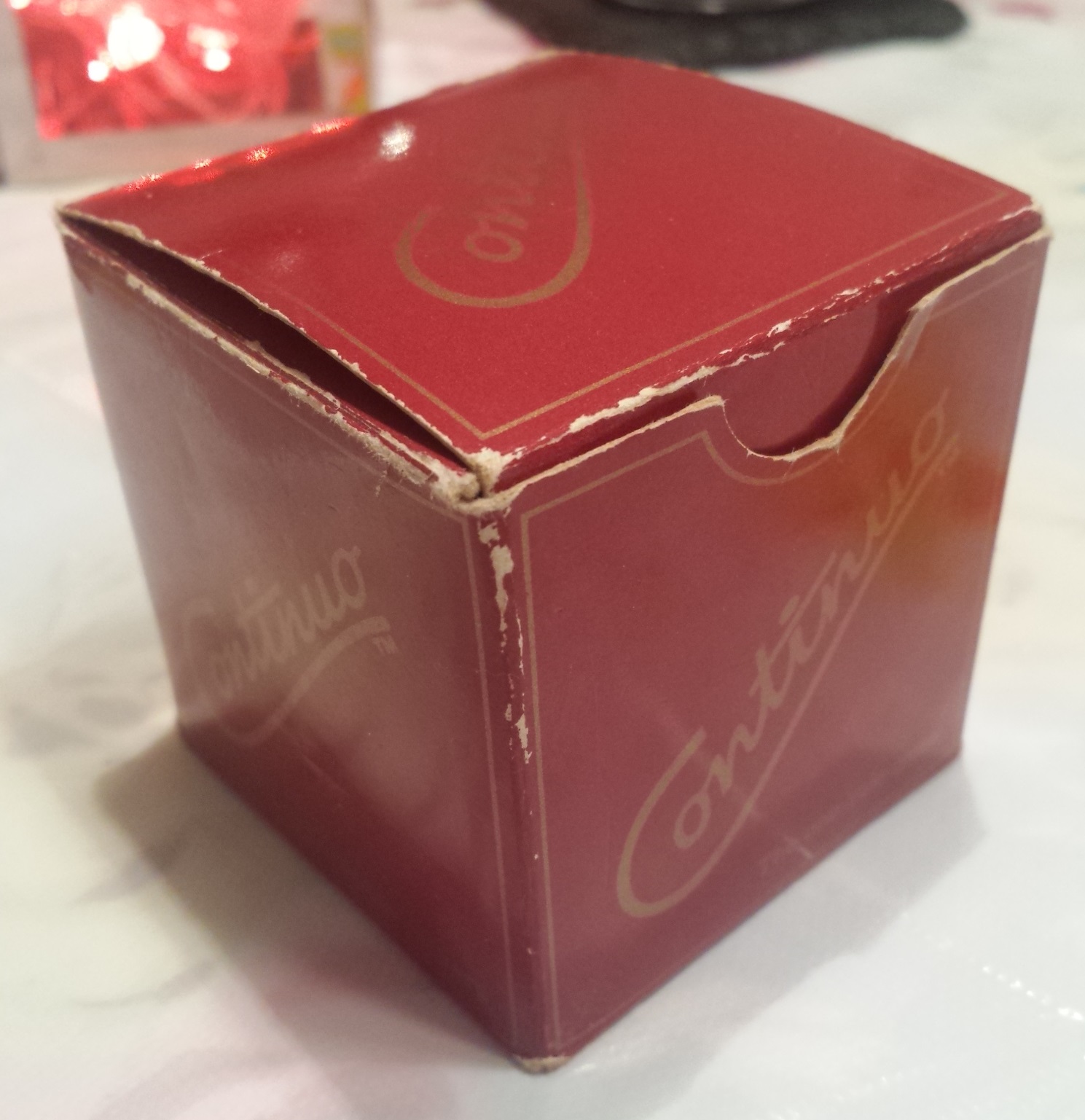 If, like me you are addicted to charity shops and the board game bargains to be sought out, you may also enjoy
Board Game Trading and Chat UK
. As I was typing this blog, someone had shared a post – they bought Ticket to Ride for £3.50 and Disc World for £4.25. 154 people reacted to this post so it definitely isn't just me that enjoys a bargain – vicarious or otherwise!
What are your greatest charity shop finds? Or your most entertaining duds?