If you've perused my games menu, you may have noticed that I have a penchant for Zombie games! From a young age (probably too young) I enjoyed watching all sorts of horror films. With the exception of a few well made favourites like The Exorcist, The Shining and Don't Look Back, I have favoured trash or ridiculous storylines which zombie films have in abundance. I enjoyed Black Sheep (a film about zombie sheep in New Zealand – a twist on the 5 people get stuck in a cabin in the middle of nowhere trope), Dead Snow (nazi zombies who meet a sticky end, also involving a cabin – this time in the wilds of Norway) and of course, Shaun of the Dead.
Shaun of the Dead is one of my favourite films. It's more than just a pun, it's a brilliantly funny film. It was also, among other things, a reference to this in my online dating profile that encouraged my partner to contact me. So it has a very special place in my heart.
And Zombie films are not just important in my life, they have persisted in our culture for years. Since Romero's Night of the Living Dead in 1968 the zombie trope has been ever present. It's curious because as the easy satire of Shaun of the Dead highlights, the stories are similar, the characters fall into predictable roles with predictable behaviours and yet it is still a popular (if niche) genre. The films have often been used as a comment on consumerism and modern life; I wonder whether that is part of their timeless appeal. The comments Romero was making back then are still just as relevant today. Consumerism, the ethics of it and its role in our lives still preoccupies many people.
Zombies themselves have a special appeal. Shaun of the Dead even ends with people keeping zombies as companions – like a dog but a bit bite-ier! Their slow movements and blank faces make us feel we can definitely triumph in a battle against them. Perhaps the promise of a victory which would save humanity, alongside the glory which would accompany it, appeals to our heroic (while slightly cowardly) side.
And when (not if!) the zombie apocalypse comes will you be ready for it? I have had many discussions about plans for the zombie apocalypse and where would be a suitable place to fight them from. I knew someone who said she wouldn't go out with anyone if they didn't have a zombie apocalypse plan. When you're down the Winchester, having a pint and waiting for it all to blow over, you just need to hope Cards or Die are there with what is becoming an extensive selection of zombie games to help you come up with some strategies!
When I saw Zombies by Todd Breitenstein for just £2.99 in a charity shop I wondered straightaway if it was a bargain or a dud. I'd never heard of it and it was still shrink wrapped. Inside the box there were 100 tiny, plastic zombies and that was ultimately what swung it for me! I mean you can never have too many tiny plastic zombies and until now I didn't have any. It was packaged like a video which had confused both the person labelling the game and the lady on the till and was boldly labelled 'This one's a no-brainer' so I brought it home with me.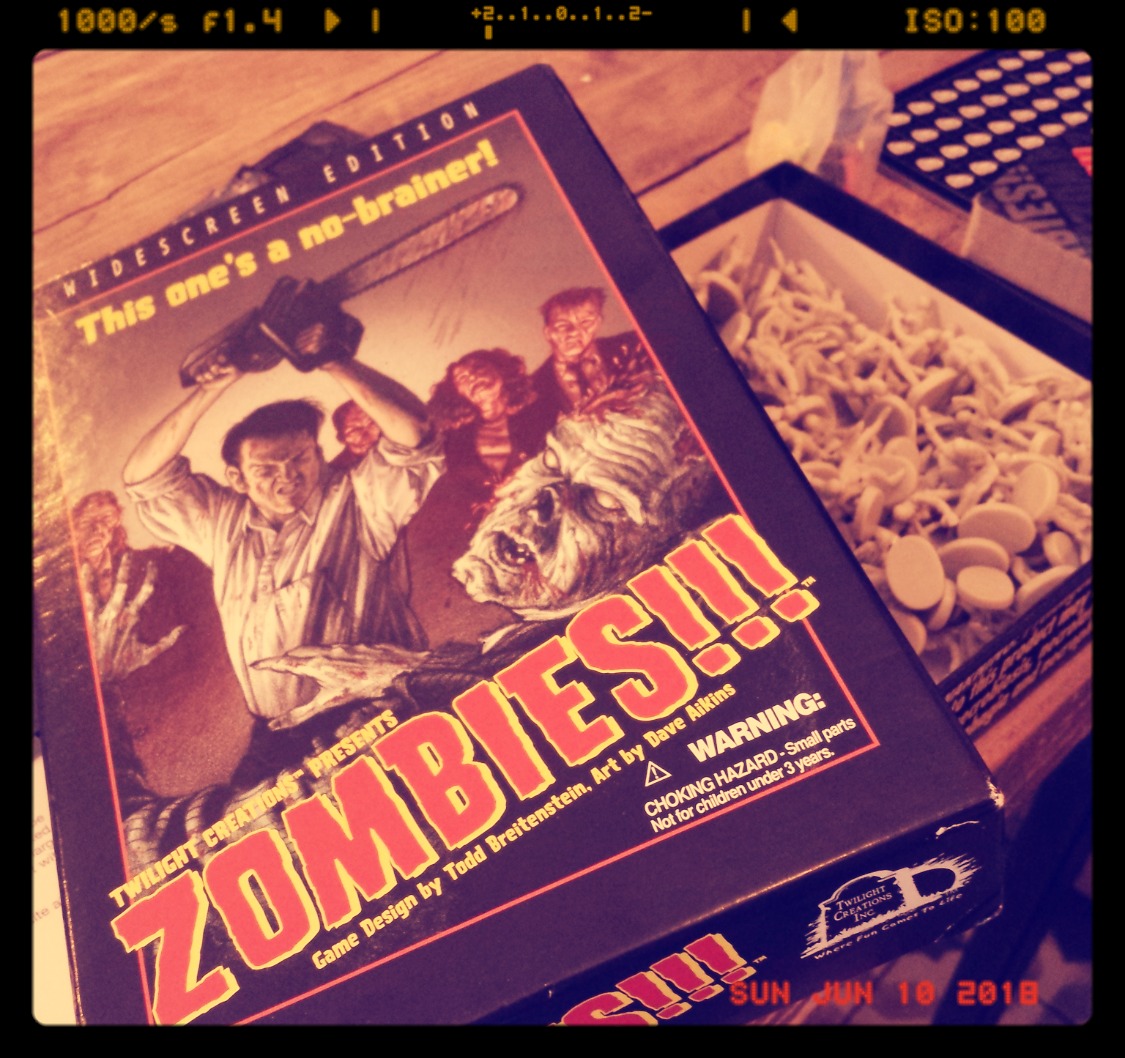 In Zombies you win by being the first to either defeat 25 zombies or reach the helipad and escape. The mechanism for adding zombies is very easy: for named buildings it is written on the card and for other cards you just place the same number of zombies as there are roads. You move by rolling a die, pausing to battle zombies by rolling a die, then you move the zombies by… you guessed it… rolling a die. Every turn you place a tile making sure all roads join other roads, if you place enough dead ends then you can not escape and must continue until one of you has defeated 25 zombies.
At this point, I felt that it was going to be a glorified roll and move game, entirely down to chance. Actually, there is more to it. And I don't mean the teeny weeny zombies although I'll be honest, they have swayed me.
There are other elements too – bullets which can be used to boost your die score, 3 hearts which represent your lives and are used to continue fighting a zombie. More of both of these can be collected as you move around the board, placing you in a stronger position to fight. You can move zombies at the end of your turn – this is again dependent on a die roll. At this point you can move zombies towards you or towards your opponent.
There is an element of push your luck here too. If you choose to fight while you are low on life and bullets you can find yourself back at the start. You respawn with 3 bullets and 3 lives but you lose half the zombies you defeated. And to add insult to injury you round up! So if for instance someone (it could be anyone) had 15 zombies, 1 life and 1 bullet and she thought 'Ha! I'm invincible- I laugh in the face of death' then died, she would lose 8 hard earned zombies which seems distinctly unfair. Especially as the dice that come with it are rubbish and only roll 1s.
There are also event cards. You start with three and can play them at any point in the game – using them to bolster your plans or scupper your opponent's. The ability to discard unwanted cards at the end of your turn means you can get rid of cards that don't fit with your strategy. I say strategy, it's more Go For Broke than Go! But there is enough strategy to maintain interest and the cards add to the fun. For instance 'we're screwed' or more accurately 'You're screwed, I'm winning now!'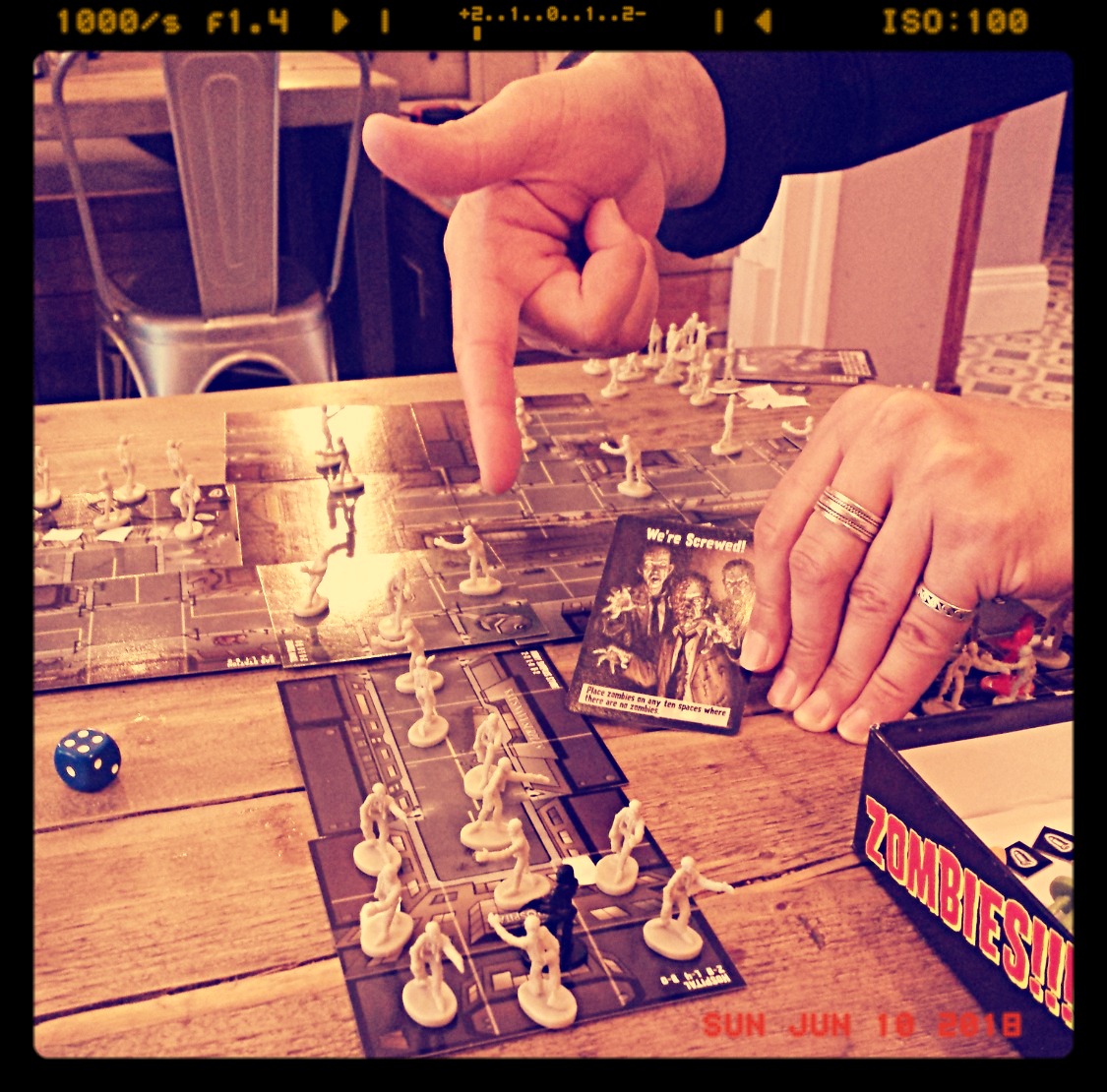 We really enjoyed it and while we were playing the bar man came over and said they have it at home and often play. It turns out loads of people have it and enjoy it. It was just a well kept secret… until now….
Throughout the game you must weigh up whether you are strong enough to battle or whether you should try to avoid the zombies and make for the helipad, collecting hearts and bullets as you go. Sacrifice the right event cards to collect more useful ones and you might just make it, or at the very least put up a good fight. And when it's all over you can still enjoy a pint and a toastie down the Winchester, hopefully none the worse for your adventures.