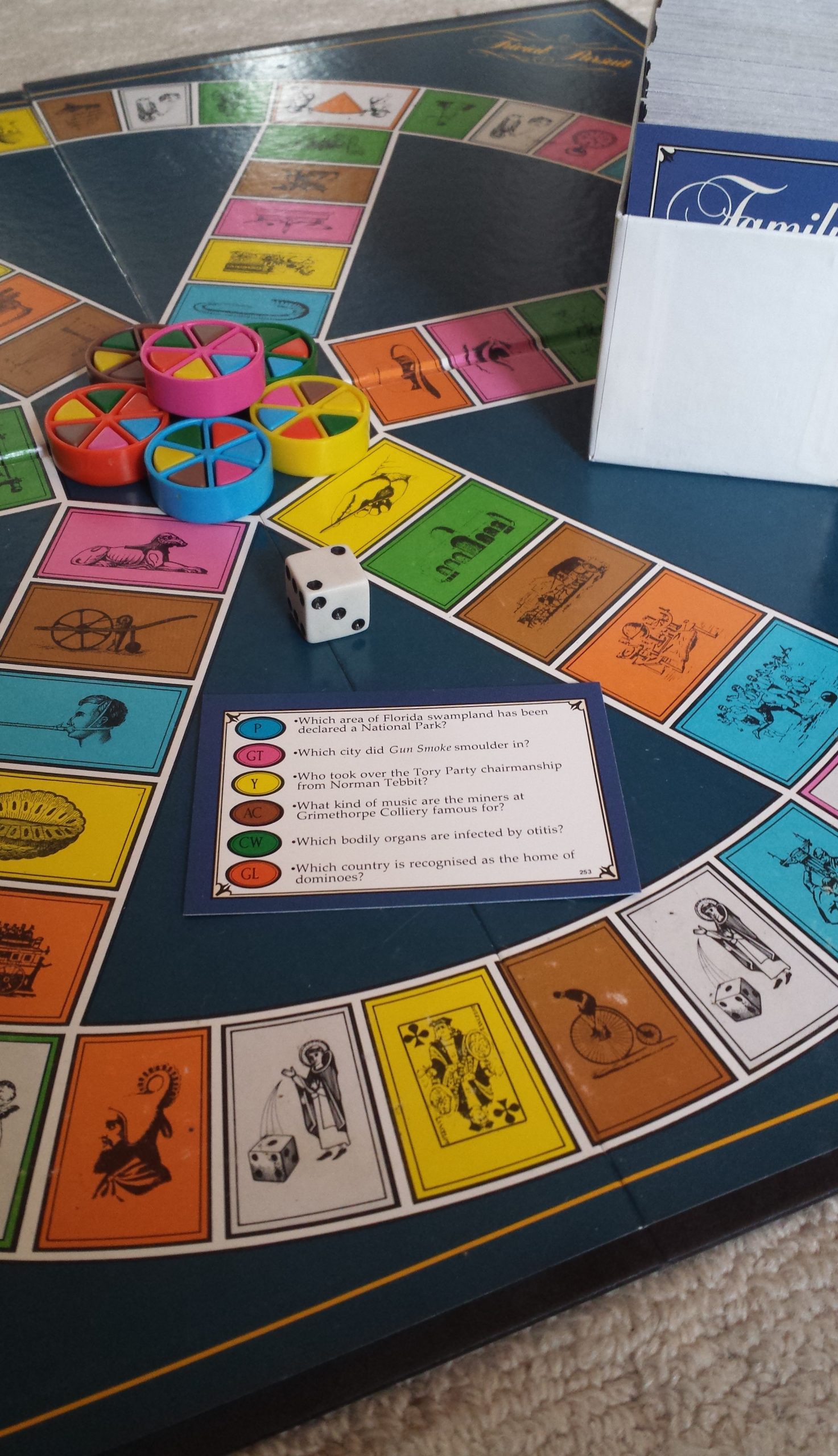 I grew up in a card playing family. My father's mother – my Nanny Dosh, short for Doris obviously – taught me a host of family favourites (and the harmonica) when she used to babysit me. And my mother's aunt – my Great Aunt Madge – taught me other games on her annual visits up North. Many a weekend was spent playing games like 'Load the Donkey' and 'Beat your Neighbour Out of Doors'. Later my parents taught me other games like Pontoon (21s), Cribbage, Gin Rummy and others that you could bet a few coppers on (we took card games seriously in our house). Board games, other than the obligatory Kerplunk, Monopoly and Operation, didn't really feature.
That all changed with the advent of Trivial Pursuit. Launched in 1979, I seem to remember it got very popular in the mid-eighties and no dinner party my parents attended at that time was complete without it. The Trivial Pursuit craze continued and by the time I was in my late teens and early twenties even many impoverished students sported – albeit a tatty version – the Trivial Pursuit box (or the budget 'travel' edition) in their shared house or bedsit.
We found some of our friends were like-minded in their love of games and Trivial Pursuit soon progressed to Articulate, The Really Nasty Horse Racing Game, Let's Buy Hollywood and many, many others. By the time we bought our own house, the top of my bedroom wardrobe looked more like that of a 12-year-old than an adult with a mortgage and a full-time job.
Games were played regularly throughout our twenties and even now we are known to use phrases that entered family lore around that time. 'It's an 'ing'' (for a 'doing word') or name a double-barrelled monkey ('Mr Orang-Utan' of course!) However, as friends moved away, some to literally the other side of the world, and others started families of their own, the games were played less and eventually were moved into the garage and then finally, apart from a couple that survived the cull, ended up in the local charity shop.
I gave little thought to games over the following years until a friend of mine had the inspiration to set up a board gaming business (Cards or Die). It sounded like such a fun idea for a business, but it wasn't until I witnessed Ann in action, at another friend's birthday camping festival that I truly appreciated the level of effort and thought that has gone into her business. Cards or Die's games selection spans a wide spectrum and there is something for everyone. But what really makes it work is the encouragement, recommendations and advice that Ann provides all players – teaching them new games or reminding them of the rules of games played in the past. It turns a game into so much more.
Needless to say, the group of friends I was with barely left the games tent for the rest of the festival and the fun we had reawakened my love of games (as well as reinforcing my position as Connect 4 champion). I think the time is right to invest in some new games and I believe Ann may have a few recommendations for me…
I'm always happy to recommend games – check out the
games section
of the website for ideas or message me!