Push your luck games are the marmite of tabletop. Often involving little or no strategy, instead they rely on risk calculation and a large helping of luck. You can calculate that the odds of being shot in the head are low and then… boom… no head! I know. I've been there. Frequently. I guess that's the other marmite element; I lose my head and then just have another game. It is high speed risk taking with the consequences removed. In these games I assume an air of confident optimism (sadly lacking from other areas of my life) usually resulting in my sudden demise and perhaps reinforcing the theory that in real life everything that can go wrong, will go wrong.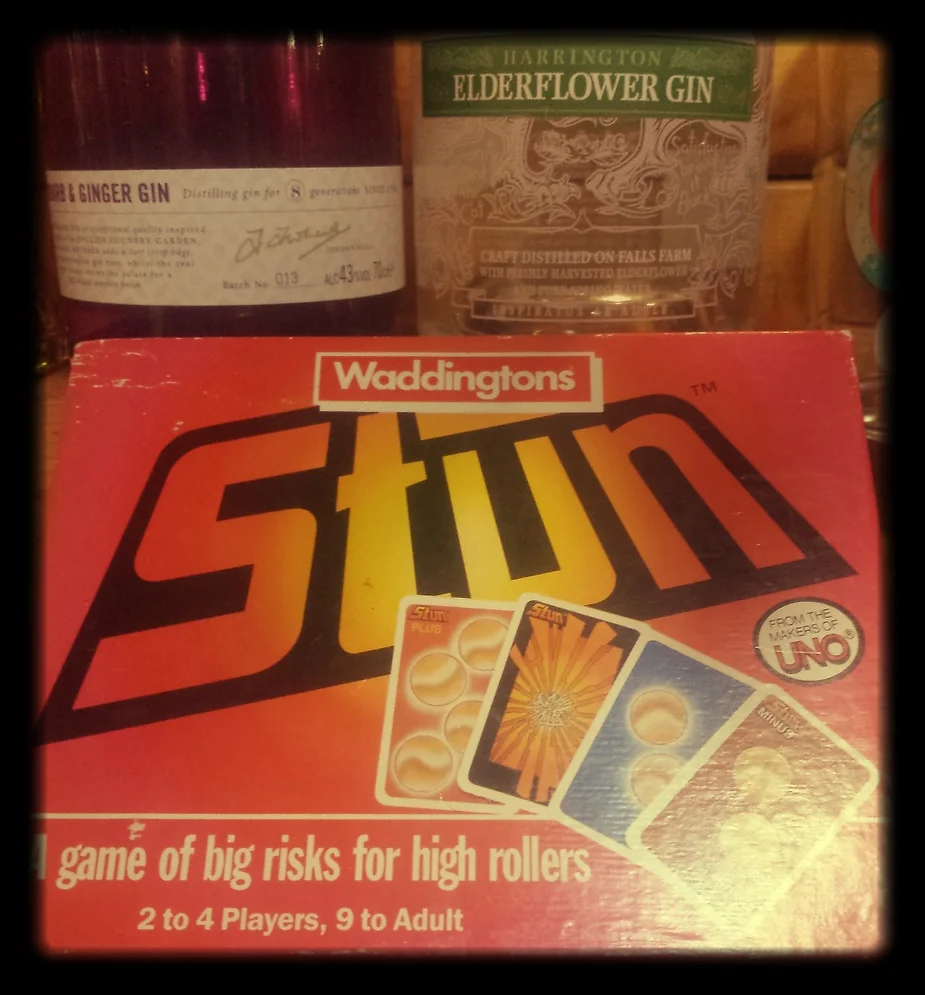 'Big Risks for High Rollers'. Yes! This encapsulates me: a high roller from the 70s.
I picked up Waddingtons' Stun from the UK Expo bring and buy sale. It plays up to 6 which is always a bonus at events where often people like to play in larger groups.
You have to collect 5 chips to win. And there's the rub. I'm already hooked because I believe I can win and easily too.
I'm realising now that this explains why I spend a proportion of every decent UK beach holiday with my nose pressed against a 2p machine that's "just about to drop. I'll stay here. Change this £1 for 2ps. GO!"
You turn over cards, stopping only when your nerve fails. Turn up a stun card and your turn "ENDS IMMEDIATELY" as it says in the rules. Verbatim. Shouty capitals and all.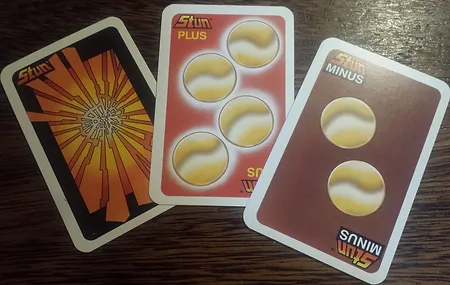 There are also Stun Plus and Stun Minus cards with which to scupper your opposition, always an enjoyable aspect in a game.
Stop turning up cards in time, save them and trade them for a chip: slow and steady wins the race. But, where's the fun in that? One more… go on… I dare you!
by Ludi Creations. Plays 2 – 5. Age 6.
The most striking thing about this game is its beauty. When I saw Daniel Solis' name on the box I was not surprised at all (Kodama and Koi Pond are also beautiful games). So beautiful was it that it took me a while to realise that it is at its root a push your luck game.
First, let's take a moment to enjoy the board. I challenge you to open it without going 'Ahhhhhhh' in what you believe to be an angelic voice! It's a pop up book of a board and it's mini.
Then, we learn that our heroic mice must defeat the red dragon and recover the Sacred Golden Cheese. I was already completely sold on it by this point.
The clever bit in Mythe is that, rather than drawing up from a central pile, you draw cards from other players' hands (one by one) stopping before you hit an obstacle card. When you finish your turn by advancing on your cheese quest or by fatally overestimating your mousely strength, you give cards away to other players.
So, you just give away all the good cards and then draw them back up next go? Right?
No. Because to defeat that pesky dragon before your cheese becomes fondue you need to hold a legacy item. Obviously. How else would a mouse defeat a dragon? Also, by the time your turn comes round the other player may have a very different hand.
Clever, eh? There's more randomness than 52 card pick up, there's second guessing what other people are up to and there's peril little mouse, so much peril.
You will want to play this many, many times.
Another game that accommodates many players, Zombie Dice is a quick fun game that is always a hit at events. You are a zombie, you must roll the dice to find out if you eat braaaaaiiiiins, get shot in the head or if your victim escapes.
Re-roll escaping victims or just keep rolling until you fear for your head. Three shots to the head and your head fully explodes.
But never fear, it will regrow in time for your next turn. It is a low scoring game and grasping that is the route to success.
The best part of this is that the dice are weighted to allow you to calculate your risk. Red dice mean you are more likely to be shot, green you are more likely to feast on brains and yellow could go either way.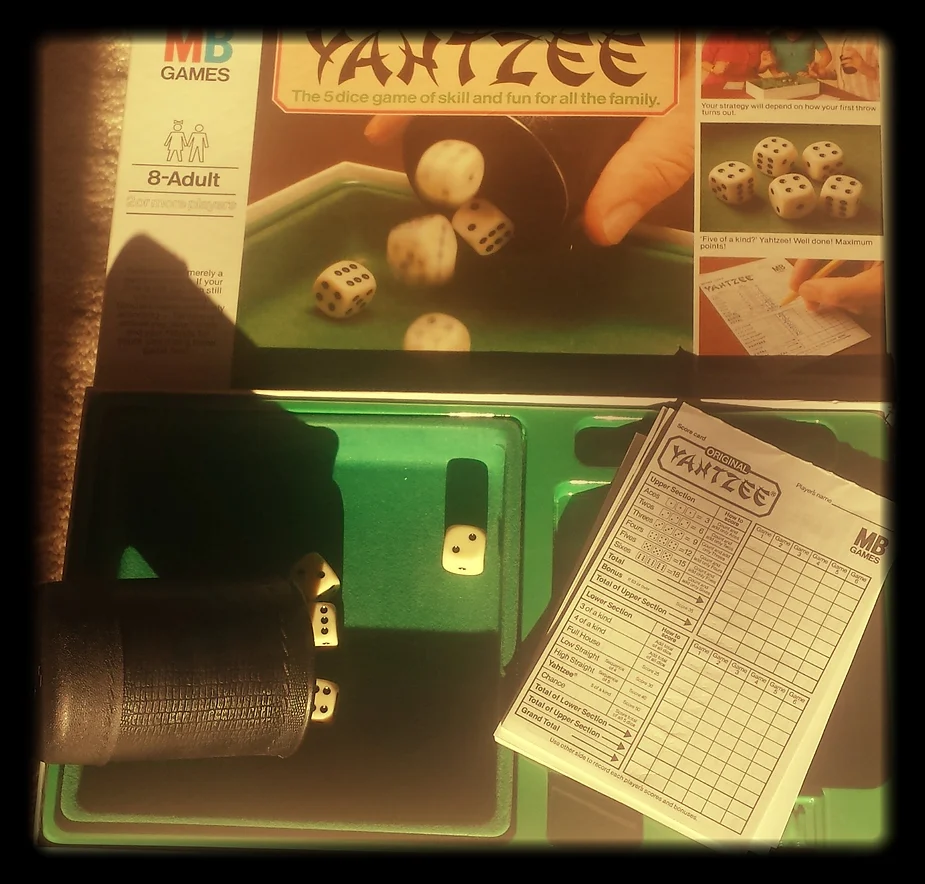 Yahtzee boasts that it is a game of skill, not reliant on luck. MB clearly understood that luck sells less than skill but if we're honest surely being lucky is the only way to win this!
Classic Yahtzee and Yahtzee Word are the sort of games that sound like nothing when you describe them, but are super addictive to play. Roll the dice and collect points for words or sets of dice. Every round you
must
record a score – you can choose to record a zero for a category and try instead to get an 'easier' category. For instance, you may decide there's no way you will roll 5 of a kind or get a 7 letter word but you may get a 3 letter word or 3 of a kind. So, you put a 0 next to 5 of a kind and go instead for 3 of a kind. It's hard to capture the addictive nature of them – I think it's the fact you are pushing your luck – deciding that rather than putting a zero for a low scoring category you will risk it and go for the big scores, which makes it so compelling. You have just as much chance of winning as your opponent. They can not outwit you or just be cleverer or better than you. But maybe these are just the words of someone who lost too many games as a child and is now being destroyed on a regular basis by a smart, ruthless 12 year old.
There are bonus points to be achieved if you score certain amounts or fill certain boxes which lend more importance to the decision making process. Yahtzee word does feel more reliant on skill than Classic Yahtzee as creating words under pressure is a challenging task, and the addition of the timer makes it more pressurised which is always more fun!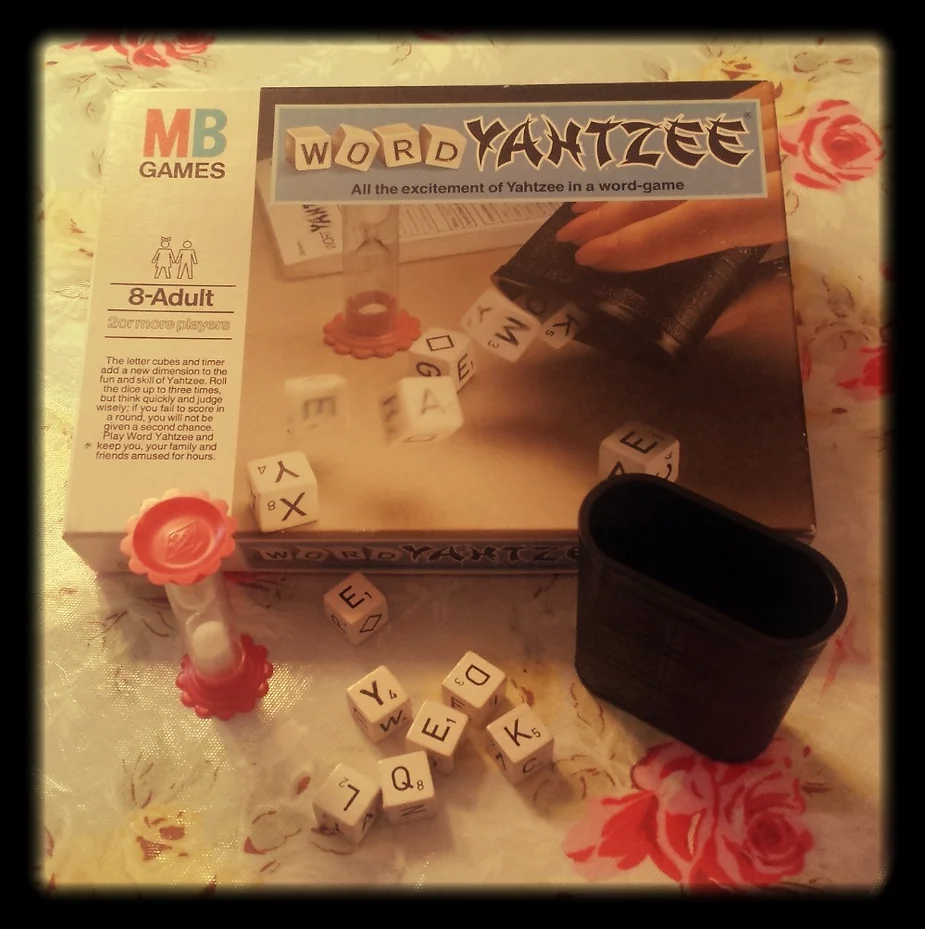 I love pushing my luck in these games. Weighing up your options and calculating your chances carefully is the way to boss all of these games. But, to get the most enjoyment out of them…. slowly, carefully, reveal the card or roll the dice, then shout at the cards and dice, shout at people who are winning or losing, and take big risks – after all you won't really lose your head.
What's your favourite type of game? Strategy? Luck? Something else?