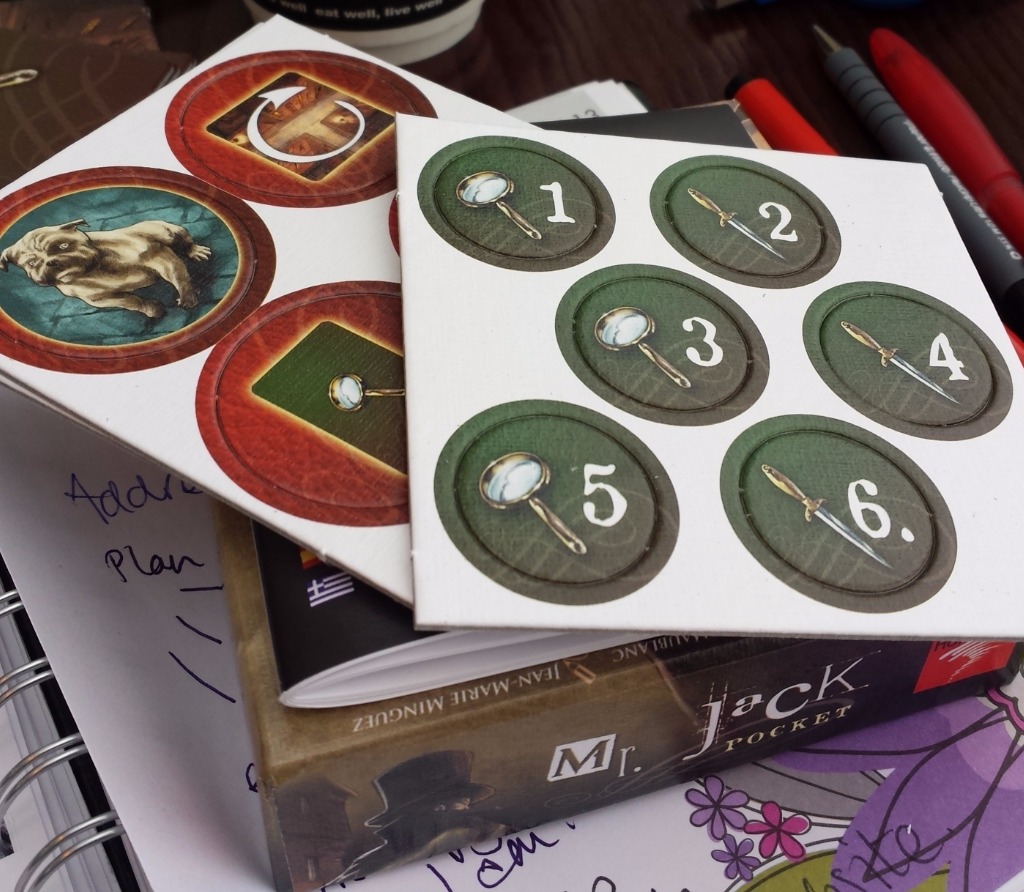 Ahhh, pressing bits of cardboard out of other bits of cardboard- bliss.
Two weeks ago I stumbled across Mr Jack (Pocket) in Just Games
– the
games shop in Whitby. (Click on the picture above to visit their excellent website.)
As we love 221B Baker Street and Cluedo in our house, it seemed like a good choice. The portable size and the price appealed too.
Mentioning it on twitter, I found that it is already a favourite of lots of gamers and having played it countless times in the scant two weeks we've had it, I can see why.
Players: 2 – Mr Jack and The Inspector
While it is easy to learn the basics and easily accessible, you can also play with a lot of strategy. We started off playing in a very straightforward way and soon realised that you can play at a much deeper, more strategic level. Much of this lies in the cleverness of the asymmetry: Mr Jack must avoid detection while The Inspector must discover Mr Jack's assumed identity before time runs out. The Inspector moves the character tokens around the edge of the board, looking down the alleys for Mr Jack. Meanwhile, Mr Jack must try to either block or maximise their view to stop the Inspector deducing Mr Jack's identity. The game is well balanced; neither character has any advantage over the other.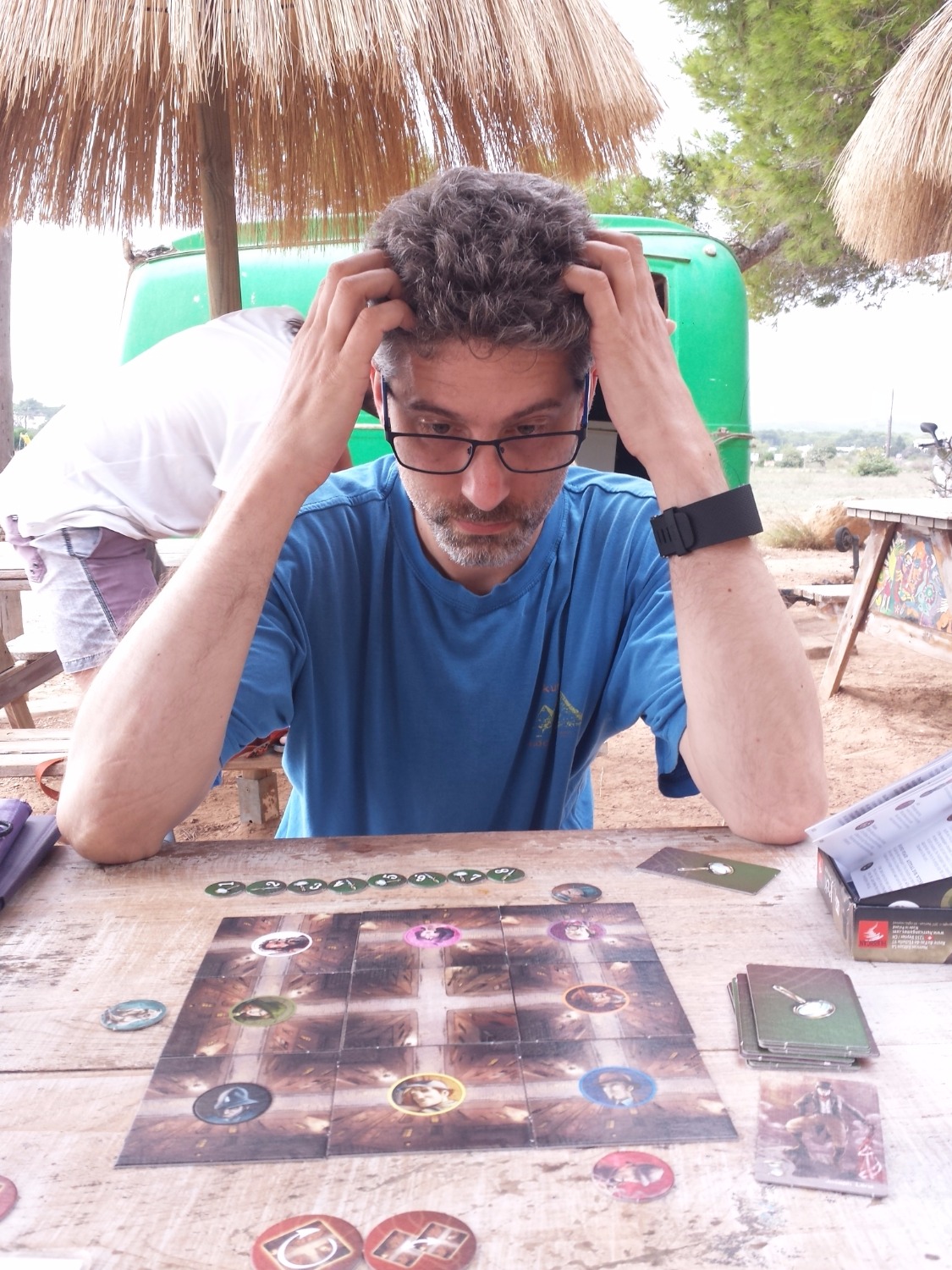 Mark considering the strategic brilliance of Mr Jack (Me!).
The Inspector is aided by Holmes, Watson and Toby the dog- their sometime accomplice. The use of Toby may please some Holmes purists- I know I saw it as a welcome addition.
Despite my disappointment once again at the under (and mis-) representation of women in the game. (And I do mean despite – I was disappointed when I opened it) I do really enjoy the game. Every other element is well considered: the design of the alleyways and blocked routes on individual tiles giving the board endless* variance; the seeming imbalance in turn taking which resolves over two turns; the double sided counters which indicate elements of your turn and the double sided turn tracker which shows hourglasses on the flipside which both Mr Jack and the Inspector are locked in battle for. All in all it is a strategic dream and delightfully compact.
*ok. I know there's some mathematical formula and I could calculate the number of possible variants. I could but I won't insult your intelligence by doing that for you. I mean I totally could if I wanted. Just so we're clear.
Perfect to play while you await your tapas (and chips!)
This, however, is not a welcome sight. At all.
The aliases Mr Jack assumes are very disappointing. It does not interfere with game play but once again I am presented with manly white men in manly poses and two simpering women who seem to have only breasts and prostitution to offer. Not only is the characterisation of the women tiresome but also why aren't half the characters female? And why is everyone white? Add to that a rule book that speaks solely to men. Extremely frustrating and so easily remedied.
So easy, in fact, I can remedy it for you with some quick googling.
Here are some possible additions to begin to redress the white male bias – click on the images to find out more:
Mary Ann – a notorious murderer. It is believed she murdered 11 children, 3 husbands and her mother among others.
Thomas Jenkins, a ship's cook, was arrested for refusing to give evidence.
And of course – why on earth would you not have included Irene Adler? She was the only person who Holmes viewed as an intellectual equal – who else could be more likely to give the Inspector, Holmes, Toby and Watson a good run for their money?
"… the best plans of Mr Sherlock Holmes were beaten by a woman's wit." A.C. Doyle
Maybe this is all the world is waiting for… the right expansion pack.