My favourite homework to be asked for help with is, unsurprisingly, 'make a board game of…' And with the kids going 'back to school' on Monday I thought I would share some game making ideas that all the family can get on board with!
They require varying amounts of equipment/ technology and assistance and will appeal to different ages. I haven't assigned ages to the games – you know your children and now we are at home we can educate them based on what is most appropriate to their needs rather than what month and year they were born in. Things like dice and pawns may be useful for some of them but just use whatever you have to hand – raid the plastic farm animals or the kinder egg toys! No dice? Remember the spinners you used to get on the back of selection boxes? You could spend some time engineering one of those and doing some testing and refining to make sure it is truly random.
You will need: Thin paper, a thicker grade of paper or card, string or tape.
1. Cut out your kippers from the thin paper (traditionally newspaper was used)
2. Make sure they are all identical sizes (you don't want any unfairness – believe me!).
3. Write names on the kippers.
4. Lay out a starting line and a finish line on the floor.
5. Space the kippers out along the starting line.
6. On 'Go' players have to use their thicker piece of paper or card to waft their Kipper repeatedly until it makes it over the finish line.
Educational Value: It depends on how much you let the children do, the cutting out can help them practice their finer motor skills. It's also surprisingly athletic!!
You will need: a patio is ideal for this, if not just some concrete and a tape measure, chalks, a sunny day, dice.
Or, a sheet of card, a ruler, colours, dice.
1. Draw out your board taking care to measure the squares 1- 100.
2. Add Snakes and Ladders to your drawing making sure they start and end clearly inside your marked squares.
3. Roll the dice – if you are outside, you can move yourself the number of spaces you roll or if you are playing on a smaller scale move your pawn.
4. If you land on a snake's head you slip down the snake back to the square its tail ends in.
5. If you land on a ladder you climb up to the space the ladder ends in.
Educational Value: this game involves drawing snakes (the more colourful the better) and ladders. If you wanted, you could do some research and draw some different breeds of snakes. You will need to accurately measure the spaces if you are drawing the board.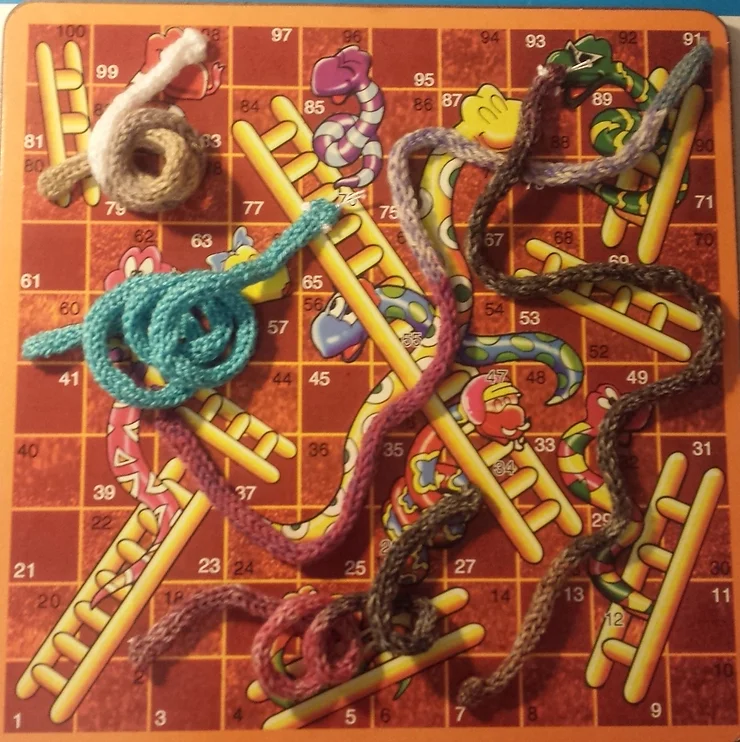 You will need: a camera, a selection of fancy dress – e.g. hats, glasses, wigs!, cardboard, a printer. I had menu card holders but you don't need these.
1. Take photos of the family in a variety of poses/ outfits. Or, find existing photos of yourselves. When I made our version for the wedding I was surprised by how often myself and my partner wear different hats – it proved very useful. You need a variety of photos so that you will be able to deduce which image your opponent has in front of them.
2. Print out the photos. You will need three copies of each – you may want to use different colours on the reverse side to differentiate the three decks.
3. Lay out two decks face up – one facing each player.
4. Players choose a card from the third deck (Keep it hidden)
5. Take turns to ask closed questions (yes or no answers only) until you have deduced which card your opponent has.
e.g. Q. Has yours got sunglasses on?
Person who asked the question turns all the ones with sunglasses on facedown.
Educational Value: computer skills – photos can be edited, photography skills including uploading the photos. The game itself uses questioning and deduction skills.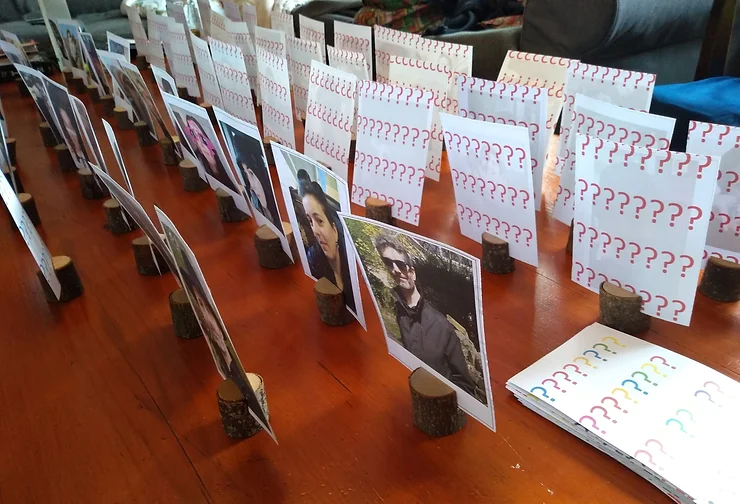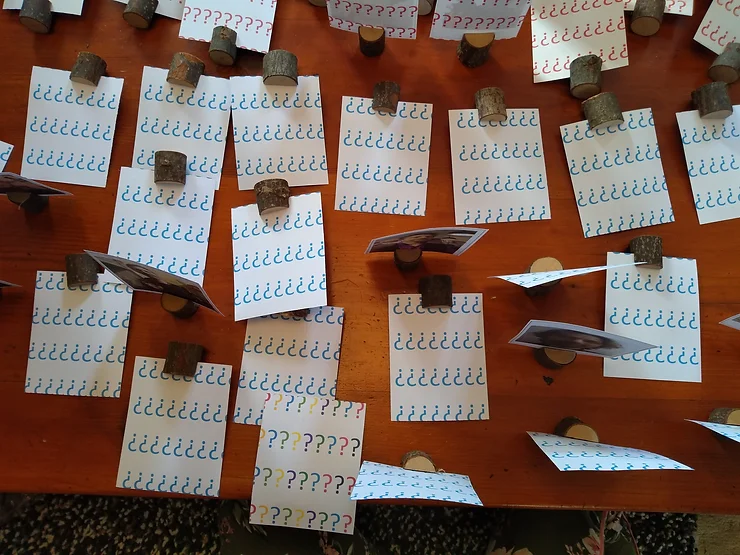 You will need: Card – cut into card sized rectangles, colours, pens.
1. Decide on your topic and then decide what headings your cards will have. Choose about 5 headings for categories e.g. height, strength, intellect, danger….
2. Research your topic finding different people, creatures, vehicles, characters, deities… to go on your cards.
3. On each card add an image, a short summary – some interesting facts about the subject of the card, then 5 numbers – one for each heading.
4. For each category think about what will be the highest number and what will be the lowest. They don't all have to have the same range but you do want a good variety in your cards.
5. When your deck is complete, shuffle it and deal out the cards.
6. Turn over your top card, choose a category and challenge your opponent. Whoever has the highest number wins. The first to lose all their cards is the loser.
Educational Value: research. This really invites some in depth study of a subject or hobby. You can use art or computing skills depending on whether you are drawing or printing cards out.
You will need: Dice, Paper, Pencils.
Most of us probably remember Beetle Drive or some variation of it from our childhood. You can mix it up by using different animals instead of beetles if you like.
1. You must roll a 6 to start and when you roll 6 you may draw the beetle's head.
2. There are other parts which must be drawn in order – e.g. you cannot draw the legs until you have drawn the body.
3. Play continues in a clockwise direction with everyone taking a turn to roll the dice and then draw if they get the number they need. However, you can abandon the turn taking and make it into a race by giving each player a dice of their own.
Educational Value: This encourages children to recognise numbers and the number patterns on the dice.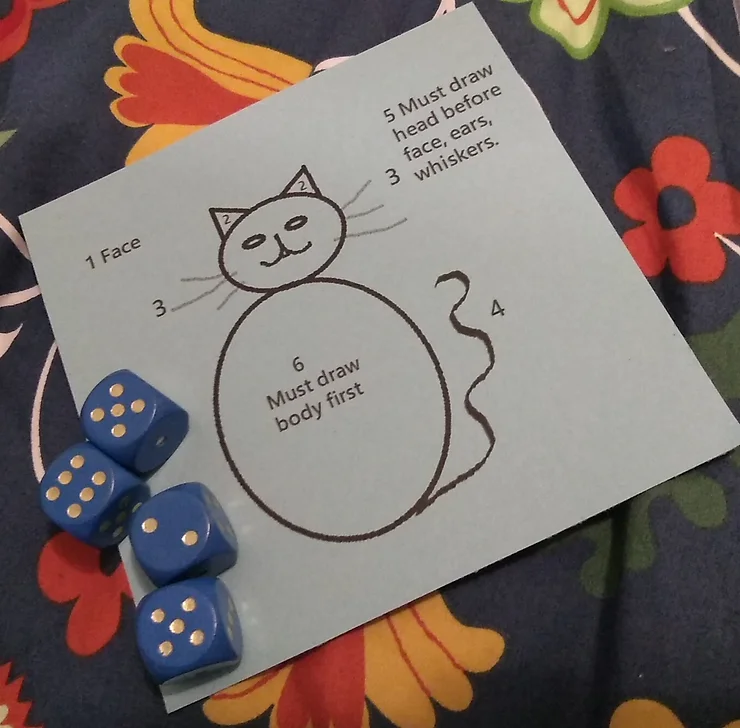 You will need: card, scissors, pencil, colours, images of people.
1. You can either draw people or cut out pictures of people and glue them to the card.
If you are drawing people it may help to draw lines across the card where the segments will be cut.
2. Then carefully cut each person into the same number of segments. In the original game that is hat, face, body and arms and legs.
3. Shuffle the cards then deal out the same amount to each player. Leave the rest in a draw pile.
4. The first person to shout that they have a hat in their hand (or just a head if you are playing with less segments) goes first.
5. Take turns to add to the misfit on the table or start a new one with a hat card.
6. If you add a leg to a misfit the person who plays the matching leg takes the misfit and puts it in a pile in front of them.
7. Legs have to match in order to play the second leg card.
8. The winner is the person with the most misfits in front of them at the end.
Educational Value: Art and creativity.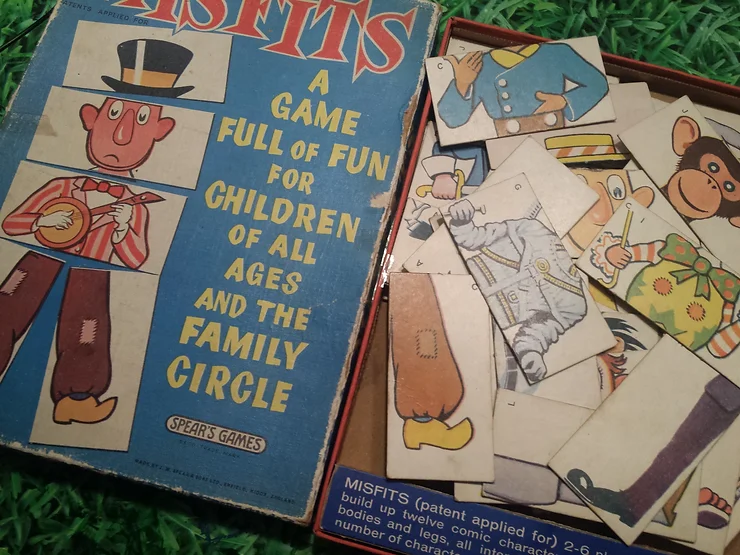 You will need: card, scissors, glue, magazines, newspapers, greetings cards, brochures, junk mail, a way of keeping score, voting chips and at least 3 players. In order to create the cards it would first help to understand how the game is to be played so I will explain that first.
1. Choose a card from your hand and say something about it – that can be a word, a phrase, a lyric, a line from a film.
2. Everyone else then chooses a card from their hand which matches with what you said. They give you the card.
3. Shuffle the cards and lay them out face up.
4. Everyone (except you) must vote for which they think is your card.
5. If some people guess correctly both you and those who got it correct score 3 points.
But, if everybody or nobody correctly identifies your card – you score 0.
6. Everyone who received a vote on their card earns one point for every vote they received.
Because of the way the game plays the cards are delightfully abstract, strange and detailed. There are always lots of different ways of looking at them and a variety of things to say about them.
You could make a fantastic set of cards using drawing, collage and a free imagination. If you have the game you could add them to your deck.
Educational Value: Art for arts sake! The exploration and creation of art is a fantastic escape from the stresses and strains of the everyday. The game itself is very imaginative with beautiful illustrations. There is also the challenge of distilling down the image on the card into a word or phrase.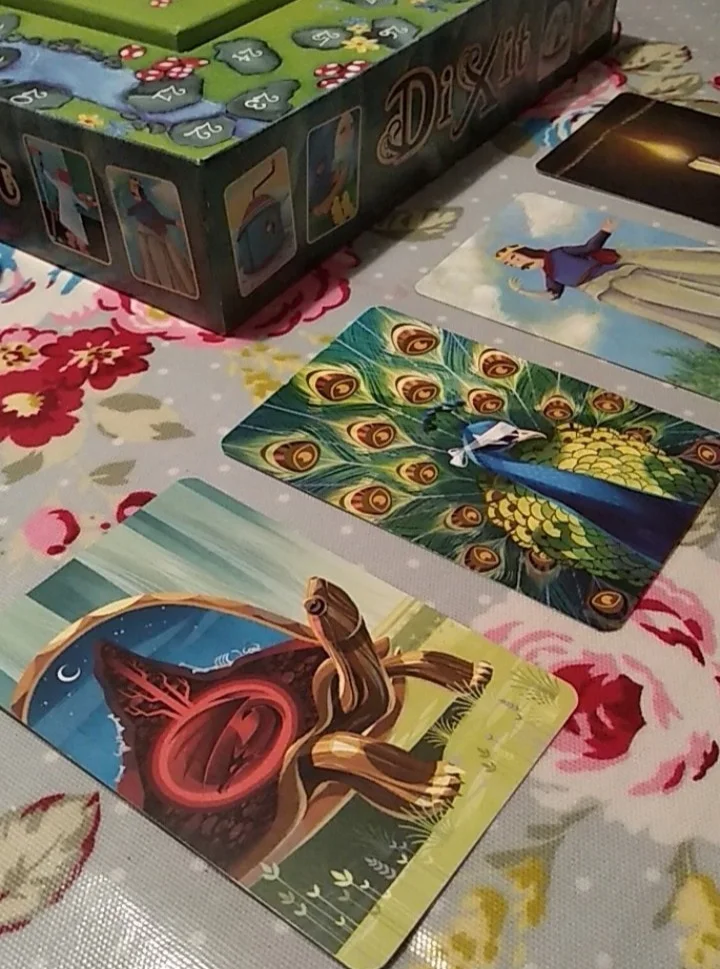 Or… just
'Make a Board Game'
You will need: whatever you like- your imagination is the only boundary here – pens, paints, chalks, paper, cardboard (use a cereal packet cut open), the recycling bin contents, pebbles, pawns, toy dragons, toy dinosaurs, a dice or spinner.
You can make it as big as your garden or tiny – to fit in an old matchbox.
You can research the theme – vikings, dinosaurs, whales… or you can make it entirely fictitious, from the depths of your marvellous brain.