If you're familiar with the just a card campaign you'll have heard that every time someone supports an independent business the owner does a happy dance. I imagine that when the last copies of Wibbell Plus Plus and Kitty Cataclysm were posted that Bez of
Stuff By Bez
did at least one happy dance. If you've ever received a package from Bez you'll know that it's a thing of joy and if you haven't, what are you waiting for? Treat yourself.
My most recent parcel arrived in a trademark envelope festooned with fabulous red drawings, a little comic and a cat which I have enjoyed colouring in. It is now on the wall in my study reminding me to take it easy sometimes.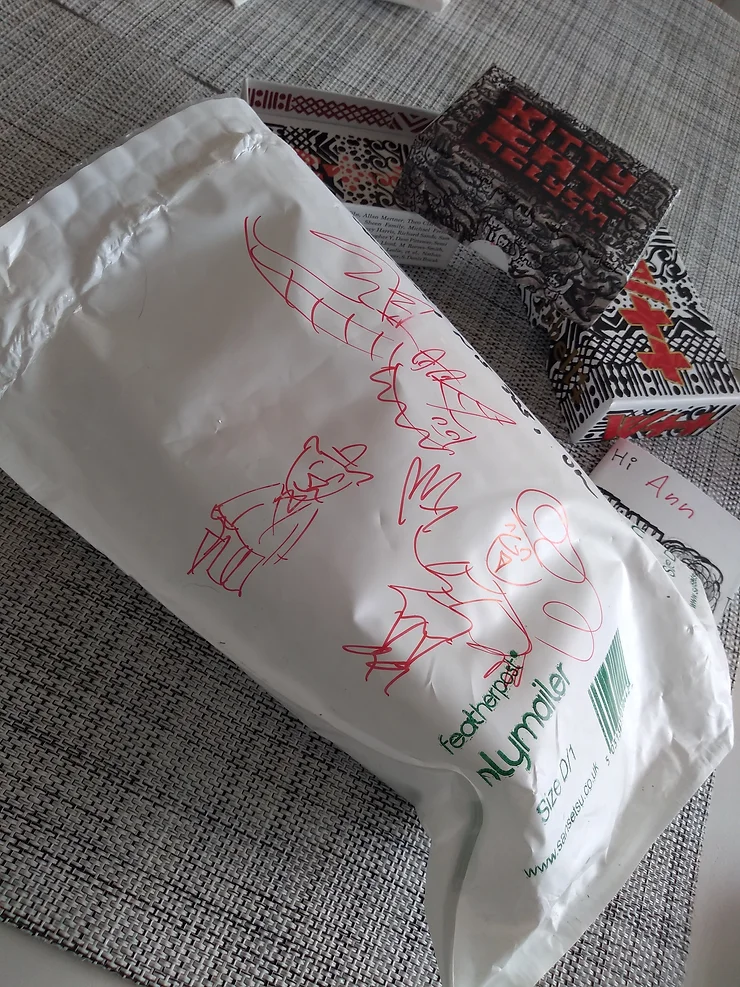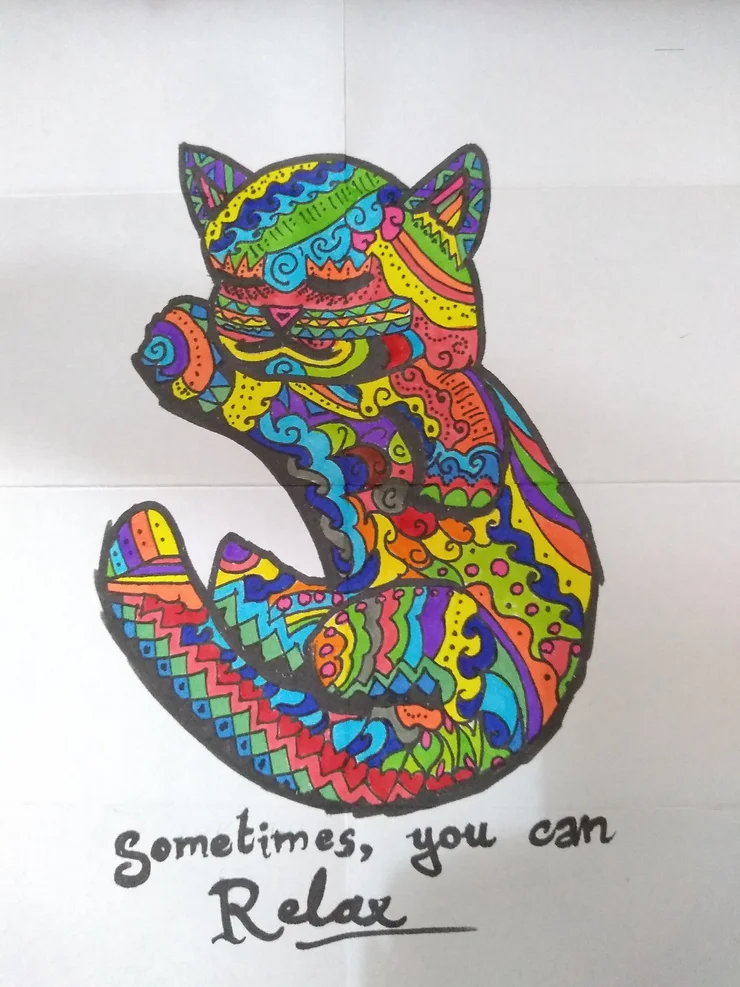 But it's not just about the packaging. Inside there was a copy of Kitty Cataclysm and a copy of Wibbell Plus Plus – two small box card games which both offer something unique. In fact Wibbell Plus Plus is a whole system of games while Kitty Cataclysm is a punny chaotic cat game!
In Kitty Cataclysm players compete for meowney. In fact, the game is littered with cat puns. I'm here all week…The game ends when a player is ready to start their turn but has no cards in their paws. At that point you count up your meowney and determine who is the fattest cat.
It's fast paced and fun. Each card has clear instructions which makes the game quick and easy to access. When you play the card into your kitty you simply do whatever the card says. You can make others get rid of cards, lose cards deliberately yourself, steal cards, donate cards, give cards away, draw extra and various combinations of those actions. So you can prolong the game and try to amass more meowney or you can try to end the game if you think you are ahead. You can look through your own kitty but you can't touch anyone else's. So this decision is always a bit risky plus you might try to end the game while someone else is hell bent on prolonging it! I like that element of it.
I also really like the sudden ending. There is no playing on until you get a winner. Everyone plays then everyone stops. No-one is aimlessly twiddling their thumbs waiting for it to be over. For me that's a winning mechanic.
The inventive puns are paired with fabulous drawings. The cats' facial expressions are brilliant – accurately encapsulating all cat emotions from irritation, through slyness to smugness. I think that's all of them isn't it?
Quick to learn, fun and portable. It's a perfect addition to your bag. As always if you fancy trying before you buy you can play it at any Cards or Die event.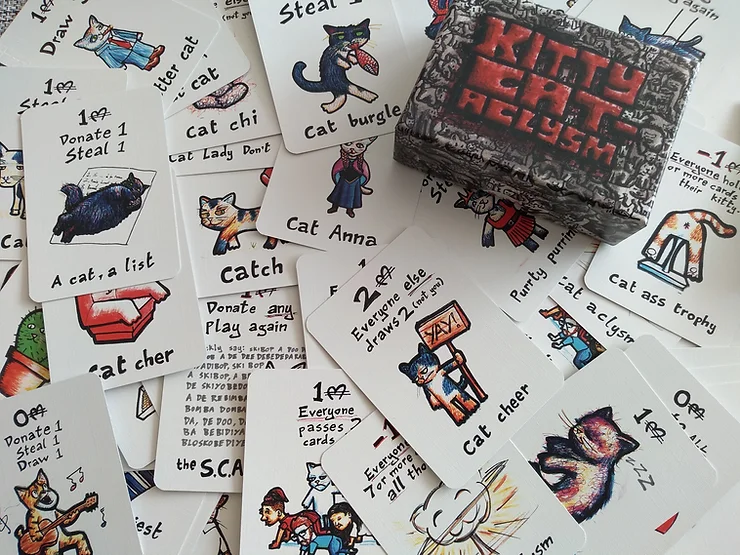 Duration: 5 to 45 minutes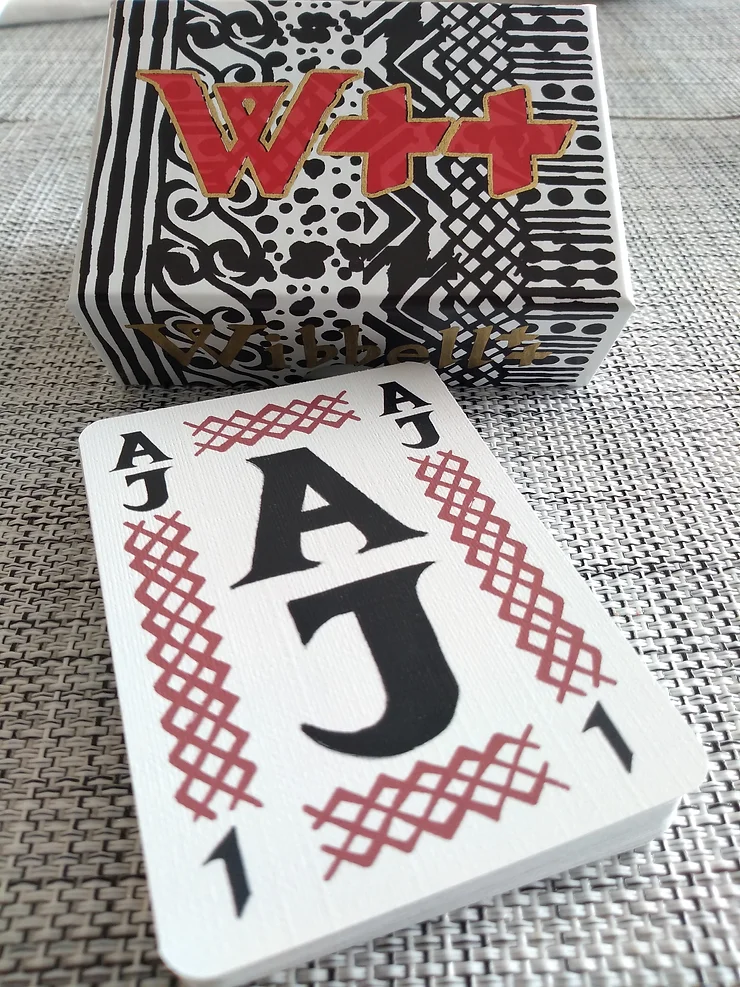 Wibbell Plus Plus isn't a game – it's a whole games system. To date there are more than 20 brilliant and diverse games listed on the
website
that you play with these cards. The games are in different stages of completeness – some are established core games (the instructions for 6 core games come in the box) others are more experimental. The whole purpose of the games system is to encourage this experimental approach. Every 1st August Bez will announce a new featured 'core' game. We, the players, are encouraged to submit game ideas in whatever stage they are at.
The existing games are fun and varied.
Grabell
is a fast paced pattern or letter matching game which requires no spelling or word based ability.
Faybell
is a storytelling game where you work together to craft a tale, using the cards to determine elements you should include. Helpfully the instructions come with a list of useful words for awkward letters.
Phrasell
is a game which uses the cards as prompts for phrases about a predetermined topic – this can be as silly as you want and often is!
Coupell
requires you to make words with the cards, swapping them around to make sure that everyone's scores are perfectly balanced by the end. In
Wibbell
players compete to be the first to shout out a word which uses all the required cards, the more you win, the more cards you have to include.
One of my favourites from the many games listed on the website is
Many a Mickel Makes a Muckel
. The rules for this solo game are not included in the box. You are trying to create high scoring words by trying to place each new card you turn over in one of the three words you are working on. Discarded cards count as negatives and reduce your overall score. The card list included in the box and the numbers on the cards which indicate how many of that letter are in the deck are invaluable aids in this game.
By far the most exciting element of this games system is the organic element of it. One of the things which I think gaming allows is for adults to access that free and creative part of them which is so often locked away sometime during adolescence when we begin to feel we should pursue 'worthwhile', 'serious' things in our free time. Here is a box of beautifully lettered cards with a gorgeous finish -you can play existing games or you can just play around with them. You have not only permission but in fact an invitation to play without rules and make your own up. The creation of games is intrinsically playful. When children open games they just play with a joyful disregard for rules. Someone recently told me that her children used to love Carcassonne – they just made pictures with the tiles and played with the meeples. As adults it's hard not to intervene – 'you're doing that wrong' 'it's not meant to be used like that'. It's a game. They are playing with it. That's it's use right there.
One of the great things about the retro games in my collection is that it takes you back to a time when you just enjoyed stuff, when the floor really was lava and you had to negotiate the living room without touching it. As we get older we get caught up in doing things the right way, in getting it right, in following the rules. Wibbell plus plus is so exciting because it offers a route straight back to limitless play and experimentation. Use the cards as a springboard for your own freedom and creativity. So play the games, get creative or just spell out your name… you know… whichever!