Before we get on to the nitty gritty details of the game there are some things I need to tell you. When I moved in with my partner I had 150 board games, me and my partner had lots of books. They all lived happily together, nestled on the book shelves. As my games collection expanded, our book collection underwent several culls. Now that I have amassed more than 350 games there is not only the issue of space but also of time.
New games arrive, the shelves groan and my family look forward to evenings of me bumbling through rule books and games so that people who come to my events receive seamless teaching because I've worked out all the lumps, bumps and confusion on them. They get to play the games where half way through I say 'Oh no, you can't do that' or the game suddenly and unpredictably ends just before they make their killer move.
When I'm out at events leaving them to a peaceful board games evening when they can play familiar games, I have an uncanny knack of taking with me the exact games they were planning to play. Good to know me and my games can still annoy them even when I'm not there!
So you can understand why, when I have a pile of new games occupying the shelf my partner's books used to live on and I want to learn one – sometimes the response is less than favourable. And so it was with FlickFleet. The shiny box arrived with all the lovely handcrafted pieces. I set it up and played it a few times on my own and while that was fun I didn't feel confident teaching it at all. I just couldn't entice anyone into playing with me until Saturday, when finally Mark caved in…
After playing one game of FlickFleet with me mis-teaching bits and re-reading the rule book (which by the way is excellent – thorough and clear) Mark said this:
'Next month I'm going to spend my war hammer budget on my own copy of this so I can play it if you take it to events'.
To fully appreciate this endorsement the only other thing you need to know is that my partner's plastic crack addiction is advanced. This accolade despite the mis-teaching and sudden ending!
To be clear, I am thoroughly enjoying FlickFleet. It's beautifully crafted and tactile which I like and the mechanic – flicking the dice at other crafts but also needing to roll certain numbers when you flick – is loads of fun. For Mark it was the theme that really captured him. While I was lining up my shots he was visualising the collapse of empires. As I learnt the rules he illuminated them with scenes from various Sci-Fi films. At points I had no idea what the film was but he was gesticulating and painting the scene so passionately I didn't have the heart to say.
And then there's our playmat. My current playmat/ tablecloth/ backdrop for top quality games photography has been the subject of some derision and I have long maintained it is perfect for every occasion. Encouraged by his new favourite game my partner has treated us to a space themed background – a thrifty alternative to playmats he bought some black oilcloth and sprayed it lightly with silver. (I knew those war hammer paints would come in handy for something). Behold… a stellar backdrop!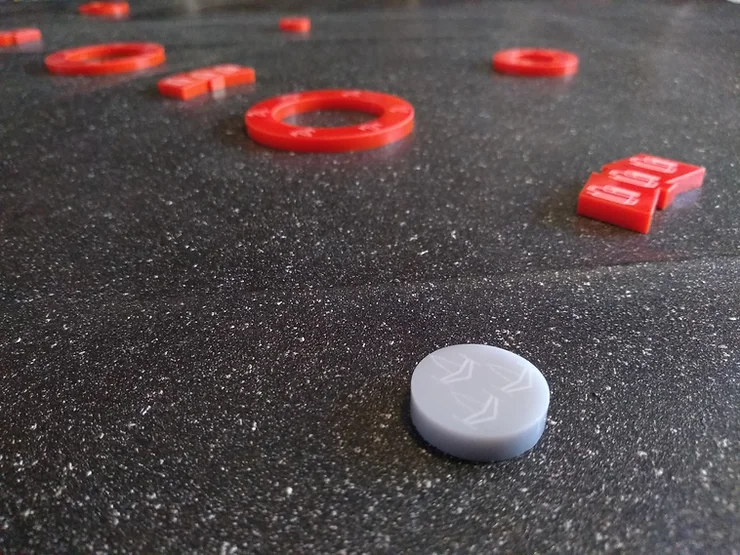 At its core FlickFleet is a dexterity game. This means it can be frustrating – one flick can destroy an enemy while a seemingly identical flick sees you spinning off the table and into deep space. I think playing it on the same surface while we all got used to it would have given it more predictability which would have been good for my son. He was initially very keen on the game but after playing it on a different surface each time he became disheartened. There are various scenarios in the instruction book and one I found both fun and useful was the target practice one. Each of you competes to avoid articles and be the first to destroy three fighter wings. This was loads of fun and allowed me plenty of practice to hone my technique. There are a good number of scenarios in the instruction book but you can go rogue and just battle by using the strength scores in the book. Or, you can mix and match. There's really endless flexibility with this game. I enjoy dexterity challenges and I want an element of unpredictability in my games – as Picasso once said 'If you know exactly what you are going to do, what's the good in doing it?'
But it isn't just dexterity, there is loads of strategy to weigh up too. From your choice of fighters at the beginning – do you choose one massive ship or lots of small ones? Should you play defence or just attack with all guns blazing? Do you deploy three less accurate lasers or one catastrophic nuke? The choice of dice here is genius – the lasers are represented by a D10 which is literally less accurate when you flick it while the nukes are a good old cuboid D6. All of the types of ships move differently too so some are easier to move but then quicker to blow up. So from the moment you start setting up the game you are already playing strategically.
Each turn you have two actions, you can move, shoot, call on reinforcements, generate new shields or do vital repairs. But all of these choices are reliant on parts of the ship working properly. Blow up the engine and your opponent is stuck, blow up the shield generator and it's much harder to fix the shields. So every turn, you are making decisions and trade offs based on the position and condition of your ship and that of your opponent.
So to summarise: it looks gorgeous, feels lovely, challenges you in both strategy and dexterity, has finally made me acknowledge that Cath Kidston fabrics are not the best backdrop for
all
occasions and inspired a war hammer addict to save their pocket money for something completely unrelated. FlickFleet is nothing short of miraculous.
If you'd like to play FlickFleet with any or all of the expansions come along to a
Cards or Die event
. You can subscribe to the newsletter below to make sure you never miss any events.