Unveil and apprehend the murderer in this clever sleuthing card game.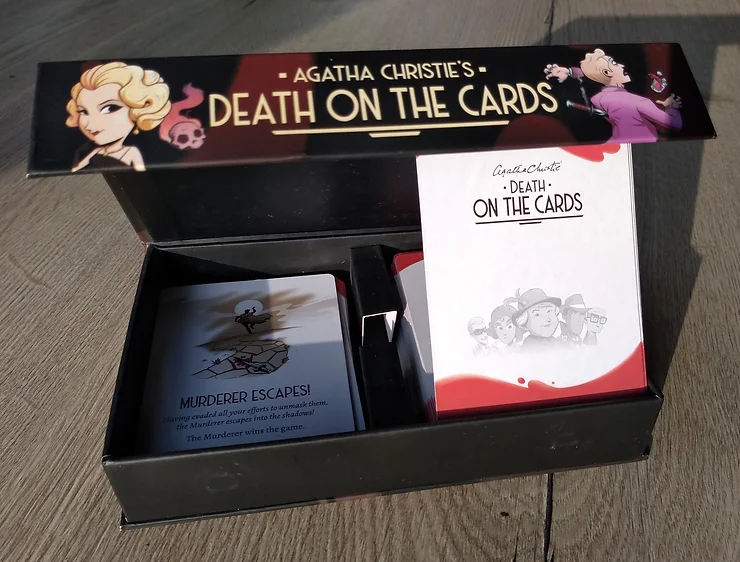 "It is the brain, the little grey cells on which one must rely. One must seek out the truth within" Poirot.
In Death on the Cards you must work together, exercising your little grey cells to identify the murderer! The game is well packaged with charming art work. You might argue that there are more important factors in choosing games but a literature related pun, a sturdy box with a magnetic closer and pretty cards go a long way in my book!
The game plays very differently depending on the number of players. With 5 or 6 players you have both a murderer and an accomplice to uncover. With just 2 players, you know who the murderer is from the get-go so it's just a straightforward but frenetic game of cat and mouse. I was pleasantly surprised that it works just as well with any number of people. It's a different game but just as much fun.
The basic premise is the same however many players you have – the murderer must exhaust the draw pile to reveal the 'Murderer Escapes' card which depicts them gleefully skipping off into the distance with nary a care in the world. Meanwhile the detectives try to prevent them from depleting the draw pile. In addition, should the murderer reveal everyone's secrets the murderer wins while should the murderer's secrets be revealed the murderer loses.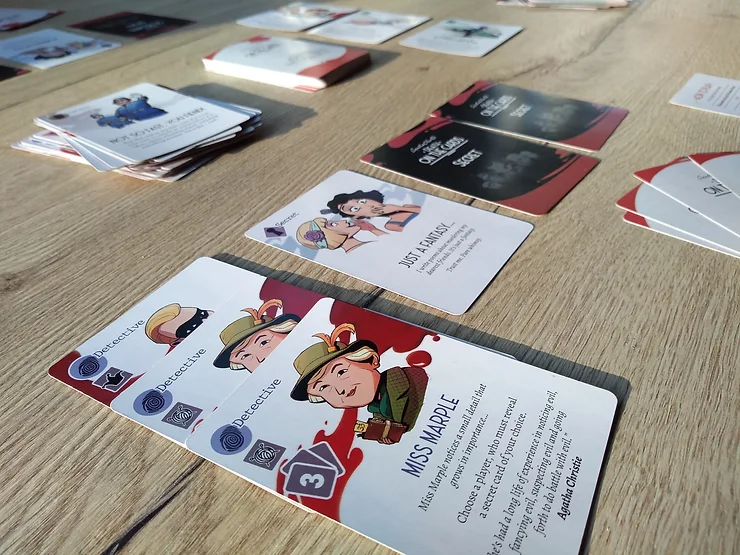 Each player is given 3 secrets at the beginning – you might not be the murderer but you've all committed various social faux pas and we all want more details on your involvement in the 'vicarage incident' . When all 3 of your secrets are revealed you are frozen out of the game unless you are the murderer in which case you've been rumbled. If the murderer succeeds in revealing all three of everyone's cards then they have escaped. Once they've heard all your despicable secrets they'll be able to set up a lucrative career as a blackmailer so you need to work together to make sure that definitely doesn't happen.
You must closely observe the other players in order to work out who the murderer is. Are they deliberately drawing lots of cards? What kinds of cards are they playing? What cards are they discarding? Or are you just going to go on instinct? As Christie herself once said "Instinct is a marvellous thing. It can neither be explained nor ignored".
There are 7 different detectives that you can use to force others to reveal secrets. To play them you need to collect a matching set or use the Harley Quinn wild card with them. And, once played you can add to an existing set in order to repeat that action. They're all there: Poirot and Marple of course, Tommy and Tuppence Beresford and my new favourite – Lady Bundle Brent. Each detective acts slightly differently and each card has a different quotation from that character. It is nice touches like this that really make the game for me.
The actions are cleverly balanced to benefit either the murderer or the detectives. For instance Look into the Ashes cards allow you to choose a card from the discard pile while the Early Train to Paddington allows you to move six cards from the draw pile to the discard pile: each of these affects the speed the draw pile reduces thereby either abetting or hampering the murderer's escape.
The Point Your Suspicions card is a fun card which, timed well, can have a significant impact on the game. When played all players point to the person they suspect. Although it just forces the most pointed at player to reveal a secret, there is much to be deduced from people's actions here. Remember "If you are to be Hercule Poirot, you must think of everything" No clue is too small to be overlooked by your keen detective's mind.
The Not So Fast, You Fiend! card allows you to counter most actions – a very useful mechanism. Similar to the Nope card people are often familiar with in Exploding Kittens. Each player starts with one of these cards but when to play it? Do you cancel this action or wait in case something even worse is in store for you?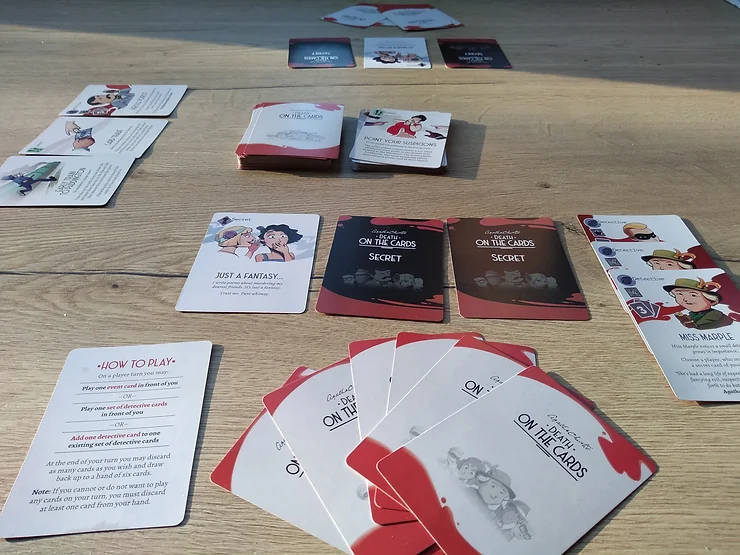 The game comes with player aid cards which summarise your turn for you. Plus all the cards have clear instructions on and that along with a well written instruction booklet makes the game quick and easy to learn. It's well worth lingering over the flavour text though.
Agatha Christie's Death on the Cards is a triumph – it has been a hit at home and at events. Whether you are taking tea at the vicarage, enjoying a train journey, sojourning up the Nile or simply having friends for supper – it really is the perfect addition to your evening.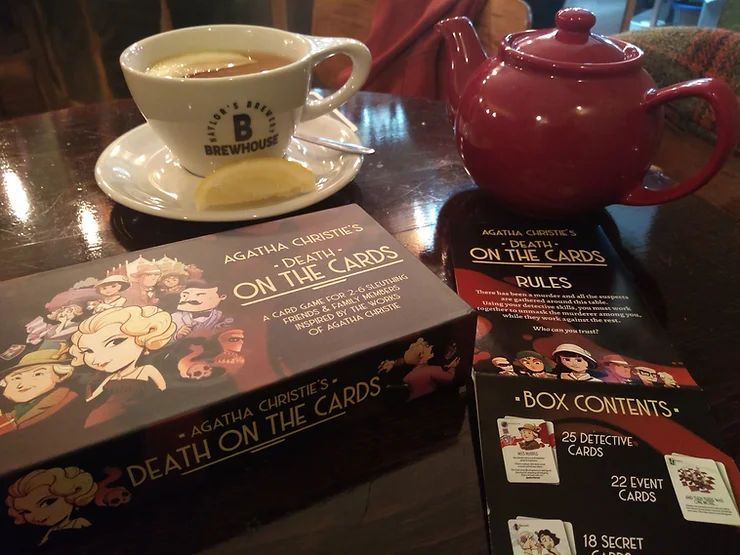 Come along to a Cards or Die
event
and have a game with us.